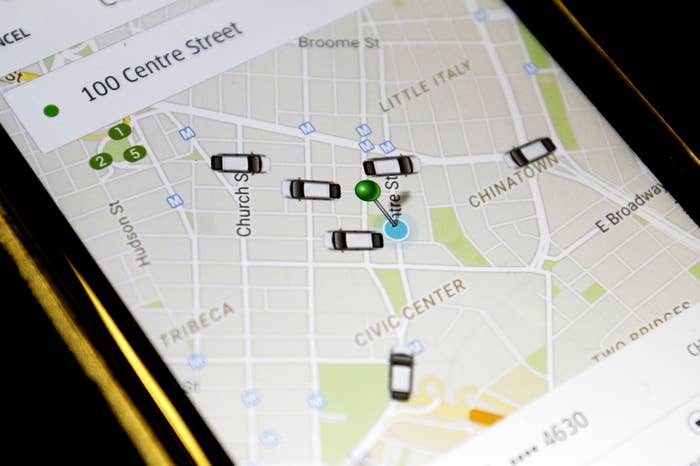 Uber will no longer use an internal tool called "Greyball" – which showed a fake version of its app to individual, targeted riders – to thwart local regulators, the company said Wednesday.
Uber is also reviewing how the tool is used after a New York Times report on Friday recounted how the ride-hailing giant used it to "identify and circumvent" authorities.
"We have started a review of the different ways this technology has been used to date," Joe Sullivan, Uber's chief security officer, wrote in a blog post. "In addition, we are expressly prohibiting its use to target action by local regulators going forward."
In response to the New York Times story, Uber said last week that Greyball denies ride requests to users who are violating the company's terms of service, "whether that's people aiming to physically harm drivers, competitors looking to disrupt our operations, or opponents who collude with officials on secret 'stings' meant to entrap drivers."
However, the company's blog post on Wednesday described Greyball as a tool that has "been used for many purposes, for example: the testing of new features by employees; marketing promotions; fraud prevention; to protect our partners from physical harm; and to deter riders using the app in violation of our terms of service."
Uber's use of the tool became the latest public relations flub in a series of crises for the company in the last month. About 200,000 users deleted the app after a viral social media campaign in January, spurred by the perception that Uber was undermining a taxi strike. Just weeks later, a former engineer published a blistering blog post alleging systemic sexism at the company. Uber CEO Travis Kalanick apologized to staff, promised to "do better," and told the company's female engineers that he would strive to earn credibility.
Days later, a video showed Kalanick yelling at an Uber driver who raised concerns about falling fares, and the CEO said he would seek "leadership help."
Uber said "a number of organizations" have contacted the company for information about how the tool is used, and that it would respond after completing its review. An Uber spokesman declined to say which organizations have contacted the company about Greyball. But in Portland, Oregon, officials have publicly called for an investigation into whether Uber used the tool to obstruct enforcement of local regulations.
"Given the way our systems are configured, it will take some time to ensure this prohibition is fully enforced," Sullivan said in Uber's blog post.
Asked to elaborate on why it would "take some time," an Uber spokesman declined to comment.