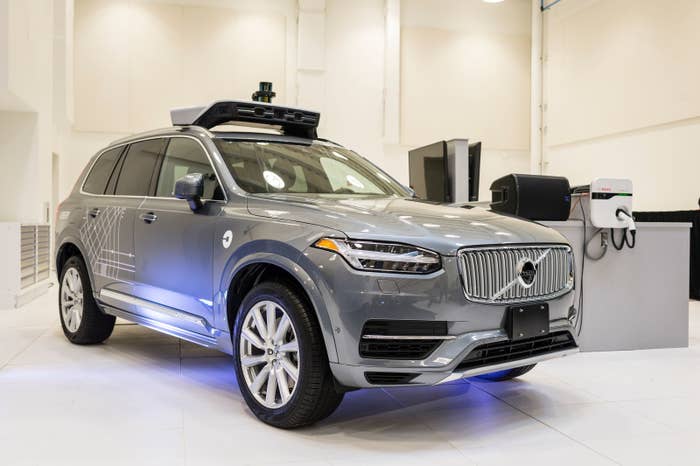 Uber denied Waymo's allegations that it is using technology stolen from the Alphabet company by an ex-employee before he joined Uber, saying in a court filing that it is "unambiguously developing its own technology independent of Waymo."
The court filing on Friday comes in response to Waymo's request last month for a federal judge to halt Uber's self-driving car efforts. Waymo filed a lawsuit in February against Uber, alleging that former employee Anthony Levandowski downloaded 14,000 company files before leaving and starting his own self-driving truck company, Otto. Uber purchased Otto last year and installed Levandowski as the leader of its self-driving car program.
The lawsuit centers around laser technology called LiDAR (Light Detection And Ranging), which helps self-driving cars see and navigate. Uber says its own technology is "fundamentally different" from Waymo's – Uber's design uses four lenses, while Waymo's uses a single lens – and called the request to pause its self-driving program a "misfire."
"A cursory inspection of Uber's LiDAR and Waymo's allegations fall like a house of cards," Uber said.
Uber said its own forensic analysis concluded that no Waymo documents crossed over into Uber's systems, and that halting its program "would impede Uber's efforts to remain a viable business." (Uber CEO Travis Kalanick has called self-driving cars an existential threat to the ride-hail giant's business.) The company also said the fact that Waymo waited for five months after learning Levandowski downloaded files to seek an injunction against Uber shows a lack of urgency. And it provided testimony from Scott Boehmke, who began developing the company's own LiDAR systems in 2015.
Uber also provided testimony from another employee who joined Otto after leaving Waymo, Sameer Kshirsagar, who's also named in Waymo's suit. Waymo alleges he also downloaded files before leaving the company for Otto. The testimony says that he downloaded specific documents cited in Waymo's allegations while creating a transition memo for his team before departing, but did not take them with him. In the case of another document, a checklist, Kshirsagar said he may have forwarded them to a personal device for review while working at Waymo, but has not accessed them since he left the company.
"I did not take any confidential Google/Waymo documents with me upon my departure from Google/Waymo for use at Uber and/or Otto. I have not used any confidential Google/Waymo documents or information in my work for Uber and/or Otto," Kshirsagar's statement says. "I was never directed by anyone, at Uber or Otto, or otherwise, to take confidential documents or information from Google or Waymo."
The ride-hail giant also filed three additional documents with its response. Two were from LiDAR experts: one from Paul McManamon, a scientist at the University of Dayton, and the other from a laser and optoelectronic design consultant named Michael Lebby. Both declarations support Uber's claim that some parts of the design of Waymo's LiDAR technology are not trade secrets and are publicly known within the field. The third declaration was from the head of a New York-based digital forensics lab.
Uber may have searched its own servers, but Levandowski, the leader of its self-driving car program, has asserted a Fifth Amendment right to avoid self-incrimination. That means he isn't cooperating in the search.
On Wednesday, Judge William Alsup warned that "I've never seen a record this strong in 42 years," referring to Waymo's body of evidence against Uber, according to Reuters.
In response to Uber's court reply on Friday, a Waymo spokesperson said the company based its request for the judge to halt Uber's self-driving car program "based on clear evidence."
"Uber's assertion that they've never touched the 14,000 stolen files is disingenuous at best, given their refusal to look in the most obvious place: the computers and devices owned by the head of their self-driving program," Waymo said.