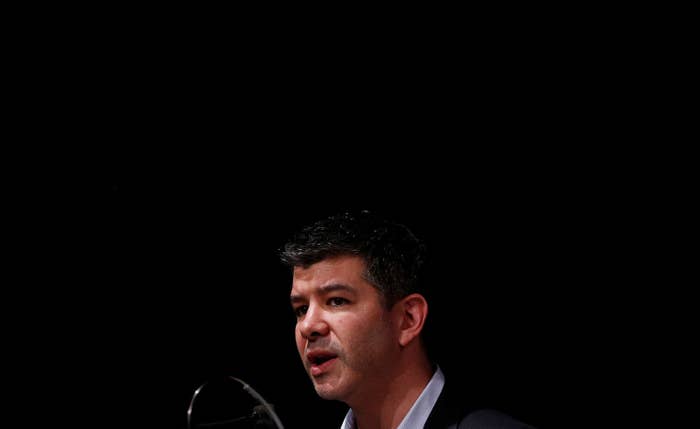 During a Tuesday all-hands meeting with employees, Uber CEO Travis Kalanick addressed claims of systemic sexism at the company recently detailed in a viral essay written by a former Uber engineer Susan Fowler Rigetti. Kalanick — described as emotional and visibly upset by multiple sources in attendance — apologized to employees for a lack of diversity in Uber's workforce, told them to hold him accountable for the company's failings, and promised Uber would "do better" going forward.
Over the course of the meeting, Kalanick — who claims he was unaware of Rigetti's allegations until he read them — apologized for Uber's apparent failure to properly address them, explained the company's protocols for reporting sexism and harassment, announced plans for training sessions on unconscious bias, and answered pointed questions from employees wondering why it's taken the company so long to investigate claims of pervasive sexism within its walls. Kalanick was joined by Uber CTO Thuan Pham, HR head Liane Hornsey, and board member Arianna Huffington.
Pham — to whom Rigetti claims to have reported a threat of termination made against her — described the company's handling of the allegations made in Rigetti's essay "an utter failure." He said that Uber does not consider high performance more important than another person's abuse, and noted that he fired a high-performing manager last October because that person was falsifying performance reviews and wrongly blocking another employee's transfer.
Uber's new HR chief Liane Hornsey spoke as well, promising that she will work to create a "new Uber." Her pledge follows Kalanick's earlier announcement that Uber is bringing on former Attorney General Eric Holder to conduct a company-wide workplace environment review.
Uber's human resources team held a 90-minute "listening" session immediately after the all-hands. The company also published a blog post from board member Arianna Huffington, who is participating in Holder's review of its operations.
"I ... view it as my responsibility to hold the leadership team's feet to the fire on this issue," Huffington wrote. "... I hope that by taking the time to understand what's gone wrong and fixing it we can not only make Uber better but also contribute to improvements for women across the industry."
Uber declined to comment on the substance of the meeting, referring BuzzFeed News to Huffington's blog post.