A self-driving Uber car was involved in a crash and flipped to its side in Arizona on Friday night.

A car failed to yield for the self-driving car and hit it, causing the Uber car to roll to its side, according to ABC 15 News.
"We are continuing to look into this incident and can confirm we had no backseat passengers in the vehicle," Uber said in a statement.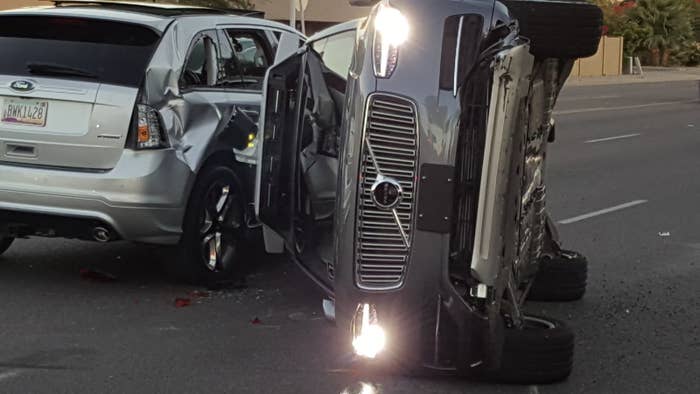 The vehicle was in self-driving mode and there were no serious injuries.
The company also said it has grounded its self-driving cars in Arizona, Pittsburgh, and San Francisco as it investigates.

Uber sent its self-driving vehicles to Arizona in December, after the company was kicked out of testing in San Francisco because it did not obtain a permit from the California Department of Motor Vehicles.
Its self-driving test vehicles in Arizona require intervention from a human driver behind the wheel about once per mile, according to internal performance metrics obtained by BuzzFeed News.

The crash comes as Uber's self-driving car program is facing allegations that its leader stole key technology from Alphabet's Waymo before leaving to join the ride-hail giant.
Uber's car program has also drawn scrutiny after one of its vehicles ran a red light in San Francisco in December.
Uber said that the traffic violation resulted from human error, but the New York Times reported in February that "the self-driving car was, in fact, driving itself when it barreled through the red light."