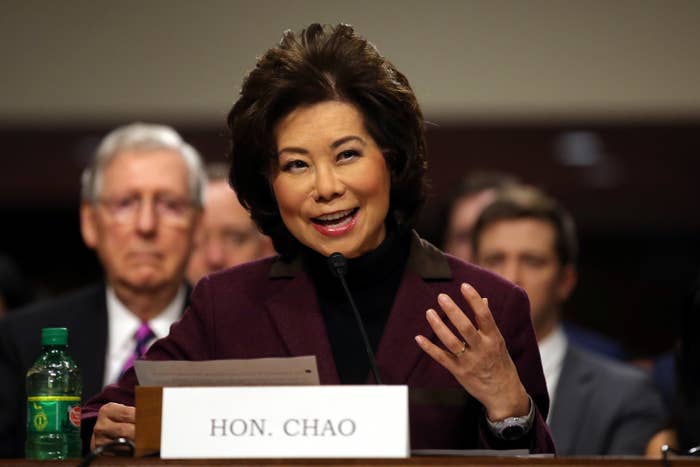 President-elect Donald Trump made infrastructure – including transportation – a central pillar of his campaign. His pick for transportation secretary, Elaine Chao, is poised to lead the agency as the industry undergoes somewhat of a revolution and had her day before a Senate committee on Wednesday.

Trump has proposed a $1 trillion infrastructure plan that would hinge on public-private partnerships as a main financing source. What exactly that plan will look like has been a mystery to both the industry and lawmakers – and remains one after Chao's confirmation hearing as well.
At her Senate hearing Wednesday on Capitol Hill, Chao stressed the importance of public-private partnerships to fund infrastructure investments. But mostly, she responded to lawmakers' concerns with a version of this one-liner: "If confirmed, I look forward to working with you on that."
Chao, who served as deputy secretary of the Department of Transportation under President George HW Bush and labor secretary under the second Bush, offered little insight as to how the DOT would handle the introduction of self-driving vehicles and the subsequent automation of drivers' jobs, or the privatization of transportation projects, under her watch. In response to most questions at the hearing, she deflected or provided an overarching comment on innovation culture in the US.
"We need to work with members of Congress … to make sure we're not dampening the spirit of creativity, but we're also assuaging the real, deep-seated concerns of some of our public … that some of these new technologies bring," Chao said at her Senate confirmation hearing.
Chao will lead the department as automakers race to commercialize self-driving cars and local governments with tight budgets test the idea of privatizing public transportation. Her background in both transportation and labor could be significant, given that Uber and Lyft, which have both inked partnerships with transit agencies across the country, employ drivers as independent contractors, and self-driving vehicles threaten to usurp millions of jobs.
In a speech in November 2015, Chao expressed a sympathetic view toward companies such as Uber, which is now developing and testing self-driving vehicles. Chao told an American Action Forum panel then that "at a minimum, government policies must not stifle the innovation that has made this sector such an explosive driver of job growth and opportunity."
On Wednesday, when asked about emerging transportation technology in the context of self-driving cars automating truck and other drivers' jobs, Chao said she's "very much in support of the government creating the environment through which job creation [and] economic growth can occur." But Chao toed the line, adding that "how we as a society deal with that, and not again, stifle, dampen the innovation, the creativity that is so much a hallmark of what America's all about, that's the balance."