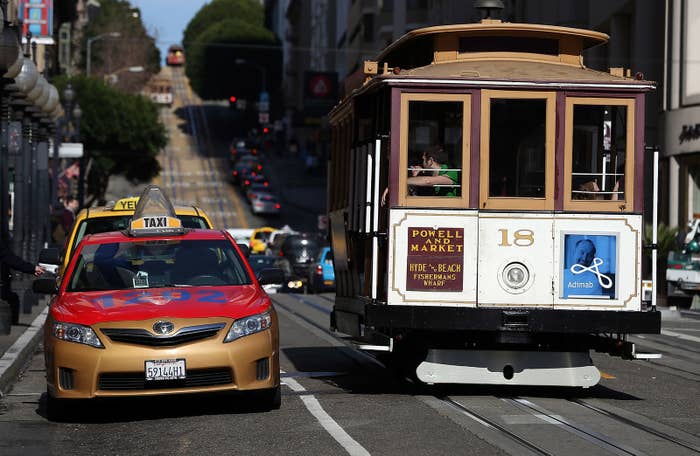 Add another Uber lawsuit to the pile. A San Francisco cab company on Wednesday sued the ride-hail behemoth for predatory pricing and attempted monopolization.
Desoto Cab, which in 2015 rebranded as FlyWheel Taxi via a co-marketing agreement with taxi-hailing startup Flywheel, alleges that Uber has created a "race to the bottom" among competitors by pricing rides so low that others can't compete. The cab company, which has operated since the 1930s, filed the lawsuit in a federal court in San Francisco. It claims that since Uber launched its low-cost UberX option in 2012, the taxicab industry has seen a 65% drop in ridership and lost 30% of its drivers. Desoto alleges Uber intends to "monopolize the San Francisco Ride-Hail Market and injure competitors."
"Once its competitors have been removed, UBER, free of the constraints of competition, will be free to implement unfettered price increases for its services, and consumers will be left with no choice but to pay the prices – however exorbitant – demanded by UBER," the lawsuit alleges.
In response to the lawsuit, Uber said "We compete with lots of way to get around, especially car ownership."
"Our goal is to provide a credible alternative to the private car," Uber said in a statement. "Our technology lets us make our network more efficient over time, and innovations like uberPOOL are further lowering prices, making ridesharing more available to more people."
Uber's negative impact on the taxi industry in the United States is well documented. In Los Angeles, for example, the number of taxi trips taken since Uber and its ride-hail rival Lyft began operating in the region has dropped by 30%. In New York, the price of a medallion to operate yellow taxicabs has sunk by 40% from more than $1 million. Taxi owners there have sued the city for violating their right to operate by allowing Uber to pick up passengers.

To attract new customers and gain market share, Uber and Lyft have run promotions touting their rides as the cheapest. This summer in New York, for example, both companies matched each other's promotional rates in a three-week-long price war. But proving predatory pricing is more difficult than pointing to promotional prices that undercut taxi fares .
John Kirkwood, a professor of law at the University of Seattle and senior fellow at the American Antitrust Institute, told BuzzFeed News Desoto's lawsuit against Uber is "a serious reach."
There's a two-prong test to determine whether a company is engaging in predatory pricing: Are rates set so low that they drive competition out, and also mean the company is losing money on every ride? And if so, did the company set prices higher after driving competitors out of business, so as to recoup money lost destroying the competition?
Bloomberg reported that Uber lost at least $1.2 billion in the first half of this year, mainly because it subsidizes many rides. Still, Kirkwood said, other competitors are still up and running.
"[Transportation] is a very high-profile market," Kirkwood said. "If Uber were to drive out, say, Lyft, and raise prices, it would face increased competition from taxi companies and it would likely provoke entry by another company."
The Federal Trade Commission hasn't brought a predatory pricing case against a company since the 1970s, Kirkwood said, because "courts and government agencies are hostile to these types of cases." The last plaintiff to win a substantial amount of money from a predatory pricing case was Spirit Airlines in a lawsuit against Northwest Airlines in the early 2000s.
The fact that Lyft is surviving — although it has reportedly sought buyers — also gives the case less weight, Kirkwood said. He said if the case had been brought by Lyft itself, it would "add some credibility," but even then it would be tough to meet the predatory pricing standards.
"It strikes me as implausible," Kirkwood said. "It's the second-largest company, but the fact that Lyft hasn't filed a suit... this is unlikely."