On the same day Uber launched a pilot program to put riders in its self-driving cars in San Francisco, state regulators have asked the company to hit the brakes.
The California Department of Motor Vehicles sent a letter to Uber Wednesday asking the company to cease its program until it obtains a permit from the agency. The California DMV requires companies looking to test autonomous vehicles to obtain a permit and submit accident reports to the agency. But because its cars will have human drivers, Uber says it doesn't need a permit.
On Wednesday, one of Uber's self-driving cars was caught on camera running a red light in San Francisco.
"It is illegal for the company to operate its vehicles on self-driving roads until it receives an autonomous vehicle testing permit," the letter, obtained by BuzzFeed News, reads. It adds that Uber "must cease" testing its self-driving cars on public streets until it receives a permit from the DMV.
"If Uber does not confirm immediately that it will stop its launch and seek a testing permit, DMV will initiate legal action," the letter reads.
Uber did not immediately return a request for comment on the DMV's letter.
Uber began putting riders in autonomous cars in Pittsburgh in September as part of a pilot program. Starting Wednesday, riders who hail an UberX to travel within San Francisco's limits might be picked up in one of the company's handful of self-driving Volvos. Uber wouldn't say exactly how many self-driving vehicles hit the road in San Francisco on Wednesday, but said it plans to have a total of 100 self-driving cars there and Pittsburgh by the end of 2016.

For now, the cars aren't 100% autonomous: Each vehicle still has a human driver behind the wheel to begin each ride — by starting the ignition, shifting gears, and exiting a parking lot to reach the road, for example. A screen on the dashboard will tell the driver when the car's computers determine it is safe to turn on autonomous mode. And in the front passenger seat, a human co-pilot with a laptop will monitor the car's trajectory. The driver can take over at any time, and if the car determines a situation is too precarious, it may also beep and kick control back to the driver, whose hands are to remain hovered near the wheel. There's a big red button near the gears, which a driver can push to turn off autonomous mode, or he or she can simply resume control of the vehicle by taking the wheel.
If you're matched with a self-driving Uber, you'll see this notification: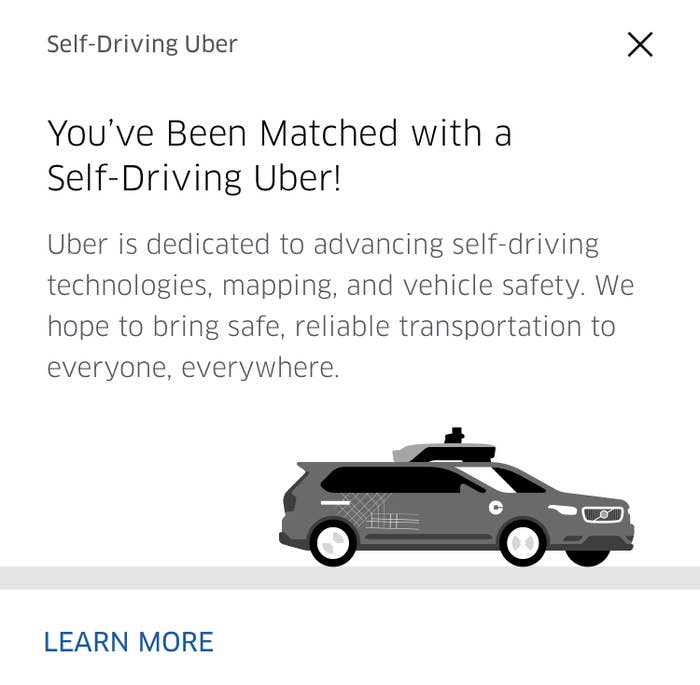 Riders have the option to turn down autonomous Uber rides by canceling their requests.

Unlike several of its competitors, including Google and Tesla, Uber is notably absent from a list of 20 companies that have obtained permits from California's Department of Motor Vehicles to test autonomous cars.
"First, we are not planning to operate any differently than in Pittsburgh, where our pilot has been running successfully for several months," Anthony Levandowski, head of Uber's self-driving team, wrote in a blog post announcing the SF expansion. "Second, the rules apply to cars that can drive without someone controlling or monitoring them. For us, it's still early days and our cars are not yet ready to drive without a person monitoring them."
California's rules say "a motor vehicle shall not be operated in autonomous mode on public roads" without a permit. And according to the rules, "an autonomous vehicle is operating or driving in autonomous mode when it is operated or driven with the autonomous technology engaged."
Uber is arguing that its human drivers still have active control, and that there is a difference between "self-driving" and the word "autonomous."
Driving in San Francisco will present a different set of challenges for autonomous cars than Pittsburgh: The California city has more traffic, more bikes and pedestrians, and narrower lanes. The self-driving cars will only accept rides from passengers whose routes are contained within the city of San Francisco's perimeters – so no trips to Oakland or Palo Alto, for example.

"It will look for routes where we have excellent support for autonomy," said Matt Sweeney, head of product at Uber. The cars will rely on Uber's own mapping technology and will drive at a maximum speed of 30 mph, meaning they will avoid highways.
Sweeney wouldn't say which cities Uber is planning to bring its autonomous vehicles to next, but its ambitions for self-driving vehicles are expansive.
"The promise of self-driving is core to our mission of reliable transportation, everywhere for everyone," Uber's Levandowski wrote in a blog post about the program. "While it won't happen overnight, self-driving will be an important part of the future."
The company became the first to put passengers in self-driving cars through ride-hail in September in Pittsburgh, only 18 months are opening its Advanced Technologies Center, where many of its autonomous driving engineers work. Uber also purchased Otto, a self-driving truck startup, this summer. Otto completed its first self-driving truck delivery — a beer run for Anheuser-Busch — in October. And earlier this month, Uber announced it had purchased an artificial intelligence startup called Geometric Intelligence and said it is opening an AI lab to focus on machine-learning efforts such as self-driving.
Uber's self-driving expansion to SF also makes its rivalry with Google, based in nearby Mountain View, more evident. Google announced on Tuesday that it's spinning its self-driving car program off into an independent company called Waymo, which will live under the parent company Alphabet's umbrella. Waymo is also planning a ride-sharing program with Fiat Chrysler, The Information reported Monday.
UPDATE
This story was updated to add that the California DMV has threatened legal action against Uber for operating a self-driving program on public roads without a permit.
UPDATE
This story was updated to note that Uber hasn't obtained a permit to operate its self-driving vehicles in San Francisco.