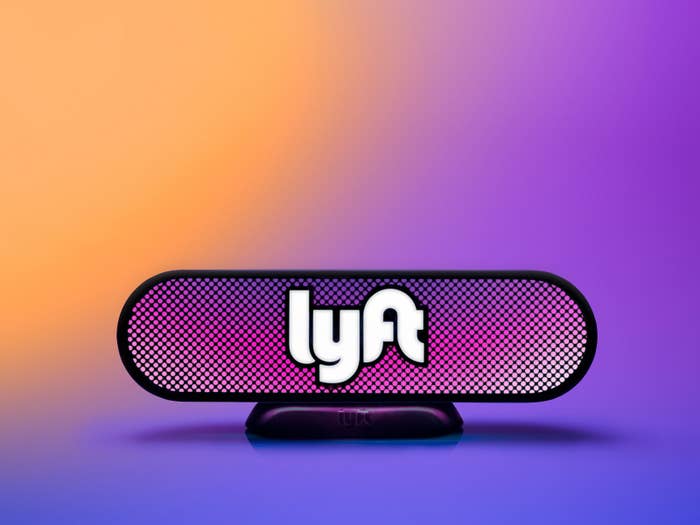 In its latest effort to gain more riders, Lyft, the number two ride-hail app behind Uber in the US, is replacing its signature hot-pink car mustache with a dashboard-mounted, cylinder-shaped device called "Amp" that features colored LED lights to signal a car's arrival. It will also begin running a national ad campaign against Uber.

Lyft, which once adorned the front bumpers of its vehicles with furry pink mustaches, abandoned them in favor of a illuminated LED "glowstache" last year. Now, in what executives call an effort to modernize the four-year-old brand, Lyft will ship drivers a new device that it has spent more than a year developing. Lights on the Amp device will sync with its rider and driver apps. When a driver approaches the passenger, the passenger's phone will light up in the same color as the driver's LED light device, which will sit on the dashboard. The company would not say how much it cost to manufacture the devices, which it will provide free of charge to drivers.
Lyft markets itself as a friendlier ride-hail company and its signature pink mustaches were part of that branding. Lyft's head of ride experience, Ethan Eyler, told BuzzFeed News that company executives began thinking about dumping the mustaches over a year ago. Eyler, who made mustaches for vehicles at his own company Carstache (which still exists) before joining Lyft, then began working on the glowing Amp device. The Amp also displays messages on its backside so passengers in the car can read a personalized "hello" greeting. Tali Rapaport, Lyft's vice president of product, said Lyft could later program the device's software with additional functionality, but would not say what those other functionalities might include, beyond other messages such as "Go Giants!" if the San Francisco baseball team were scheduled to play a game, for example.

Since 2014, Lyft has made gains in 19 of the top 20 cities in which it competes with Uber, according to the research firm 7Park Data. Still, Lyft has only about 16% market share compared with Uber's 84% as of August 2016, according to the firm, which also said "Uber's US lead is simply too great to overcome and that Lyft has lost the US market." Lyft was reportedly seeking a buyer this summer but didn't receive any satisfying offers. John Zimmer, a Lyft co-founder, denied that the company was for sale at a Wall Street Journal conference in October.
Lyft's investment into the new connected device is intended to make pickups just a few seconds faster, Rapaport said, if people can recognize their vehicles based on the color of the device that glows on the dashboard.
"Every second is a win. It's a win for the driver because they're able to make money faster. It's a win for the passenger because it saves a second off their timing getting to their destination," Rapaport said. "And we know that across the street at night, or in a crowded area, there's a lot of, in the industry today, room for improvement in terms of passengers actually finding their cars."
In the long run, color-coding cars could help passengers figure out which self-driving Lyft car to enter after drivers are out of the picture – but that is still years away.
Lyft is rolling out an ad campaign alongside its brand refresh. Airing nationally through the end of 2016, it targets the 18-to-35-year-old demographic. Each ad depicts a group of men gathered around a conference table watching Lyft drivers and riders on a projector screen. The room is black, gray, and white and features a white logo that says "RIDE CORP" in a font that recalls Uber's brand. In the ad spots, the men plot ways to outdo Lyft. Lyft also pokes at the Uber-like company for not allowing riders to tip passengers in the app.
Oddly, though, the ads point out that Lyft conducts background checks of drivers via a third party, as if to draw a contrast with the other company in the ad. Uber, however, also conducts background checks using a third-party company, and neither ride-hail company fingerprints its drivers.

Lyft said the ads will be aired nationally on television and shared online, and are intended to draw more riders into trying the app. What's unclear, though, is whether people who aren't already familiar with ride-hail will understand the commercials at all, given that they compare Lyft to another ride-hail company but don't actually explain the concept of calling for a ride using an app on your phone. A Pew Research Center survey conducted in late 2015 found that only 15% of Americans have used ride-hailing apps.