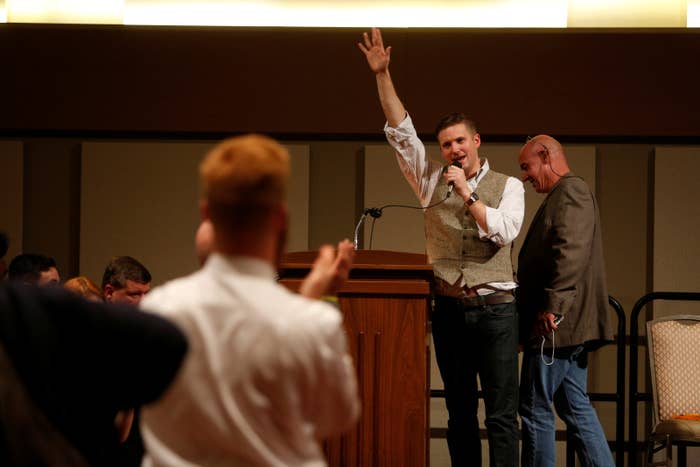 Residents of Alexandria — the Northern Virginia city where white nationalist Richard Spencer set up shop this month — are complaining to the city about their new neighbor.
The city has received at least 25 complaints about Spencer's new rental in Alexandria, just outside of Washington, DC, city spokesman Craig Fifer told BuzzFeed News. Spencer, president of the National Policy Institute, a white nationalist group, told The Atlantic the Alexandria space will serve as a hub for the alt-right movement.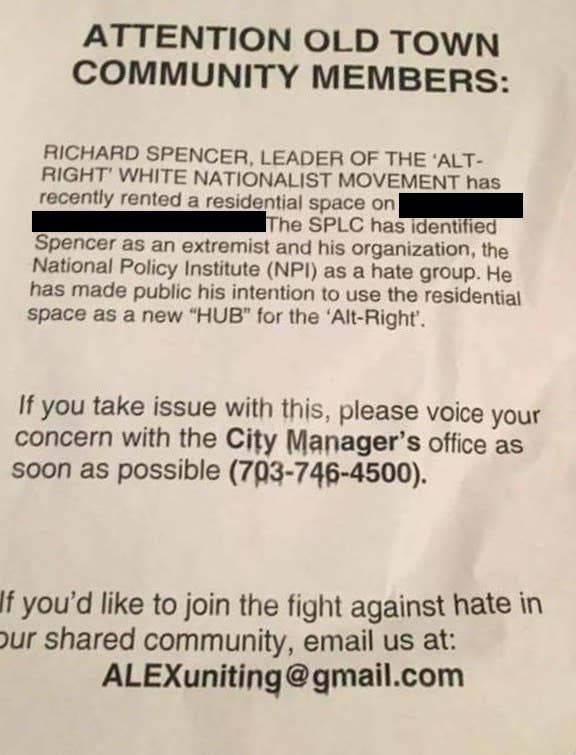 Flyers have circulated in Alexandria, notifying local residents that Spencer is in town and instructing people who "take issue with this" to call the city manager's office. Fifer told BuzzFeed News it's unusual for the city to receive complaints of this nature from residents. (BuzzFeed News reached out to the email address on the flyer but the recipient didn't immediately grant an interview.)
Alexandria, given its proximity to Washington, DC, is home to many who work on Capitol Hill and at federal agencies. "We have people on every place of the ideological spectrum," Fifer said. "It's not like there's somebody new in town and everyone's worried. People are focusing on Spencer's past comments and what he's planning to do … they don't believe it's compatible with Alexandrian community values."
"We certainly investigate any complaints we receive, and we are paying attention to the situation because of the number of complaints we received," Fifer told BuzzFeed News. "We do not have the authority to regulate residential or commercial tenants based on their opinions ... If [Spencer] were to violate criminal law or our human rights code, just like with anybody else, we would certainly take appropriate action."
Asked about his experience living in a city where neighbors have put up flyers noting concern about his arrival, Spencer told BuzzFeed News, "I would rather not talk about this. It's died down."
"I haven't seen any flyers where I live in NoVa. Everyone has been kind and welcoming," he later added. "I have no bad experiences moving into Alexandria."
The owner of a chocolate shop downstairs from Spencer's unit said the space was empty for about a year before Spencer moved in. At times, the owner said, reporters have mistakenly entered the shop looking for Spencer for an interview.
"It's been a little disruptive to the business, creating a little distraction," the owner said, but "nobody's been coming in causing trouble." He said Spencer has visited the chocolate shop.
"We try to do our best to just encourage people to be inclusive and enjoy chocolate," the owner said. "We all have that in common. We all enjoy chocolate."
Spencer called the rental unit in Alexandria a private venue.
"This is not a public-facing facility at all," he told BuzzFeed. "A public-facing facility is something with a storefront, or a name on the door, or something like that. That's not at all what we have. I do want that in the future, but we're not in the position in terms of funding to have something like that. We would need full-time security, and so on."