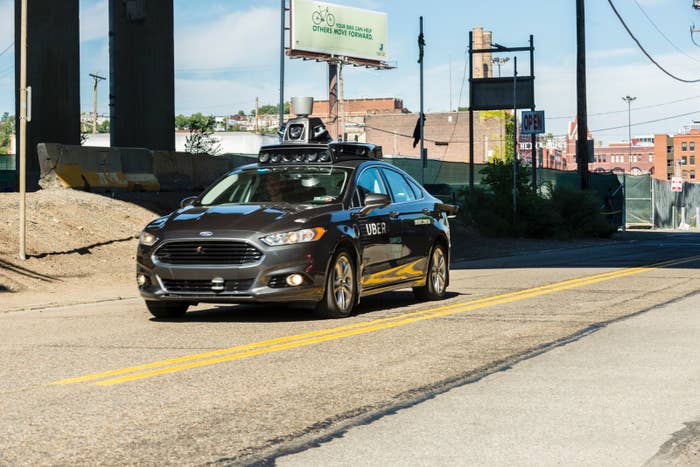 Pittsburgh Mayor Bill Peduto – whose city was the first to host Uber's self-driving car pilot program – says he is in a "cooling off" period with the ride-hail giant and is "opening up" to other autonomous vehicle companies.

Peduto told BuzzFeed News that in the last year and a half of working with Uber, the city has catered to the company's requests and welcomed its self-driving pilot. Now, Peduto says, the city is looking for something in return.
Peduto doesn't have a list of specific demands, but says he expects the company to be a better partner with the city. "Our vision for Pittsburgh needs to be your vision for Pittsburgh as well," he told the company.
"You've already given your asks and we delivered," Peduto told BuzzFeed News during the NewShift Co Forum in San Francisco on Wednesday, referencing Uber. "Now these are our asks. Every time we ask, you're saying no."
Peduto, who spoke on Wednesday in San Francisco at the NewShift Co Forum, an event that brought tech leaders and policy wonks together to discuss both business and the current political climate, said he was not planning to visit Uber's headquarters while in the city.
In a statement to BuzzFeed News, Uber said it is "incredibly proud of our work in Pittsburgh."
"Since we set up shop in 2015, we've brought hundreds of high tech jobs to the city and invested millions of dollars in the local economy," the statement said.
Pittsburgh isn't satisfied with what Peduto has called a "one-way" relationship with Uber, the mayor told the Pittsburgh Post-Gazette last week. "I need to see more interest from them in our communities, both locally and internationally," he said. Peduto said he does not plan to ask Uber to leave Pittsburgh. (The company employs at least 700 people at its Advanced Technologies Center there, after poaching researchers away from Carnegie Mellon University.) But Pittsburgh is "opening up" to other autonomous vehicle companies.

"We've had conversations with several other industry leaders," Peduto said. Pittsburgh is, after all, home to Carnegie Mellon's robotics research centers, and has served as a testing ground for autonomous vehicles for more than a decade. "We can bring other companies in, and we will."
For example, Peduto told BuzzFeed the city turned to Uber for financial support for an autonomous road project it planned to propose to help win a federal grant contest. "They balked at it and came back with a proposal simply to benefit them, which was ridiculous," Peduto said. (Emails obtained by PennLive show Pittsburgh asked Uber to pay $25 million to help fund the project, and in exchange offered five years of exclusive rights to operate along a proposed busway.)
Uber could also demonstrate its involvement in the community by creating a coding academy in Pittsburgh, Peduto said. "Create models in the cities you're partnering with to provide opportunity to all," he said.
About three months after Uber began putting passengers in self-driving cars in Pittsburgh, it expanded the pilot program to San Francisco. But on the same day it launched in San Francisco, a state regulator threatened legal action against the company for failing to obtain the proper permits, and then revoked Uber's car registrations, halting the program. Uber then shipped its cars to Arizona.
Peduto said he last spoke with Uber on Monday.
"I'm hoping, and the conversation we had with them, is that 2017 will be much better than 2016," he said.