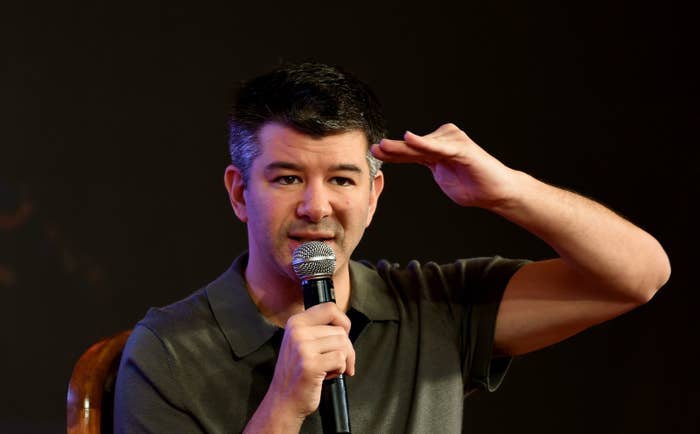 People are blocking off the entrance to Uber's headquarters in San Francisco on the morning of Donald Trump's inauguration in protest of the company's collaboration with the incoming president. Uber CEO Travis Kalanick joined Trump's roster of advisers on business and tech last month.
Protesters also blocked traffic on San Francisco's Market Street.
When Kalanick was named as one of Trump's advisers, he told BuzzFeed News in a statement, "I look forward to engaging with our incoming president and this group on issues that affect our riders, drivers and the 450+ cities where we operate."

"As a company we're committed to working with government on issues that affect riders, drivers and the cities where we operate. Just as we worked with the Obama Administration, we'll work with the Trump Administration, too," Uber said in a statement.

Other companies have faced similar protests leading up to Trump's inauguration. About 60 people protested outside Palantir Technologies, whose board member Peter Thiel is a top adviser to Trump, on Thursday to pressure the company to be more transparent about how it would use its databases to potentially help the Trump administration. Many tech companies, including Uber, have said they would not aid in building a "Muslim registry" — something Trump has signaled support for during his campaign.

Uber confirmed that it told staff to work from home or other offices until the entrance to HQ is no longer blocked by protesters.
Caroline O'Donovan contributed reporting to this story.

CORRECTION
Kalanick and Trump have not yet met in person. A previous version's headline misstated that they had.