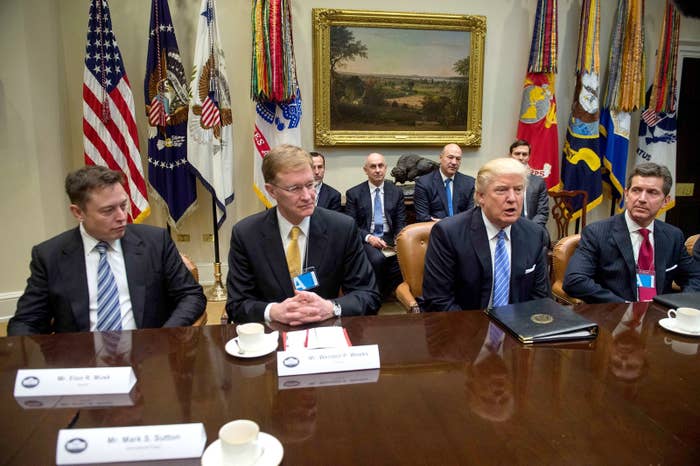 At least five people who had paid deposits to reserve Model 3s have canceled their orders over Tesla Chief Executive Elon Musk's decision to work with President Trump by sitting on two of his advisory groups.
Musk has joined Trump's economic advisory group, as well as a manufacturing council. Other tech companies, such as Uber, have come under fire for their political decisions since Trump was elected, forcing their leaders to take sides. Musk, whose cult fan base views him as one of the leading luminaries for clean energy, has faced criticism for working with Trump. The president has called climate change a hoax, and recently signed an executive order restricting immigration that spurred protests at airports across the country. The backlash over Uber's collaboration with Trump led to a viral #DeleteUber campaign, and Musk's stance has also cost Tesla business. Five customers showed BuzzFeed News confirmations of their canceled reservations for the $35,000 Model 3, which required a refundable $1,000 deposit.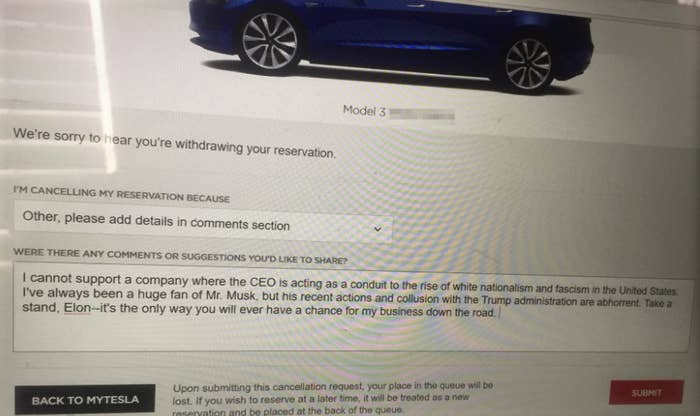 "I feel that someone that wants to colonize Mars and who worries about the machine uprising should not be scared to voice opinions counter to the Trump administration," Jodie Eason, who lives in Chicago and canceled her Model 3 order with her husband, told BuzzFeed News. "We figured that speaking with our dollars is really the most effective way to get through to business people."
Tesla declined to comment.

Musk told CNBC before the election that Trump was "not the right guy" for the White House. Now he's collaborating with him. In an interview with Gizmodo last week, he said "the more voices of reason that the president hears, the better."
"Simply attacking him will achieve nothing," he said. "Better that there are open channels of communication."
On Sunday, about two days after Trump signed an executive order suspending the intake of refugees and restricting immigration, Musk tweeted that he would take suggestions for amendments to the order and discuss them with the president.
One former Tesla customer in New York City who put down a deposit for a Model 3 called Musk's comments on the immigration order "rather disappointing." "Stronger words came from Starbucks," said the source, who was granted anonymity because his company does not allow employees to speak to the media.
"To see someone I've always looked up to give such a half-hearted, mealy-mouthed statement — it was really disappointing."
Nate Erickson, who lives in the Los Angeles metropolitan area and describes himself as "a huge, huge fan of Elon Musk and pretty much everything he's done," paid his $1,000 deposit on the first day the company began accepting reservations last spring. He canceled the order Monday morning, after watching Musk's reaction to Trump's immigration ban.
"To see someone that I've always looked up to so much, give such a half-hearted, mealy-mouthed statement — it was really disappointing," Erickson told BuzzFeed News.
"I understand what he's trying to do. It's just that I don't really agree with it," Erickson said. "He's somehow deluded himself into thinking that by having a seat at the table, he'll actually be listened to."
Jenny Messerly, a software engineer in the Bay Area, canceled her Model 3 order over the weekend.
"While I would like to help fund technological progress to fight climate change, as an LGBT American, raw survival is now the main concern," she told BuzzFeed News. "Learning of Elon Musk's relationship with Trump was the decisive factor for me."
She said she was surprised to see Musk serving as an adviser to Trump, particularly on two separate councils. "Two is certainly worse than one, in that it indicates deeper ties," Messerly said.
Another Tesla customer, who lives abroad, canceled his two Model 3 orders, citing Trump's nationalistic statements, the immigration ban, and plans to build a wall along the US–Mexico border. "Especially, being a German, we have very bad associations with these attributes," Ahmet Yalcin wrote.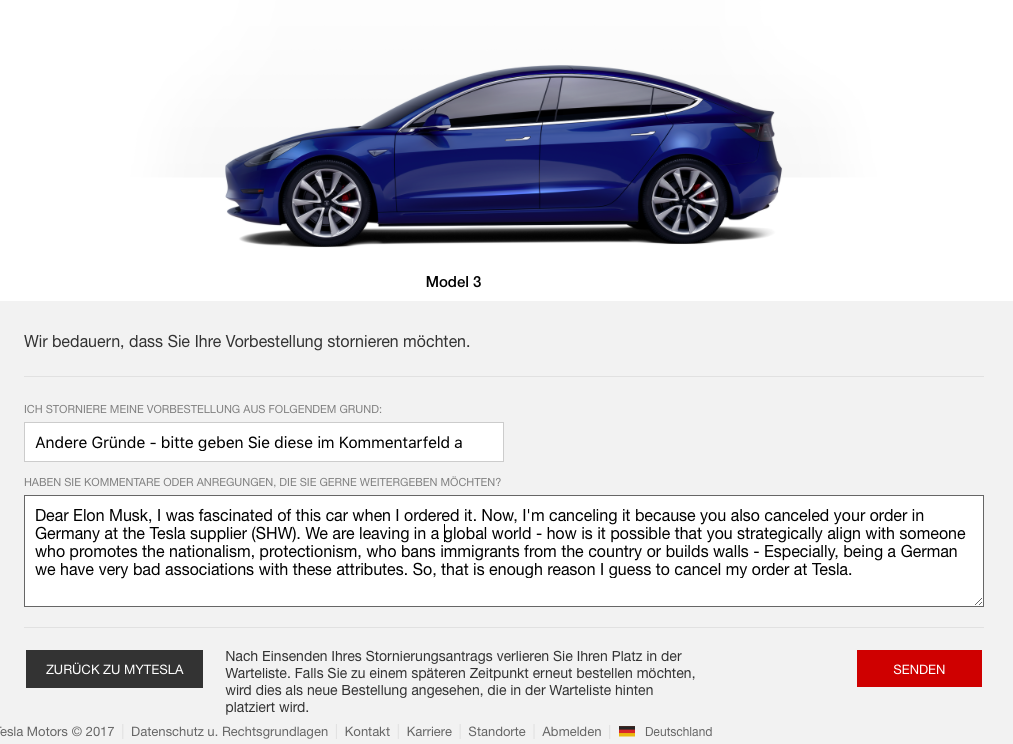 "The reason for ordering the cars was the beautiful mission of the company to save our planet, and the values of the company's leadership," Yalcin told BuzzFeed. "The reason for canceling the cars now is a personal conflict created by their recent political activities and alliances which do not reflect company's core values."