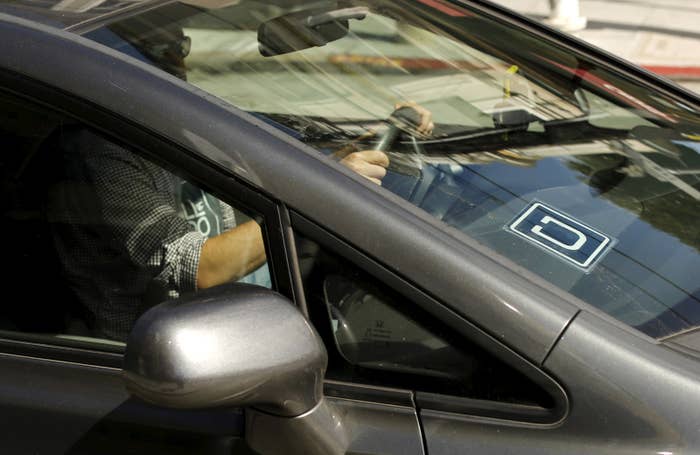 A federal judge has rejected an up-to-$100 million settlement Uber had agreed to pay to two class action lawsuits from drivers who argued they should be classified as employees rather than independent contractors, calling it "not fair, adequate, and reasonable."
The drivers had argued they should be entitled to benefits like reimbursement for expenses such as gas while driving for Uber. The settlement, which would have allowed Uber to continue classifying drivers as independent contractors, would have left some of the about 385,000 Uber drivers in California and Massachusetts with as little as $10 each in settlements.
A sticking point for US District Judge Edward Chen was how part of the settlement would resolve an estimated potential $1 billion in liabilities drivers could sue for under California's Labor Code Private Attorneys General Act (also known as PAGA) for only $1 million.
"The settlement, mutually agreed by both sides, was fair and reasonable," Uber said in a statement. "We're disappointed in this decision and are taking a look at our options."
Shannon Liss-Riordan, the drivers' attorney, told BuzzFeed News, "It is possible the parties could reach a revised agreement that satisfies the court's concerns. ... But if not, as I've said before, I will take the case to trial and fight my hardest for the Uber drivers."
The lead plaintiff in the case called the settlement "disastrous" in early May and dismissed Liss-Riordan as his lawyer. Following outcry from other class members over their disappointment in the terms of the settlement, Liss-Riordan offered to reduce her own fee by $10 million, leaving her firm with between $11 million and $15 million. (The settlement offered $84 million to drivers, plus an extra $16 million if Uber were to go public.)
Earlier today, Uber said it was preparing to launch a pilot program in Pittsburgh for passengers to hail autonomous vehicles – a move that will eventually remove drivers from the equation entirely. For now, the 100 autonomous Volvos will still have humans in the driver's seat.
The rejection of the settlement opens the class up to "substantial risk" regarding arbitration clauses signed by some drivers. "This risk would have the effect of substantially altering – if not effectively terminating – the class action in this Court," Judge Chen wrote. Because of these arbitration clauses, Liss-Riordan told BuzzFeed News the scope of the case and number of drivers involved could be limited to about 8,000 drivers.
"The drivers are in a holding pattern for now, while we see whether Uber will return to the settlement table or not," Seattle University labor law professor Charlotte Garden told BuzzFeed News. "If not, and if the arbitration issue goes badly, then most drivers will be left to individually arbitrate their claims." If that happens and the class is disbanded, Garden said it's "unrealistic" that many drivers would pursue individual arbitration. That would be a win for Uber.
As part of the settlement, Uber had also agreed to clarify its tipping policy by allowing drivers to place signs in their cars noting that tips are not included. The judge was "not convinced" making the tipping policy clearer would actually substantially increase drivers' income, according to a court filing, particularly because Uber has "actively discouraged tipping, arguing that it is inconsistent with its business model, drivers' interests, and a positive rider experience."
Last month, Uber argued in federal court that two subpoenas from the National Labor Relations Board (NLRB) — which is investigating the company's labor practices — should be stayed, because this class action settlement would have resulted in the withdrawal of the underlying charges of the NLRB's case. Now, however, that settlement has been rejected, so Uber's argument against the subpoenas is moot. In March, Uber was accused of impeding the NLRB's ongoing probe into drivers' employment status.
Uber has in recent months added several measures to placate drivers, including expanding a fee for passengers who make drivers wait longer than two minutes and giving drivers the ability to cash out instantly whenever they wish.