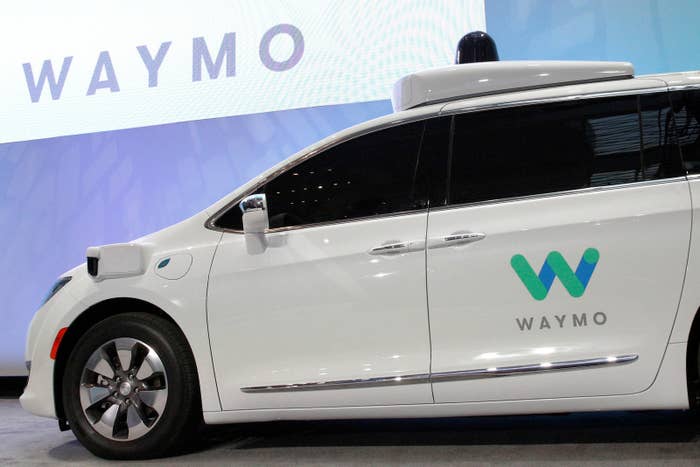 Alphabet's autonomous car company Waymo is exploring self-driving trucking, BuzzFeed News has learned.
"Self-driving technology can transport people and things much more safely than we do today and reduce the thousands of trucking-related deaths each year. We're taking our eight years of experience in building self-driving hardware and software and conducting a technical exploration into how our technology can integrate into a truck," a Waymo spokesperson told BuzzFeed.

BuzzFeed News first learned of Waymo's self-driving trucking efforts via a photograph. Waymo subsequently confirmed that it was in fact testing a truck, and said it was manually driving the semi on a public road for data collection purposes. The Waymo spokesperson confirmed that the company is currently testing just one truck.

Google began working on self-driving cars in 2009. It spun out its self-driving car program into a new company called Waymo in 2016, and earlier this year it announced it had been developing its own autonomous driving hardware. Earlier this year, the company launched a pilot program in Phoenix for people to take rides in their cars. The company had not previously announced trucking efforts.
Uber is also working on autonomous trucking. Last year, the ride-hail juggernaut purchased an automated trucking startup called Otto, whose founder Anthony Levandowski – a former Google employee – is now at the center of a lawsuit from Waymo. Waymo sued Uber in February, alleging Levandowski stole the company's self-driving trade secrets before decamping to start Otto and join Uber. Waymo's lawsuit alleges that Uber has benefitted from that information, and its lawyers have argued Otto was simply a ruse created so Uber would acquire it and obtain Waymo's secrets.
Trucking has been predicted to be one of the major applications of self-driving technology. Uber performed its first self-driving trucking delivery in October 2016: a 120-mile beer haul for Anheuser-Busch. The company performed that delivery after completing five consecutive tests along its Colorado route, BuzzFeed News reported in March, with state patrol troopers surrounding the vehicle in motorcade fashion.
Another startup called Embark is also working on self-driving trucks.