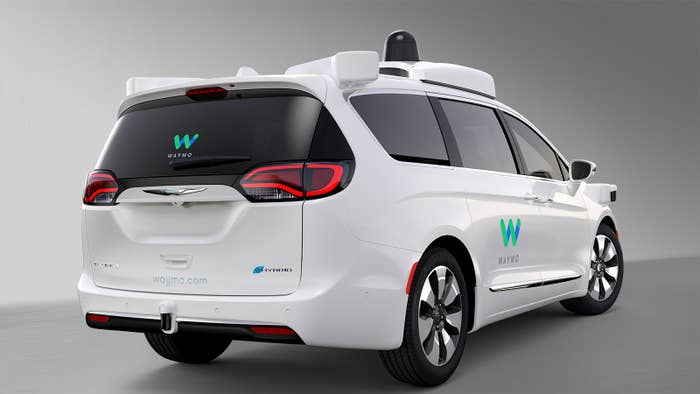 Google's self-driving car company, Waymo, has been quietly manufacturing its own sensors, radars, and vision system for its vehicles — hardware that will hit the streets on Waymo's 100 new Pacifica minivans later this month, its chief executive, John Krafcik, announced Sunday.
Krafcik said building the hardware in-house, in addition to its self-driving software, has brought down costs and increased reliability.
The company's own laser systems, for example, cost 90% less than the comparable $75,000 product LiDar from a supplier.
"We're mastering the hardware and software to build a better driver for a truly self-driving car," Kracfik said.
The Pacificas will launch in Arizona and California this month.

Krafcik also said the company has seen an improvement in the performance of its self-driving vehicles, which have traveled nearly 2.5 million miles.
He said that in 2015 Waymo test drivers turned off self-driving and took over control manually at a rate of 0.8 times per thousand miles. In 2016, that rate shrank to 0.2 disengagements per thousand miles.
Krafcik's announcement at Detroit's annual auto show on Sunday comes one month after Google parent Alphabet spun out its self-driving car program into a new company called Waymo.
Last month, the company also announced that it had completed a fully autonomous drive in Austin, Texas, in 2015 — a drive with a blind passenger in the back of a vehicle.
Meanwhile, Uber's self-driving car program, which launched in Pittsburgh in September, has hit some road blocks.
The ride-hail giant was forced by California regulators to shut down its self-driving pilot program in San Francisco just days after it launched.