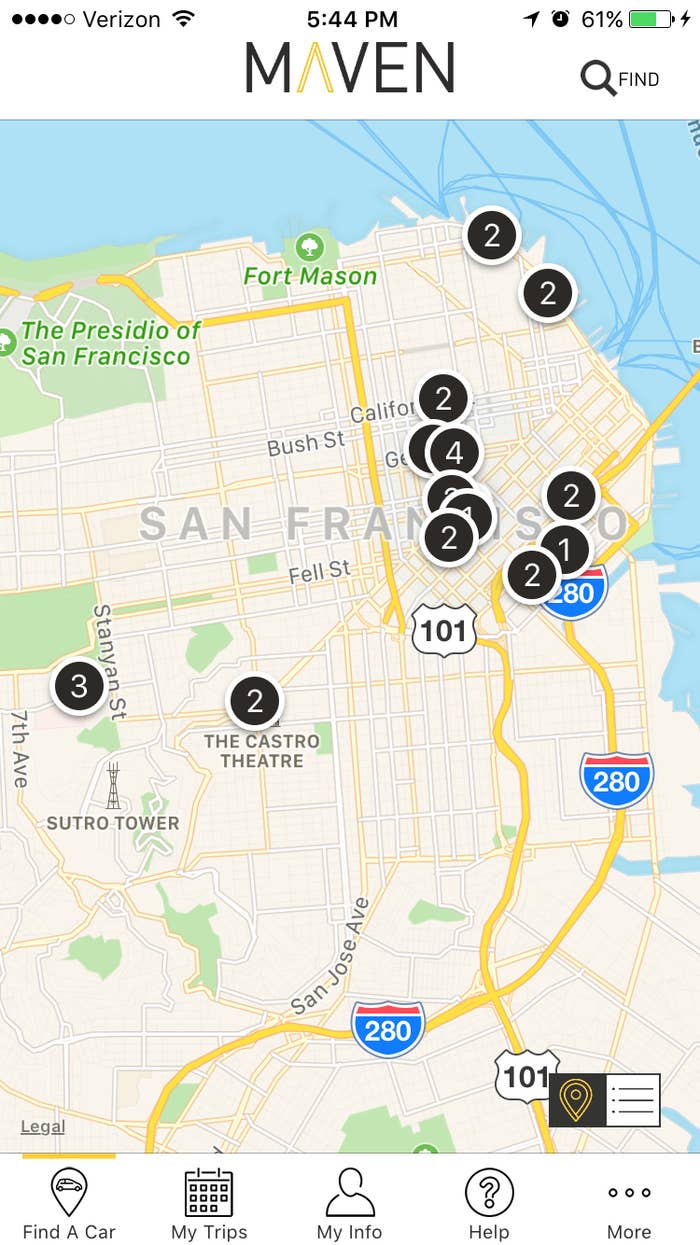 General Motors is expanding its new car-sharing business, Maven, to San Francisco, its 10th city, after launching in February.
With the Maven app, people can rent GM vehicles starting at $8 an hour. The automaker introduced the Zipcar-like car rental app in Ann Arbor, Michigan, in January. Maven has since expanded to Baltimore, Boston, Chicago, New York City, Detroit, Los Angeles, and Washington, DC. Its growth shows how General Motors is preparing for upheaval in the transportation industry, and a future in which the company needs to do more than just manufacture cars.
"When I joined GM a year ago, it was a company that just sold cars," said Dan Grossman, chief operating officer of Maven. "What are other mechanisms to produce revenue? GM could either ... spend all this money in marketing to convince people to keep buying our cars, or they could take money and invest. When GM sells a car, it produces revenue. When somebody rents a car, it produces revenue."
Maven has more than 10,000 members, the company said, who have collectively driven 15 million miles. There are about 60 cars on the Maven platform in each of its cities. In San Francisco, those 60 vehicles will be spread across 30 locations in the city. The rates, starting at $8 an hour, include gas.
GM President Dan Ammann told BuzzFeed News in April that he looks at his company and thinks, "the whole foundation of how your business has operated for the last 100 years is up for discussion." Of course, GM isn't the only old-school automaker to explore other business models. Ford purchased Chariot, a San Francisco based shuttle service, in September.
Grossman, who came to Maven from Zipcar, said GM is trying to distinguish itself by offering cars with more features. "We're not the cheapest option," he said. "We're not fighting for the lower end of the spectrum."
"It's the closest thing to ownership," Grossman said. "You've got your leather [interiors], you've got your satellite radio, you've got the ability to use your phone with Apple CarPlay and Android Auto."
Maven will likely expand into additional markets in the coming months.
"You'll see more activity out here in the west," Grossman said. "We're really calling San Francisco, our 10th market, our first real stake in the ground out here."