Elon Musk Wants To Power Every Home With A Solar Roof
The Tesla CEO wants you to buy an electric car to store in your garage in a home with a solar roof that has a battery pack to store all that energy from the sun – all from his companies.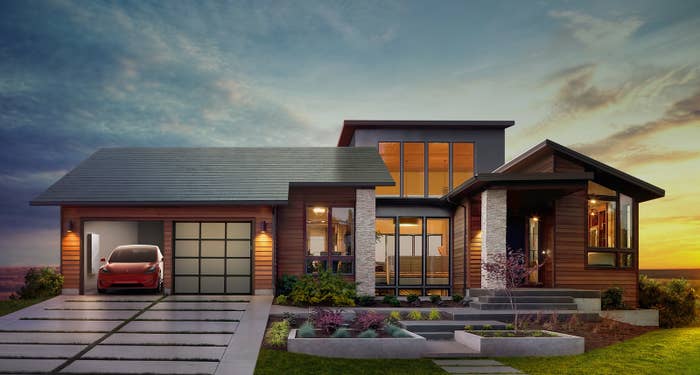 UNIVERSAL CITY, Calif. — A rare cloudy, gray day in Los Angeles cleared up in the late afternoon before Elon Musk took to a stage at Universal Studios to unveil Tesla's latest product — a solar roof that he envisions will one day sit atop every home.
"The houses you see around you are all solar houses. Did you notice?" Musk said, referring to a cul de sac of houses outfitted with glass tile solar roofs and Tesla's new $5,500 Powerwall 2 home battery, which packs enough juice to power the lights, sockets, and a refrigerator for a four-bedroom home for a full day.
"The goal is to have solar roofs that look better" with an "installed cost that is less than the cost of a normal roof plus the cost of electricity," the Tesla Motors CEO said.
The event, which drew more than 1,000 people, came 3 weeks before a Nov. 17 vote where Tesla shareholders will decide whether the two companies should formally merge. Tesla made an offer to acquire SolarCity in June. He also happens to be chairman of SolarCity, the solar energy company led by his cousin. Since announcing the merger, Musk has described the deal as a "no-brainer." Tesla's mission, after all, is to "accelerate the world's transition to sustainable energy."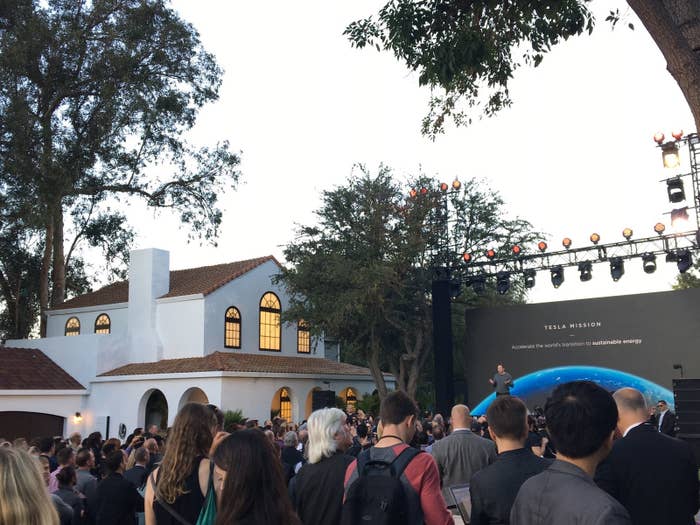 For Tesla, acquiring SolarCity would help the company move toward an ecosystem play: People who want to buy electric vehicles are more likely to have interest in sustainable energy at home, too. The solar roofs, made of quartz, would have a "quasi-infinite" shelf life, according to Musk. "Really, it's never going to wear out," he said.
The companies expect to save $150 million annually due to "synergies" if the merger is approved, according to regulatory filings. Wall Street, however, has expressed concern that Tesla, which which surprised the markets this week by delivering a profit last quarter for the second time, would be taking on too much risk by acquiring the beleaguered solar energy company. (SolarCity has about $3.35 billion in debt, according to Bloomberg.)
Asked about investors' concern, Musk said Friday, "This is not about balance sheet questions." He noted earlier that if shareholders were to vote down the merger, producing solar roofs en masse with SolarCity would be "unwieldy," and "definitely suboptimal."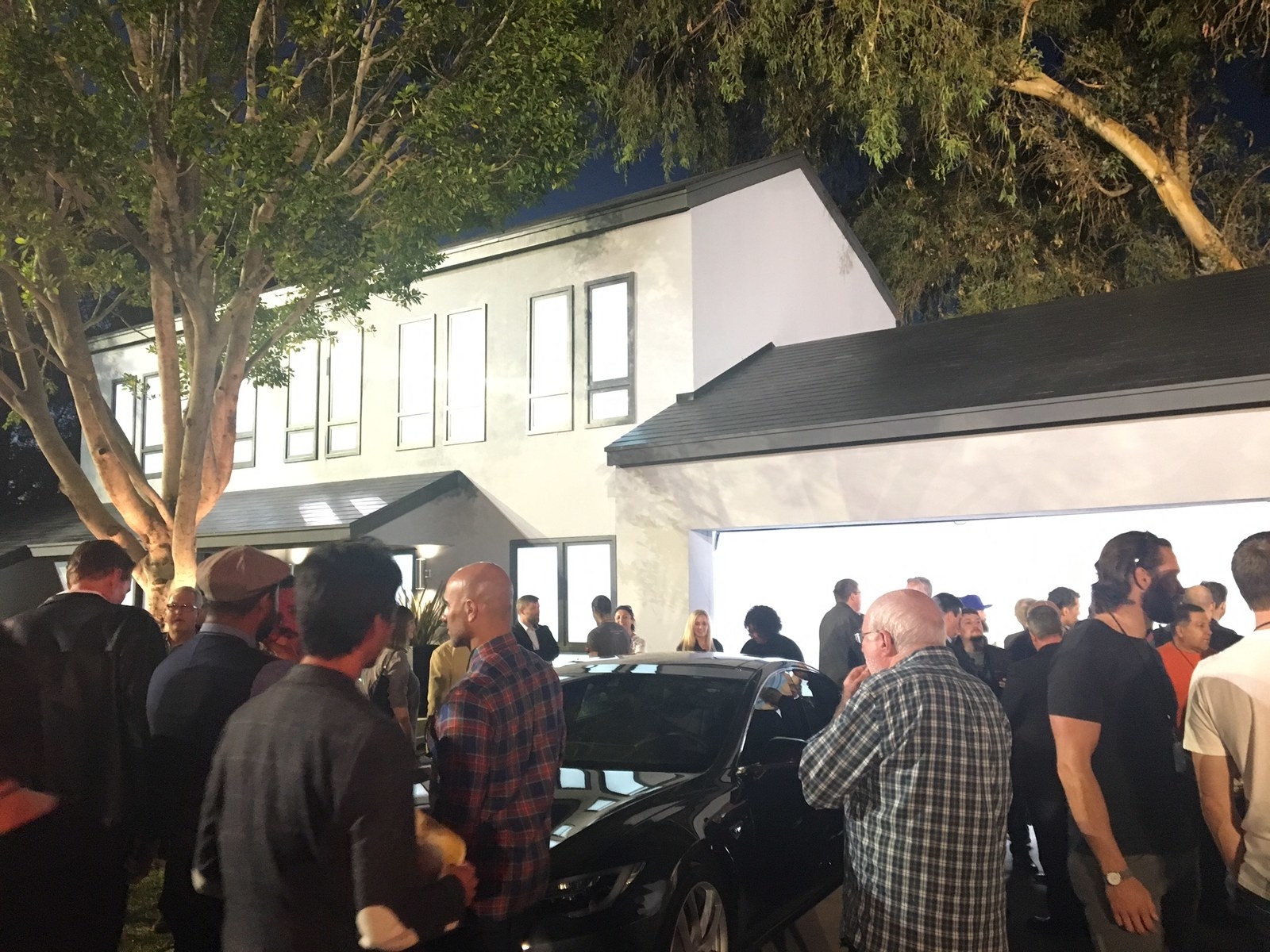 Investors might see things differently. Tesla is facing four lawsuits from shareholders, who allege that the carmaker is breaching fiduciary duty by proposing to purchase the solar energy company. Wall Street has largely viewed the proposed merger as a major risk to Tesla's business. Barclays analyst Brian Johnson called the solar roof unveiling "in our cynical view, part of their PR strategy to lay the groundwork for a vote" through a series of hyped announcements in recent weeks, culminating with the Universal Studios event.
Still, for Musk and Tesla, the Universal Studios event marked another big moment in a year of rapidfire headlines for his companies. Last week, Musk announced that all future Teslas would include the necessary hardware for self-driving capability. The company expects the software needed to demonstrate an autonomous ride from Los Angeles to New York will be ready by the end of next year. That news came as Tesla continues to face a federal investigation over the role its Autopilot driver assistance technology played in recent crashes. Meanwhile, Musk has also outlined his aerospace company SpaceX's plans to eventually colonize Mars.
But at Universal Studios on Friday, it was all about the solar roofs, which Musk expects to begin rolling out next summer.
"This is the integrated future. You've got an electric car, a Powerwall, and a solar roof. It needs to be beautiful, powerful, and seamlessly integrated," Musk said. "If all those things are true, why would you go any other direction?"