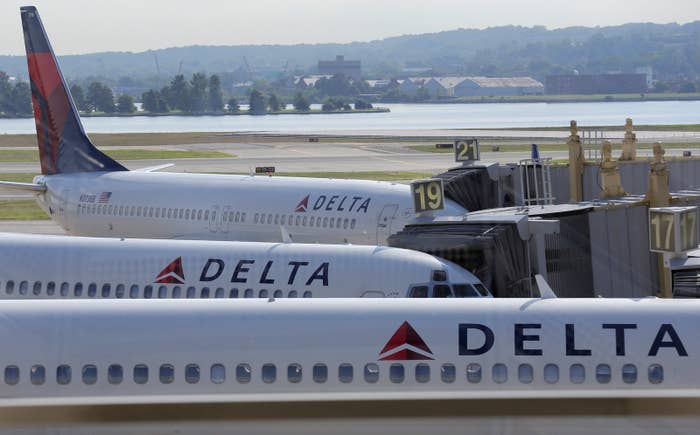 Last week, a severe thunderstorm in Atlanta forced Delta to begin canceling flights out of its major hub. But that storm quickly spiraled into a five-day fiasco that resulted in 4,000 canceled flights and plenty of angry customers. The culprit? A failure of technology.

When airlines cancel flights, schedulers play musical chairs behind the scenes to redirect crew members and pilots to where they're needed. In Delta's case, as the company delayed and canceled thousands of flights, its systems couldn't handle the pressure.
This wasn't the first time Delta experienced a meltdown of this kind. Back in August, after a power outage in Atlanta knocked its systems down worldwide, forcing the company to cancel more than 800 flights. The company canceled another 300 flights in January, citing another "system outage." And it's not just Delta: United grounded some flights in January, and Southwest delayed more than 930 flights in December – with both airlines blaming computer problems.
So why are airlines' computer systems consistently crashing, and why couldn't Delta's keep track of its crews during a crisis?
In the case of Delta's recent incident, the issue was that its crew management system was overwhelmed – not that its computers crashed outright. In a memo to staff on Monday, Delta CEO Ed Bastian said "Our recovery was hampered by a lack of available seats to accommodate customers as well as a failure of crew tracking systems to adequately position our people to do their jobs." On an earnings call on Wednesday, Bastian said Delta plans to invest more heavily in technology that will help the airline track crew members. The airline also said in a presentation to investors in December that it plans to invest $450 million in technology in 2017.
Bob Edwards, a former chief information officer for United Airlines, said it appears from Bastian's comments that Delta's crew tracking systems "don't have the ability to rapidly optimize and reschedule" staff after flights are canceled, particularly at the large scale Delta faced last week.
"It's a system that's not designed to handle that magnitude of chaos," Edwards said. "Because Atlanta is a weather-friendly hub, Delta doesn't have the need to practice major weather recovery...I don't know if Delta has made the same investment in technology to help the airline recover and recover quickly when something like this occurs."
"Maybe they should've made the investment, but they haven't," speculated Edwards, who left United in 2014 and worked on IT systems at Continental Airlines before the two airlines merged. He called it "a failure of a business to give their employees the tools to handle an event like this."
Part of the problem is also that nobody knows how often computer systems cripple an airline – or compound a disaster like in the case of Delta's Atlanta issue. The Department of Transportation tracks domestic flight delays in five categories: late aircraft arrival, weather, security, air carrier delays and delays caused by the National Aviation System.
Delays caused by glitches or other airline tech issues fall into the "air carrier" bucket of problems, which caused 5.1% of national flights from January 2016 through January 2017 to be delayed. (That figure was 5.56% in 2015. When the DOT first began collecting data on the causes of flight delays in June 2003, that percentage was 4.3%.) But that category is broad and includes everything from late-arriving crews to delays loading baggage and meals or cleaning and maintenance of the airplane.
"Without data, it's really difficult to study this," Vikrant Vaze, an assistant professor of engineering at Dartmouth who has researched airline-caused delays, told BuzzFeed News. "Nobody tracks it."
Still, headlines suggest that airlines are struggling as a result of computer-related issues, Vaze said. "Anecdotal evidence suggests that the resiliency is lower than what it should be."
The Department of Transportation doesn't track delays or cancellations that result from computer outages because they do not affect safety, a spokesperson told BuzzFeed News. Airline computer systems that manage reservations or check-ins are separate from those that run the aircraft and communicate with the Federal Aviation Administration.
"Airlines are already highly motivated to avoid computer glitches, which can cost airlines millions of dollars in grounded aircraft and crews, and services, compensation, and refunds to passengers," a DOT spokesperson told BuzzFeed News in November, during the Obama administration. (The Trump administration's DOT did not return a request for comment.) "Reduced on-time performance totals could also impact future bookings. Avoiding such costs is likely a more effective incentive than detailed regulations concerning the carriers' IT systems."
In August, US Senators Ed Markey of Massachusetts and Richard Blumenthal of Connecticut, both Democrats, sent a letter to 13 major airlines, asking for information about recent technology-related outages, and a list of all the instances in the last five years. Airlines' responses to their questions have not yet been released.
Many argue that airlines have little incentive to improve their operations — after all, a series of mergers in recent years have led to little competition for business.
"The airlines aren't necessarily forced to innovate in certain ways," said Megan Ryerson, assistant professor of city and regional planning and electrical and systems engineering in transportation at the University of Pennsylvania. "This meltdown that happened to Delta would not stop me from flying them if I lived in Atlanta. What is incentivizing them to improve their systems?"