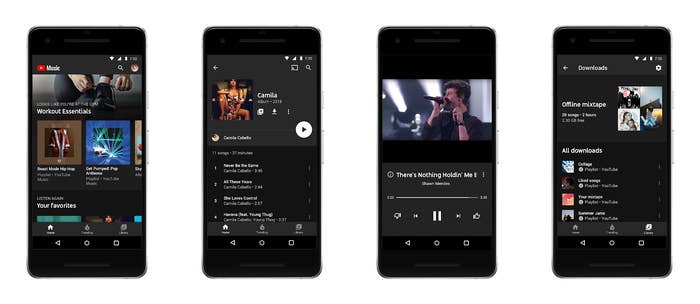 YouTube is launching a Spotify-like music streaming service called YouTube Music on Tuesday.
At $9.99 a month, it will cost the same as rival streaming services but will also have a free tier supported by — what else? — ads.
In a blog post announcing the service, YouTube says that YouTube Music will have a "reimagined mobile app" and a brand new desktop music player. But it doesn't stop there. In addition to official songs and albums, YouTube Music will also let you stream remixes, live performances, covers, and music videos, all drawn from YouTube's existing catalog.
And because YouTube is owned by Google, the company responsible for developing creepily realistic artificial intelligence, YouTube Music will use those AI smarts to find songs you might not know the names of — try "that hipster song with the whistling" says YouTube, or just punch in some song lyrics.
But wait, doesn't Google already have a streaming service called Google Play Music?
It does! The good news is that if you already have a subscription to Google Play Music, you'll get YouTube Music as part of it. The bad news is that even if Google Play Music isn't going away on Tuesday, its days are certainly numbered.
Feel like giving Google even more money? For $11.99 a month, you'll get YouTube Premium, which will get you YouTube Music as well as access to YouTube Originals like Cobra Kai. Google's killing YouTube Red, which was what this entire package was called before (RIP), but if you're a Red subscriber, you'll be able to get YouTube Premium for your existing $9.99 a month if you sign up before Tuesday.
Here's a GIF of me trying to figure out YouTube's various paid streaming options.
YouTube Music will first roll out in the United States, Australia, New Zealand, Mexico, and South Korea, before expanding to more countries.