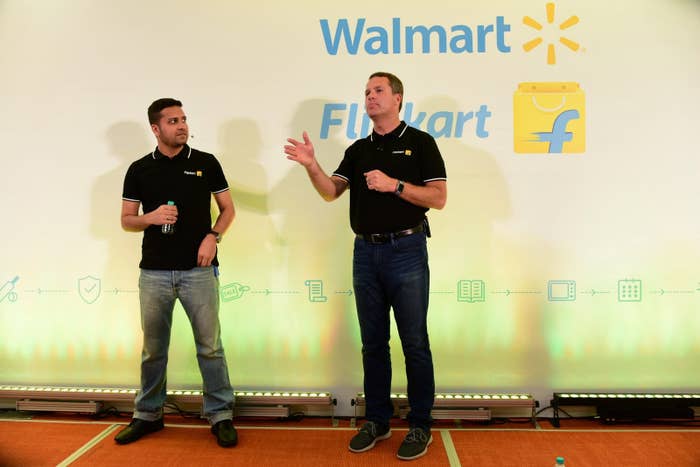 Binny Bansal, the cofounder and CEO of the Walmart-owned Flipkart Group — India's largest e-commerce company and Amazon's biggest rival in the one of the world's fastest-growing e-commerce markets — resigned on Tuesday after an investigation into allegations of "serious personal misconduct," Walmart said.

Details of Bansal's alleged misconduct weren't immediately clear. Flipkart and Walmart did not respond to requests for comment.
In a filing with the US Securities and Exchange Commission, Walmart said that Bansal had strongly denied the allegations of personal misconduct against him.
"Nevertheless, we had a responsibility to ensure the investigation was deliberate and thorough," the company wrote, and added, "While the investigation did not find evidence to corroborate the complainant's assertions against Binny, it did reveal other lapses in judgement, particularly a lack of transparency, related to how Binny responded to the situation. Because of this, we have accepted his decision to resign."
Flipkart was Walmart's biggest acquisition to date.

Kalyan Krishnamurthy, currently the CEO of the Flipkart division within the Flipkart Group, will now report directly to the board, according to Walmart's filing.
"The allegations left me stunned and I strongly deny them," wrote Bansal in an email to Flipkart employees. "These have been challenging times for my family and me. I am concerned that this may become a distraction for the company and the team."
Walmart announced that it was buying the Flipkart Group for $16 billion in May to battle Amazon in India, one of the hottest e-commerce markets in the world. Analysts predict that the country will be a $200 billion e-commerce market in less than a decade. The acquisition by Walmart put Bansal's net worth at $1 billion.
Flipkart was started in 2007 in Bangalore by former Amazon employees Binny Bansal and Sachin Bansal, who share a last name but aren't related to each other. Before it was acquired by Walmart, the company was a poster child for India's startup ecosystem for becoming the first Indian startup to hit a billion-dollar valuation. It employs more than 30,000 people.