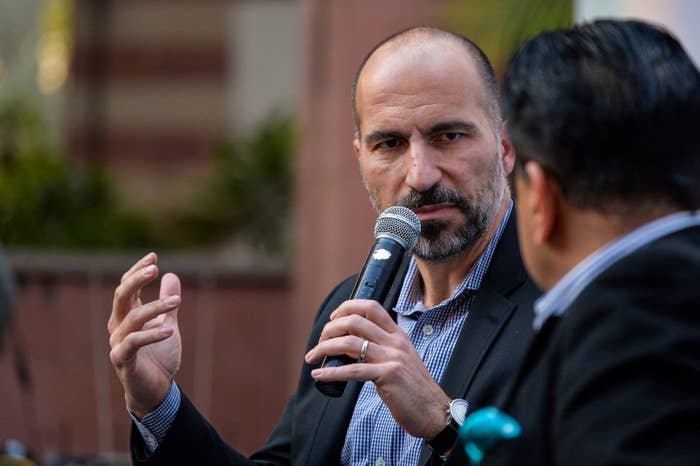 Dara Khosrowshahi, Uber's CEO of six months, said on Thursday that the ride-hailing service would continue to invest aggressively in both Southeast Asia and India, where the company is losing money and faces strong competition from local players like Grab and Ola.
Uber has been slow to expand its presence in India and Southeast Asia, allowing competitors to quickly gain ground. Singapore's Grab, for instance, claimed to have 95% of the country's ride-hailing market share last year. And Ola, Uber's Indian rival, currently operates in 110 cities against Uber's 29 cities. Ola does 1 billion rides annually, compared to Uber, which announced in mid-2017 that it completed 500 million total rides in the country in its first four years of operations.
"We expect to lose money in Southeast Asia and expect to invest aggressively in terms of marketing, subsidies, etc.," Khosrowshahi told reporters in India, which is Uber's fastest-growing market outside the United States, and where he is currently on his first official tour.
While Uber's India operation is not yet profitable, it does account for 10% of Uber's rides globally. "If we can succeed in India, [it] can shape our products globally, and can be a laboratory for us and for the next 6 billion customers who access our products in the future," he said. Khosrowshahi admitted, however, that that Uber could be a better competitor in both markets. "We will look at anything," Khosrowshahi said, "but right now, the plan [for Southeast Asia and India] is to go forward, lean forward, and continue to invest."
"While SoftBank may have an opinion, theirs is not the only opinion in the room."
Khosrowshahi's remarks come less than a week after reports claimed that Uber was preparing to sell its Southeast Asia business to Singapore's Grab — a move similar to its strategy in China, where it sold its ride-hailing operating to local competitor Didi Chuxing for a 20% stake in the company in 2016, and Russia, where it merged with local player Yandex in 2017 for a 37% stake.
Japanese technology conglomerate SoftBank recently became Uber's largest investor with a 15% stake — an investment that's complicated because SoftBank also owns stakes in rivals Grab and Ola. SoftBank board director Rajeev Misra, who will join Uber's board as part of the deal, suggested in an interview with the Financial Times that Uber should focus on growth in developed markets like the US, Europe, and Australia, and exit unprofitable countries, as it readies for an IPO in 2019.
"SoftBank is a respected investor, but ultimately, the strategies that we undertake are the strategies that I am driving as the CEO of the company in concert with the board," said Khosrowshahi on Thursday. "So while SoftBank may have an opinion, theirs is not the only opinion in the room. We as a company need to have a balanced profile in terms of growth and investment. There are developed markets that we are going to continue to invest in that are going to be more profitable…and we should actively be investing in markets like India and Latin America that have huge growth ahead of us."
Khosrowshahi, who took over as CEO after Travis Kalanick resigned last summer, has tried to improve the company's image, which has been battered by regulatory problems around the world, unhappy drivers, and multiple government investigations into potentially illegal business practices.
Last year, Uber fired a top executive in Asia who obtained the medical records of a woman who was raped by an Uber driver in India in 2014 and circulated the confidential details internally at the company. In San Francisco in December Uber settled the defamation suit filed by the woman, but did not disclose the terms of the settlement.
Khosrowshahi told BuzzFeed News that he was trying to avoid "unfortunate circumstances like that" by improving company culture. "We crowdsourced opinions from employees," he said, "and the senior team talked it over and we got a new set of norms, one of which is consistently repeated to me by our employees, and it says, 'We do the right thing, period.' Our employees have gotten the message loud and clear, and to avoid [incidents like this] in the future, it's important that it comes from the bottom up, from our teams, and not just from me."