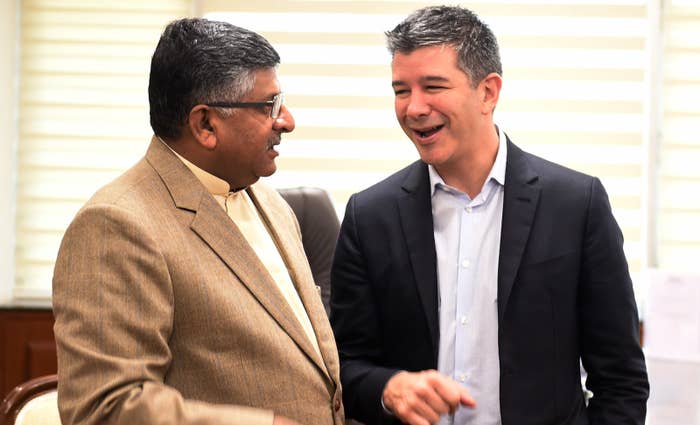 India's federal government has released guidelines to regulate the country's taxi industry, which means that ride-hailing apps like Uber and its homegrown Indian rival Ola, are finally legal in the country.

The new guidelines were framed by the country's Ministry of Road, Transport and Highways, and are available online as a 37-page document. Although the guidelines are nationwide, it is up to each state to implement them, which means that the companies could still push back and lobby against certain guidelines in the document.
Among other things, the new guidelines say that ride-hailing services which use apps will need to have their algorithms which calculate distance and fare audited for accuracy by the country's Ministry of Electronics and Information Technology.
They also recommend capping surge pricing at three times the minimum fare during "peak hours", and four times between midnight and 5 am — although they leave it to individual states to decide what the final multiplier to cap the maximum fare should be.

The guidelines also touch upon protecting consumers' personal data by mandating ride-hail services to include a "firewall" for data security, and explicitly giving riders the option of sharing their data with the app or not. Uber recently introduced a controversial update on iOS that tracks users' locations even when they aren't using the app, something that privacy advocates have slammed as "a fairly aggressive use of a customer's data."
"This is an important milestone in the development of ride-sharing in India, and one that will help the industry better serve riders, drivers and cities in the years ahead," said Uber India's President Amit Jain in a statement to BuzzFeed News. "While there are concerns on price caps and price floors, the framework will allow the industry to continue to flourish. We look forward to working closely with our existing partners at the state level as these guidelines are put into practice."

Uber declined to respond to BuzzFeed News' specific questions about getting its algorithm audited and the company's concerns about price caps. Ola did not immediately return BuzzFeed News' requests for comment.
India's lack of taxi industry regulations so far has led to ride-hailing services operating in a legal gray zone, battling it out with federal and state authorities, and facing stiff resistance from local taxi and auto-rickshaw unions. In August, the Delhi High Court issued a notice to Uber and Ola to stop surge pricing in Delhi.
"These guidelines are quite liberal and give ride-hailing companies a lot of freedom," said Jaspal Singh, a partner at Valoriser Consultants, an urban transportation and market research agency that provides consulting services to taxi companies in India. "I think that the government is finally looking at ride-hailing services as an alternative to India's dismal public transport systems, especially in bigger cities."
The guidelines, however, do not address predatory pricing, something that Singh says could be a concern for companies that don't have enough capital to subsidise rides like Uber and Ola do. They also don't define what "peak hours" are, which means that companies are free to raise prices during any time of the day they see fit.
India is the largest battleground for Uber outside the US, after it merged its operations in China with rival Didi earlier this year. Both Uber and Ola have ramped up their policy presence in the country and lobby aggressively to influence public policy around transportation.
Last week, Uber CEO Travis Kalanick visited the country to meet key government officials, including President Pranab Mukherjee.