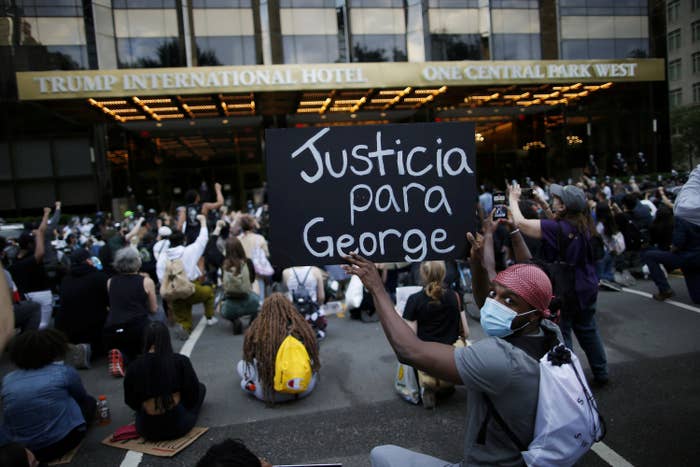 Bowing to criticism that predates his presidency, Twitter and Snap have begun to limit how President Donald Trump uses their platforms — fact-checking him, adding warning labels to his posts, or reducing his reach. But as the platforms enact new rules for Trump, politicians around the world continue to elude moderation, leaving misinformation and violence in their wake.

Members of India's ruling Bharatiya Janata Party, for instance, have spread misinformation and anti-Muslim prejudice for years; and in 2018, Iran's leader Ayatollah Ali Khamenei incited violence against Israel, calling it a "malignant cancerous tumor" that must be "removed and eradicated."
Around the world, digital activists are using the actions taken against Trump to argue for more strict moderation of political speech, saying that Twitter's and Snap's actions against the world's most powerful politicians were landmarks.
"What Twitter did with Trump was encouraging," said Baybars Örsek, director of the International Fact-Checking Network, a global fact-checking collective, "but it's important to make these policies globally applicable."
In a blog post published in October 2019, Twitter said that "if a Tweet from a world leader does violate the Twitter Rules but there is a clear public interest value to keeping the Tweet on the service, we may place it behind a notice that provides context about the violation and allows people to click through should they wish to see the content."
Twitter has put that rule into action for tweets outside the US before, including an example from April where it appended a label to a tweet by Osmar Terra, a Brazilian politician who falsely claimed quarantine increased the spread of the coronavirus. In March, it deleted two tweets from Brazilian president Jair Bolsonaro for spreading coronavirus misinformation.
A Snap spokesperson did not specify whether the platform would do the same thing it did with Trump's account with other leaders on the app, but said that the company would act when it came to racism, violence, and injustice on Snapchat.
But digital rights advocates say that despite Twitter's recent actions, the platforms have a history of doing too little about posts from politicians calling for violence outside the US and Europe, especially those that aren't written in English. The result, they say, has been attacks targeting racial, religious, and ethnic minority groups — including ethnic massacres in South Sudan's civil war in 2017, the burning of Muslim-run businesses in Sri Lanka in 2018, and genocide in Myanmar the same year.
"We've seen firsthand how deadly allowing this type of language from people in positions of authority can be in Myanmar and are finally dismayed by how Facebook can continue to justify letting such speech up," said Victoire Rio, an activist whose work focuses on Myanmar.
Dia Kayyali, a program manager at Witness, a human rights NGO, told BuzzFeed News that advocates outside the US and Europe have to work together because platforms "will not devote the same amount of resources and attention to us."
"Politicians in many places have posted and tweeted things as inciting, if not worse, than what Trump said."
"Politicians in many places have posted and tweeted things as inciting, if not worse, than what Trump said," they said. "Yet platforms seem to have been less likely to take down content from [those] politicians."
"Imagine what would happen if we saw Bolsonaro in Brazil, Duterte in the Philippines, Modi in India, Trump in the United States, and Johnson in the UK all fact-checked by these platforms in the next two months," Thenmozhi Soundararajan, executive director of Equality Labs, a South Asian American advocacy group that focuses on technology and human rights, told BuzzFeed News. "Imagine what that would do for the democracies there."
Such a move would not come without political consequences. Last year, a parliamentary committee in India summoned Twitter executives to examine allegations of political bias raised by right-wing users, who protested outside the company's New Delhi offices. Earlier this week, a member of India's ruling Bharatiya Janata Party called for Twitter to be declared a "terrorist organization" and asked for charges of sedition to be filed against the company's public policy officials in the country.
"There's a lot of value given to democratic rights in the US in a way you do not see in a country like India," said Jency Jacob, editor of Boom, a fact-checking organization in Mumbai. "I don't know if the platforms in India would really go out on a limb and do what they did with Trump to government officials in India. As foreign companies, they are always worried about policies here that may not be uniform or predictable, and they don't want to be caught at the wrong end."
Platforms like Twitter, said the IFCN's Örsek, would also need to be mindful of local conditions and the role of fact-checking organizations in markets outside the US if they decide to check those in power in those places. When Twitter put a label on Trump's misleading tweet about mail-in ballots, for instance, it included a link to a curated list of fact-checks from mainstream American publications, journalists, and fact-checkers disputing the president's claim.
"If you're going to rely on these [to label misleading tweets], you have to be mindful of the role and responsibilities of these organizations in countries where leaders might go after them or individual journalists for fact-checking them," he said.
After years of lobbying platforms to enforce their rules against hateful and violent speech, some digital rights activists are disillusioned. In Sri Lanka, rights groups spent years lobbying Facebook to take down content calling for violence against minority groups — a serious concern in a country that saw a decades-long civil war across ethnic lines that only ended in 2009. Yet videos and posts on Facebook have driven ethnic violence in the country, which activists say shows the double standard the company adopts between English-language content and everything else.
"I'm skeptical, to be honest."
"I'm skeptical, to be honest," said Yudhanjaya Wijeratne, an author and technologist in Sri Lanka. "For both these companies — Twitter and Facebook — no action is taken unless it's an American issue in the American press; let's not pretend that these moves aren't largely shaped by the need to 'look good.'"