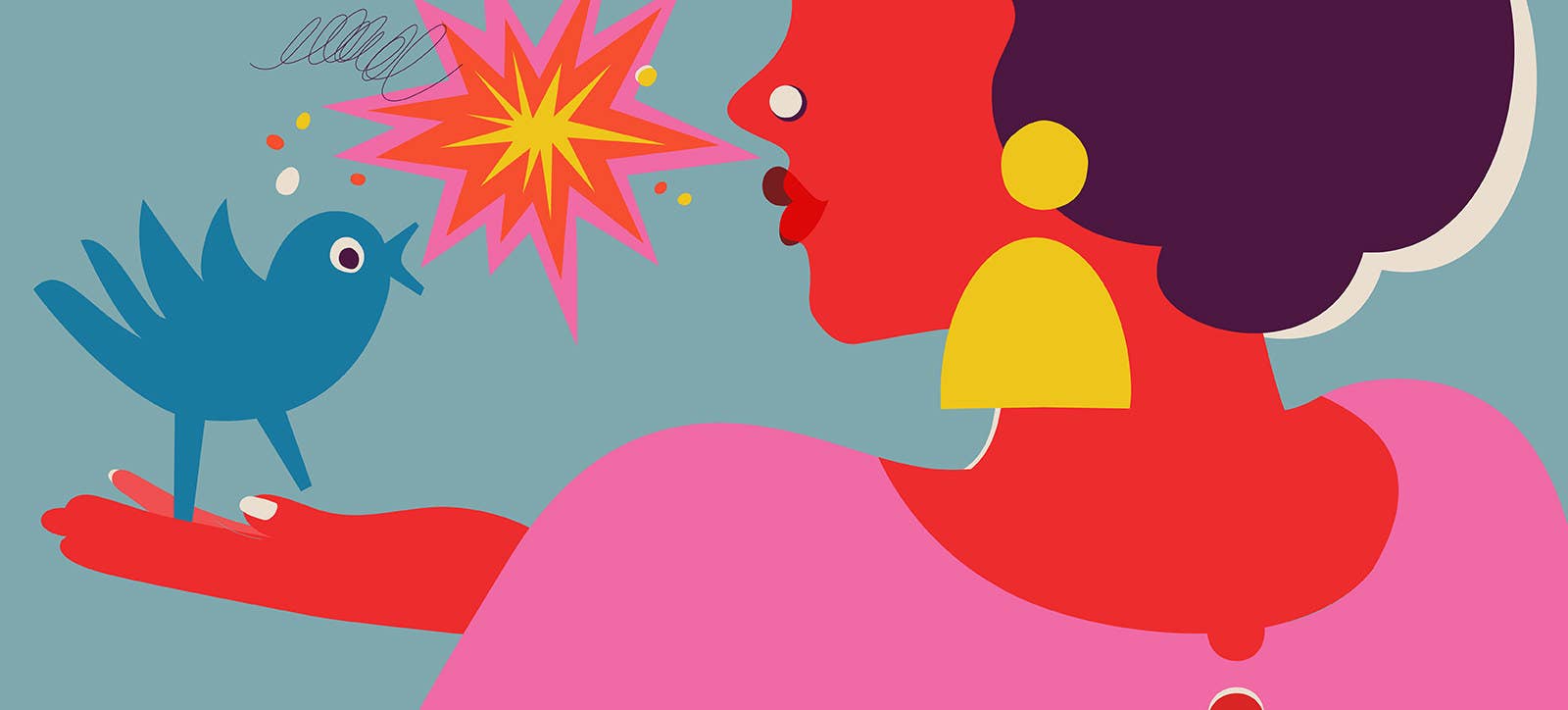 Dhanya Rajendran, the editor-in-chief of an influential Indian website called The News Minute, is used to being trolled on Twitter. Still, she wasn't prepared for what happened on a Sunday evening in August. A few minutes past 6, a coordinated deluge of rape and death threats flooded Rajendran's Twitter mentions. One of the abusers wanted to penetrate her with a metal rod. Another wanted her to be a part of a gang bang.
Rajendran's crime? Tweeting about how she had walked out of a movie starring Vijay, a South Indian superstar.
Within minutes, more than 31,000 notifications crashed Rajendran's phone. Trolls had orchestrated the harassment campaign using a hashtag, #PublicityBeepDhanya (replace "beep" with an expletive of choice), which became one of the top five trends in India for hours.
The fact that a hashtag crafted specifically to abuse someone trended for hours became national news in India. Vijay, whose fans started the campaign, condemned the incident. The Network of Women in Media, India (NWMI), an organization that aims to promote gender equality within the Indian media, urged Twitter India to be "more sensitive to online abuse, specifically of women."
And from Twitter? Dead silence. In fact, the social network did nothing about the hashtag until Rajendran picked up the phone and contacted a personal connection at the company, a member of Twitter India's public policy team who offered to "put a word in," Rajendran told BuzzFeed News. An hour later, Twitter India removed the hashtag from its list of trending topics (Twitter's rules say the social network "may prevent certain content from trending," including content that incites "hate on the basis of race, ethnicity, national origin, sexual orientation, gender, gender identity, religious affiliation, age, disability, or disease").
Abuse and harassment have been a global problem for Twitter for over a decade. Just last Friday, women around the world called for a Twitter boycott for a day to protest the social network's inaction on harassment, prompting Twitter CEO Jack Dorsey to unleash yet another tweetstorm about how the company was going to be "more aggressive" about curbing harassment on its platform. Over the years, Twitter has introduced new safety features such as keyword filters, and established a Trust and Safety Council. But, say targets, none of this has been very effective in developing markets like India, which the company claims is its fastest growing market in the world.

"I have access to people from Twitter, but what about those who don't?"
BuzzFeed News' interviews with more than a dozen people who are regularly harassed on Twitter in India reveal that the social network isn't doing enough to address harassment concerns. In the trolls' crosshairs are not just high-profile women, but Indian cricketers, male television anchors, and singers. In many cases, convincing Twitter to take down abusive accounts or remove obscene and abusive hashtags from its trending column has required harassment targets to ask favors of Twitter India employees they know personally.
And the fact that India has 22 official languages — of which Twitter supports six — complicates matters further. Twitter's inability to deal with local language abuse in India typifies how American tech companies with global ambitions often stumble in unfamiliar international territories. After all, it's hard to know from your San Francisco headquarters whether people responsible for reading abuse reports from India in Tamil and Bengali are doing a good job, especially since Twitter told BuzzFeed News that it's focusing more on improving its abuse-filtering algorithms rather than hiring more humans to check multilingual harassment.
After several high-profile abuse incidents on Twitter in India over the last year, the conversation around trolling and harassment on social media has reached a fever pitch in the country. In July 2016, right-wing trolls targeted Neha Dixit, an independent journalist, after she published a story about the role of the Rashtriya Swayamsevak Sangh (RSS), a hypernationalist Hindu organization, in child trafficking. Trolls published Dixit's street address on Twitter, and one of them threatened to rape her with a "thorny bush."
In February this year, trolls threatened Gurmehar Kaur, a 20-year-old Delhi University student who had criticized the right-wing student organization Akhil Bharatiya Vidyarthi Parishad (ABVP), was so afraid of their retaliatory rape threats that she left Delhi for a few days. And in August, the Committee to Protect Journalists condemned Twitter attacks on Anna M.M. Vetticad, a journalist who writes primarily about films and is frequently subjected to misogynistic abuse and religious profiling on Twitter. Victims BuzzFeed News spoke to called Twitter's response to these incidents "apathetic."
"It's definitely getting worse over time, not better," Dixit told BuzzFeed News. "It's kind of disturbing to think that these days, most of my discussions with other journalists, especially, are about how we are trolled on Twitter."
In April, the Hindustan Times, a leading national newspaper, ran a high-profile campaign called "Let's Talk About Trolls," in which Mahima Kaul, Twitter India's head of public policy, defended the platform. "We provide users with controls to limit who they follow, interact with, and who follows them," she wrote, and described how users could mute conversations, keywords, and phrases from their timelines, how they could block and mute people, and report tweets and accounts for action. "Our job at Twitter is to ensure the platform continues to be a place where the expression of diverse viewpoints is encouraged and defended," she wrote. Twitter declined BuzzFeed News' requests to interview Kaul.
"On occasions when I have reported harassment, my experience on Twitter has been pathetic," Vetticad told BuzzFeed News. "Over the years, only one account I reported has been suspended. Otherwise, I've got the standard robotic response saying the tweet in question does not violate Twitter's rules."
"Both me and my friends have reported hundreds of accounts threatening me by now, but nothing ever happens," said Rana Ayyub, a journalist who faces frequent identity-based harassment on Indian Twitter. "What is the point of the reporting tools? For every single account I block, 10 others pop up. I think if Twitter sets a few examples by banning a few high-profile accounts that are abusive, perhaps that will deter others." This is something that Twitter has done in the United States. Last year, for example, it banned conservative writer Milo Yiannopoulos for inciting followers to tweet racist and demeaning comments at actress Leslie Jones. But there haven't been any high-profile suspensions in India so far. Nor has anyone in Twitter's Indian leadership addressed the platform's abuse problem directly in the country in its 11-year history.
A Twitter spokesperson declined to discuss details about specific accounts or the company's approach to abuse prevention in India. They did tell BuzzFeed News that Twitter is trying to increase the sophistication of its abuse-detection algorithms, and that the company was taking a data-driven approach to controlling abuse in everything from policy to engineering.
But Twitter's algorithm-based approach doesn't appear to be working in India. When dozens of accounts started impersonating Dixit's account last year, for instance, she said that reporting them through Twitter's systems got her nowhere until she called someone she knew who worked at Twitter in India. "Nothing happened to the impersonators, but my account was instantly verified after I made that call," she told BuzzFeed News.
"Twitter simply isn't very cooperative." —Delhi Police deputy commissioner for cybercrime
Rajendran had a similar experience. "I told [someone in the public policy team] that they can't have a million ways to report something and yet let a hashtag like #PublicityBeepDhanya trend nationally," she said. "I have access to people from Twitter, but what about those who don't?"
Twitter declined to tell BuzzFeed News whether it had a dedicated, in-country team handling abuse reports for its fastest-growing market, but said that it had teams all over the world including in Ireland, Singapore, and San Francisco reading abuse reports 24/7.
Abuse on Twitter in India has gotten so common over the last year that more Indian women are filing official police complaints when harassed online, cybercrime officials told BuzzFeed News. On Aug. 8, three days after the organized trolling campaign, for instance, Rajendran filed a police complaint against six of thousands of abusive Twitter handles — three for issuing direct rape threats, and three for actively encouraging people to use the hashtag in their tweets. In copies of complaints that BuzzFeed News reviewed, some abusive accounts cited in August were still active on Twitter.
That fits with Twitter's own data that the company publishes in biannual Transparency Reports. According to Twitter, legal requests for account information received from India were up 55% over the previous six months (261 requests in the first half of 2017 versus 168 requests in the last half of 2016). Twitter provided Indian authorities with some information in 21% of the cases, compared to 77% of the cases in the US in the same period.
Still, law enforcement in India can't do much, and convictions are rare. "We cannot initiate legal action in every case because everybody has the right to free speech," said Delhi police spokesperson Madhur Verma. "Just slander is not a legal offense."
The only instances where authorities do approach Twitter and other internet companies about harassment complaints is if a message or a tweet explicitly violates specific sections of India's primary criminal code, such as the ones that prohibit "words, gestures or acts intended to insult the modesty of a woman," or the publication or transmission of "obscene material." Under Indian laws, a person can be sent to jail for up to five years, and/or fined up to a million rupees for harassing a woman or stalking or bullying her online.
But Indian authorities say that dealing with Twitter itself isn't great. "Twitter simply isn't very cooperative," Anyesh Roy, deputy police commissioner for cybercrime with the Delhi Police, told BuzzFeed News. "In most cases, they don't even have the courtesy of responding to emails, so we don't know whether they are processing the information or denying it. In cases where they do respond, the information they provide isn't sufficient for us to actually make any progress. The Cyber Crime cell deals with internet companies all the time and I'd say that compared to Facebook or Google, the response of Twitter to Indian law enforcement is quite poor."
"Our rules are our rules and we take action when appropriate." —Twitter
In response, a Twitter spokesperson issued the following statement to BuzzFeed News about the company's global efforts to crack down on harassment: "We're now taking action on 10x the number of abusive accounts every day compared to the same time last year. We also now limit account functionality or place suspensions on thousands more abusive accounts each day. There are repeat offenders who create new accounts after being suspended for violations. Our new systems have removed twice the number of these types of accounts. Beyond the technology, our teams are continuing to review content daily and improve how we enforce our policies."
Twitter told BuzzFeed News that the company only provides information to law enforcement when a piece of reported content violates its own rules about hate speech or threats of violence. A lot of what is reported to Twitter is not a violation of its terms of service, Twitter said, and stressed that platform had tools that individual users could use to mute or block tweets or people they didn't want to see. "Our rules are our rules and we take action when appropriate."
"I think that's a ridiculous excuse. Twitter's standards for hate speech are ridiculous and farcical," said Vetticad. "I'm all for freedom of expression, but the free speech right involves saying things within the parameters of decency and the law. How is it acceptable for someone online to call you a bitch or a prostitute or communally profile you?"
Detecting abuse can also be tricky in a country like India, which has so many official languages. When Rajendran, the News Minute editor, went to file a police complaint, for instance, authorities asked her to draw up a list of the most abusive tweets. Scrolling through her mentions, Rajendran discovered that hundreds of them were in Tamil, a language she doesn't read. But she had friends with her who did. Together, they discovered that some of the harshest rape threats and abusive comments she got were in Tamil. In one instance, a man posted Rajendran's picture and wrote a caption in Tamil that loosely translates to "If you look at this face itself, you will know that this thing sleeps around with many people." The account that tweeted this was still active at the time of this story's publication.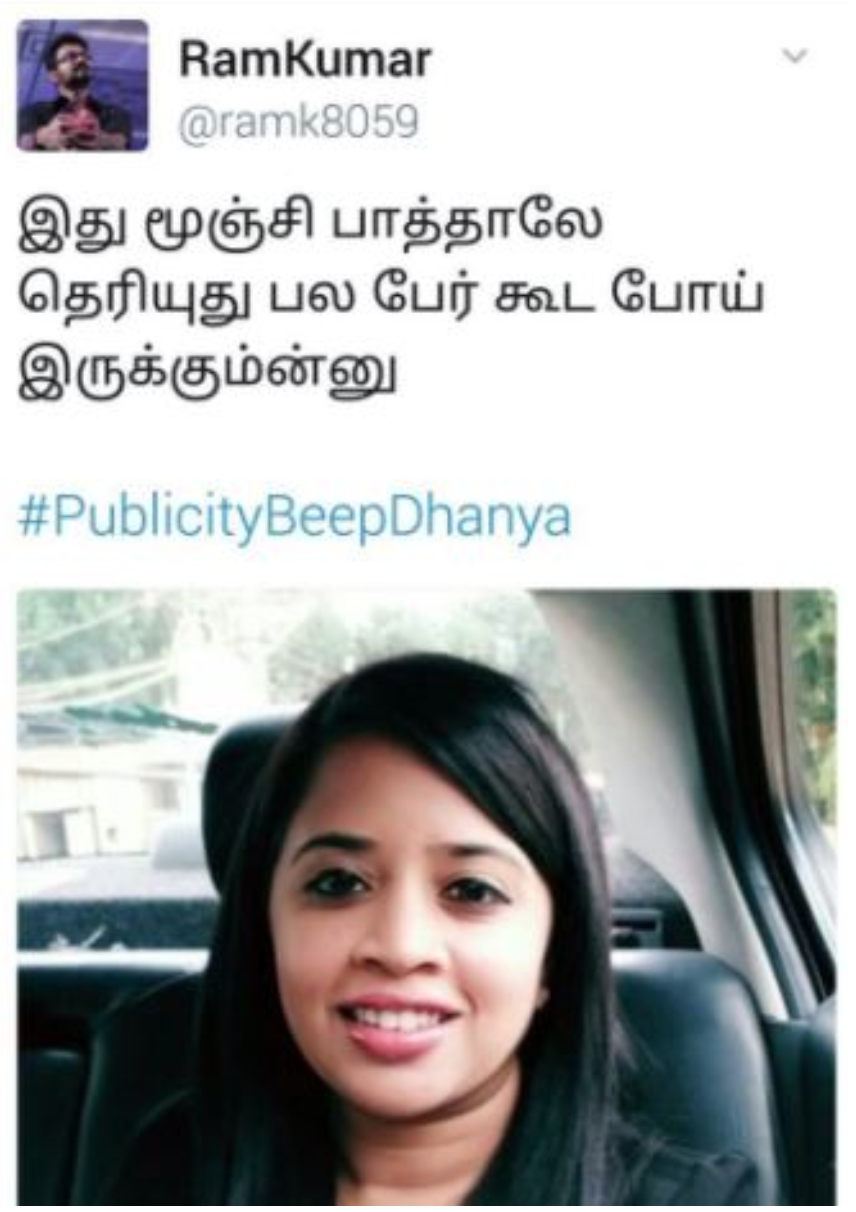 Twitter supports six Indian languages — Gujarati, Kannada, Marathi, Tamil, Bengali, and Hindi — and told BuzzFeed News that its algorithms have the ability to detect abuse in every language offered on the platform. But sources close to Twitter told BuzzFeed News that Twitter is at a "very early stage of tackling regional language abuse in India and is still figuring out what the company can do about it." A company spokesperson told BuzzFeed News that Twitter was currently focused on processing "more signals from more languages, and scaling that to be more efficient, and making sure that people who speak in Bengali or other Indian languages" report abuse, presumably to make Twitter's algorithms more accurate.
Twitter did not specifically comment on its efforts to address the growing trend of harassment on its platform in India, but the company has had two public campaigns to acknowledge abuse on its platform in India. In 2016, it brought #PositionOfStrength, its global campaign to "empower women," to India (a bunch of influential women tweeters have a series of roundtable discussions about abuse on Twitter and then tweet about it). And in 2017, it launched #TweeSurfing in partnership with the Centre for Social Research, a New Delhi–based organization that is a part of Twitter's global Trust and Safety Council in India (a bunch of influential comedians, actors, lawyers, and marketing gurus address online safety issues by giving advice like "Don't engage with trolls!").
Ranjana Kumari, the head of the Centre for Social Research, did not respond to multiple interview requests from BuzzFeed News, but Twitter told BuzzFeed News that the objective of both campaigns was to partner with people who can talk about Twitter's rules around abuse in a way that Indians can relate to.
"The least Twitter India could do when people like me highlight severe abuse, and especially when this abuse is called out by global organizations such as the Committee To Protect Journalists, is to contact us," said Vetticad. "Since reaching us is easy for Twitter, I assume they don't care enough to do so. If they need suggestions about what more they can do, ask people like me! Maybe we have useful ideas." ●