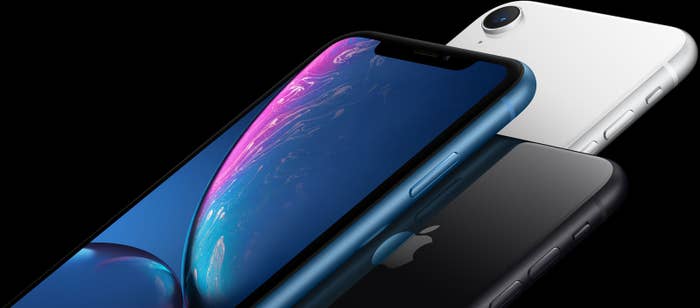 Apple just announced three big, brand new iPhones at an event held Wednesday at the Steve Jobs Theater on its Cupertino campus, and none of them are made for people with small hands.
Apple's flagship phones this year are the 5.8-inch iPhone Xs, an upgrade to last year's $1,000 iPhone X, and the iPhone Xs Max (seriously), a larger version of the iPhone Xs with a 6.5-inch display.

Both phones come with FaceID and a big, bright, edge-to-edge display with no home button. They have OLED screens that are brighter and higher quality than LCD displays (like the one on the iPhone 8/8 Plus), a significantly faster and more efficient processor (the A12 Bionic chip), a better camera with a more powerful sensor and better HDR, and a longer-lasting battery. It's also water resistant and supports wireless charging.
Besides the size, they don't look any different from last year's iPhone X — but you can now get them in a sleek new gold finish, in addition to silver and Space Gray.

The iPhone Xr
Apple's third new iPhone, the iPhone Xr, is a lower-cost version of the iPhone Xs (it's $250 less). At 6.1 inches, it's bigger than the Xs, but it comes with an LCD display — the same screen Apple has used on the iPhone 8 and every iPhone before it — instead of the higher quality OLED displays on the iPhone X. It also has aluminum edges instead of the stainless steel ones that the other iPhone X models have.
The iPhone XR has a big battery, too. Apple claims it lasts "up to 1.5 hours longer than iPhone 8 Plus" and lists internet use at 15 hours and video playback at 16 hours.

Unlike the iPhone Xs and Xr Max, the Xr comes in a bunch of funky colors — so if you want a coral or a yellow iPhone, you already know which one to get.
It also shares the same, beefy new processor, water resistance, facial recognition technology, wireless charging capability, and new image processor with its pricier siblings.

More significantly: the iPhone Xr has Portrait Mode, even though the phone has only one camera. On previous iPhone models (7 Plus, 8 Plus, and X), Portrait Mode, which adds a soft-focus background to images, required two cameras, but the iPhone Xr is able to detect an image's depth and add bokeh to a scene digitally.
Here's a little hands-on preview of how the Xr's camera works:
All new iPhone models also have two new camera features: Smart HDR and adjustable depth of focus.
Smart HDR takes advantage of the new processor by taking four photos at once, and using the data to help with noise reduction, overexposure, and capturing motion.
Depth Control is a new feature that allows users to adjust the blurriness of Portrait mode images.
The iPhone Xs and Xs Max start at $999 and $1099, respectively, will be available to preorder this Friday, and they'll ship Sept. 21.

The iPhone Xr will cost you $749 and will be available for preordering Oct. 19.