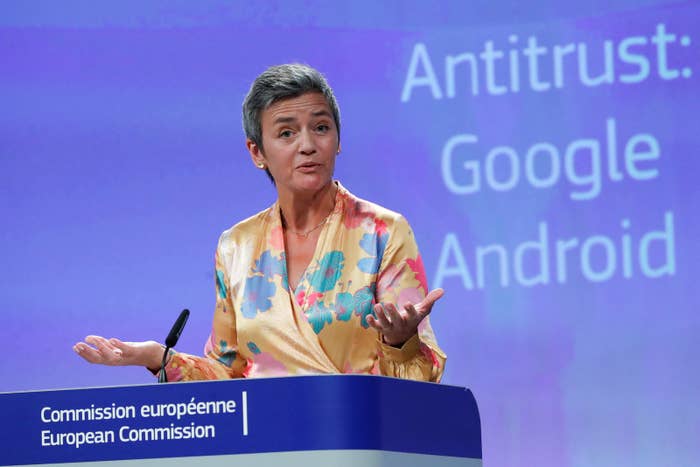 The European Commission fined Google a record $5 billion on Wednesday for requiring smartphone makers to install Google's own apps like Google Search and its Chrome browser on phones running Android, Google's operating system for mobile phones. If device makers didn't do this, Google wouldn't let them install the Google Play Store where Android users can download apps and games for their phones.

The Commission said that the terms Google set for smartphone makers selling devices with Android, which powers more than 80% of the world's smartphones and harms competition, allow Google to use Android to dominate searches and advertising, from which Google earns a bulk of its revenues.
"Our case is about three types of restrictions that Google has imposed on Android device manufacturers and network operators to ensure that traffic on Android devices goes to the Google search engine," Margrethe Vestager, the European Union's competition chief, said in a statement.
"In this way, Google has used Android as a vehicle to cement the dominance of its search engine. These practices have denied rivals the chance to innovate and compete on the merits. They have denied European consumers the benefits of effective competition in the important mobile sphere. This is illegal under EU antitrust rules."

The company now has 90 days to change how Android works in the European Union or face further penalties.
Google said the company will appeal the Commission's decision. A Google spokesperson issued the following statement to BuzzFeed News: "Android has created more choice for everyone, not less. A vibrant ecosystem, rapid innovation and lower prices are classic hallmarks of robust competition. We will appeal the Commission's decision." Google's CEO Sundar Pichai also published a blog post defending Android. "Android has created more choice, not less," Pichai wrote.
Last year, the Commission fined Google a record $2.7 billion for prioritizing its own shopping service over competitors in search results.