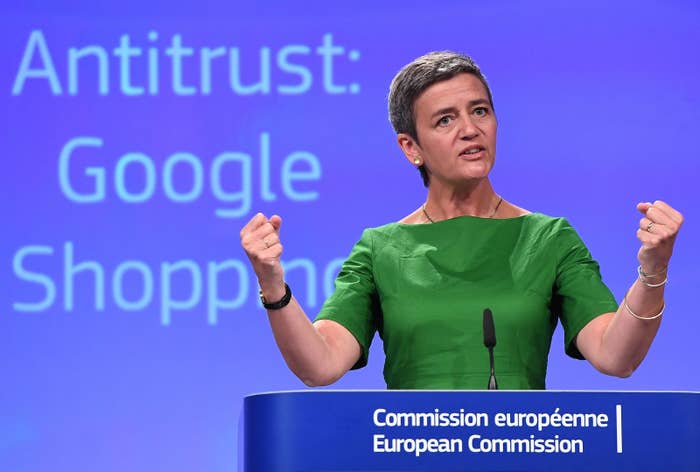 The European Union fined Google $2.7 billion on Tuesday for giving a leg up to its own shopping comparison service at the top of search results. The fine is the largest penalty the EU has levied against any company in the world to date.

The EU says that Google displayed search results from its own comparison shopping service, Google Shopping, at the top of the page, while systematically demoting results from rival comparison shopping services. In addition to paying the fine, Google has 90 days to stop the practice or face penalty payments of up to 5% of the average daily worldwide turnover of its parent company, Alphabet — which made nearly $90 billion in annual revenue by the end of 2016.
"Google has come up with many innovative products and services that have made a difference to our lives," said the EU commissioner in charge of competition policy, Margrethe Vestager, in a press release. "That's a good thing. But Google's strategy for its comparison shopping service wasn't just about attracting customers by making its product better than those of its rivals. Instead, Google abused its market dominance as a search engine by promoting its own comparison shopping service in its search results, and demoting those of competitors."
Google said that the company will appeal against the decision.
A Google spokesperson issued the following statement: "When you shop online, you want to find the products you're looking for quickly and easily. And advertisers want to promote those same products. That's why Google shows shopping ads, connecting our users with thousands of advertisers, large and small, in ways that are useful for both. We respectfully disagree with the conclusions announced today. We will review the Commission's decision in detail as we consider an appeal, and we look forward to continuing to make our case."
On Monday, some US companies including News Corp, Oracle, and Yelp, who have a history of making antitrust and copyright complaints against Google, had signed a letter in support of the EU fining Google.
After the EU verdict, News Corp issued the following statement:
"We applaud the European Commission's leadership in confronting the discriminatory behavior of Google in the comparison shopping industry. Other regulators and companies have been intimidated by Google's overwhelming might, but the Commission has taken a strong stand and we hope that this is the first step in remedying Google's shameless abuse of its dominance in search."
A Yelp statement reads:
"We welcome the European Commission's decision to order Google to cease abusing its dominant general search engine to give advantages to its own specialised search products."

This is a developing story. Check back for updates and follow BuzzFeed News on Twitter.