This is Swara Bhaskar, an Indian actress who recently protested against the brutal rape and murder of an 8-year-old Muslim girl in a Hindu temple in the country.
The girl belonged to the Bakarwal community, a nomadic pastoral tribe who are primarily Sunni Muslims. Her alleged rapists and murderers were right-wing Hindus — a fact that has pitted India's nationalist Hindus, who support Prime Minister Narendra Modi, against the rest of the country. Hindu hardliner lawyers, for instance, tried to stop officials from taking the accused to court, and chanted pro-Hindu slogans.
On Friday, Hindu nationalists slammed Amazon India for signing up Bhaskar for a promotional campaign.
And they celebrated when Amazon India deleted a tweet featuring Bhaskar's promo.
Some of them also left one-star ratings on Amazon's app in the Indian Google Play store, and left outraged comments as app reviews.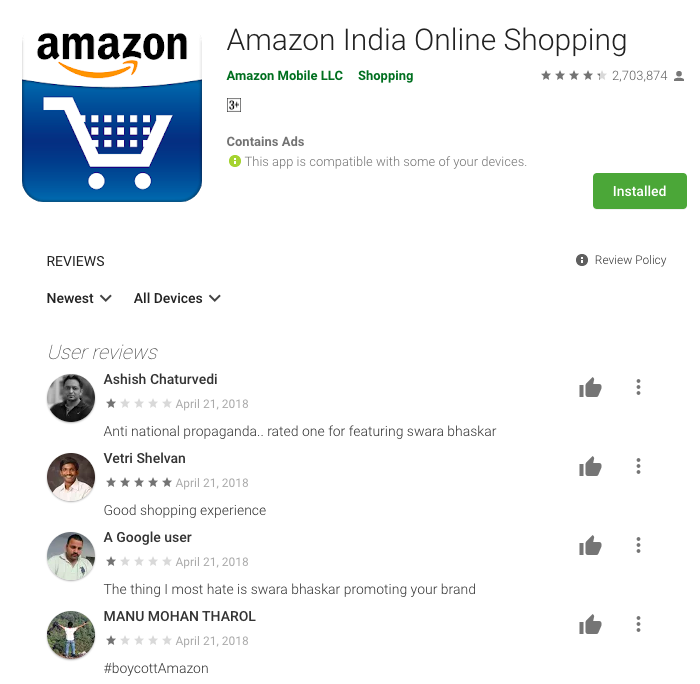 And yet, amid the chaos, a few sane voices still managed to make themselves heard.
This isn't the first time angry Indians have lashed out against Western technology companies. Here's what happened last year:
* Furious Indians downrated Amazon's app because the company was selling doormats with the Indian flag on them in Canada (touching something with one's feet is considered a sign of disrespect in India).
* Pissed off Indians downrated Snapchat after its CEO allegedly called the country "poor."
That probably explains why most American tech companies prefer to play it extra safe when it comes to India.
NOTE
This post was updated on July 25, 2018 to remove all mentions of the victim's name in compliance with Indian law.