In February, a tweet from an account resembling that of Times Now, a leading Indian TV news channel, sparked instant outrage on Twitter. It claimed a Muslim cleric had issued a fatwa against an Indian actor for disturbing Muslim prayers because "instead of Allah, her face would appear" while praying. It quickly racked up more than 2,700 retweets.
Popular Indian journalists and politicians quote-tweeted it in anger. "I.D.I.O.T," wrote Rajeev Chandrasekhar, an Indian parliament member. That evening, Aaj Tak, one of India's most watched Hindi news channels, aired an entire debate on it featuring a panel of Islamic scholars, social activists, actors, and authors. "She's a young girl romancing guys onscreen; this is against Islam!" shrieked a scholar. "People like you [who file fatwas] are the reason why our country is regressing," the author shouted. Then, the debate devolved into a shouting match.

People soon discovered that there was no fatwa. The tweet didn't even come from Times Now — it came from a satire account, @TiimesHow. And although the account uses a logo that is deceptively similar to the channel's real logo, tucked away in the bio is a critical word: "Parody."
In India, Twitter's fastest-growing market, impersonating legitimate news organizations is the newest way to spread fake news.
BuzzFeed News counted at least four major Indian news outlets that have had their Twitter handles spoofed in the last few months alone. Each fake account used a similar image and name to the actual one: Times Now became "TiimesHow"; Times of India became "Limes of India"; ANI became "ANI_Official"; and Republic TV became "RepubIic TV", subtly swapping in a capital "l" for the lowercase "L." Each had thousands of followers.
More important, each account also described itself as "parody" in its bio, exploiting Twitter's policy permitting parody accounts as long as they are not "portraying another person or organization in a confusing or deceptive manner."
Reached for comment, a representative for satire account @TiimesHow — whose tweet sparked that regrettable debate on television news — told BuzzFeed News: "I am afraid that you being a journalist will spin what I say and post it against me and my account to gain views, so I refuse to comment."
Twitter responded to BuzzFeed News' request for comment by citing a line in its parody policy: "We greatly value and respect our users' right to expression."

The problem, ANI editor Smita Prakash told BuzzFeed News, is "the bio of the spoofed handle did say 'parody,' but when the display picture of the handle is similar to yours, nobody goes and looks at the bio."
After thousands of people reported the problem, two of the four fake accounts that BuzzFeed News looked at (ANI_Official and RepubIic TV) were removed from the platform. But others continue to spread content that can straddle the line between satire and fake news.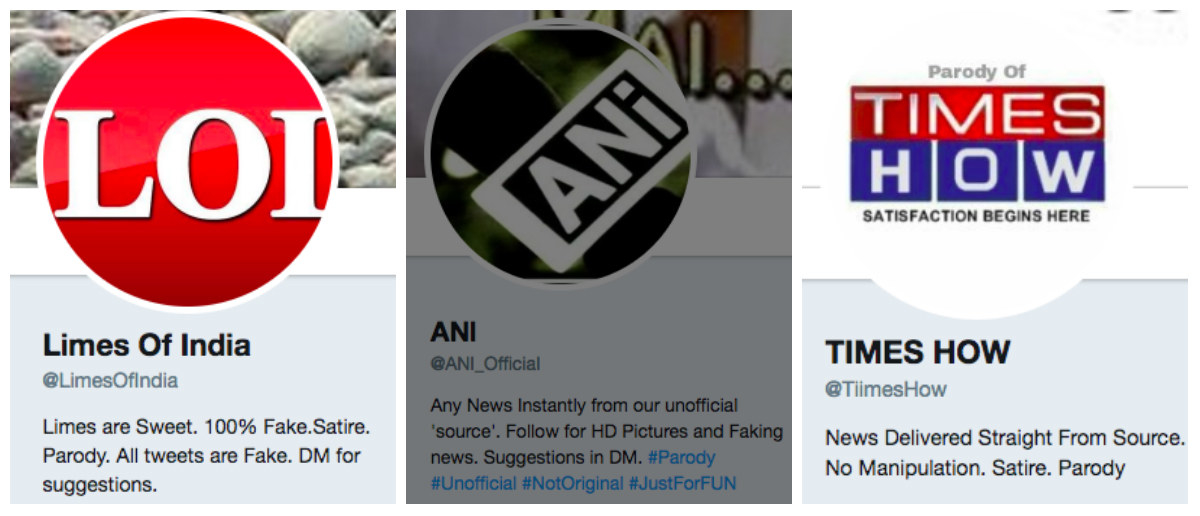 Already, fake news on Twitter is a widely recognized problem in the US, the company's home market. After the Parkland shooting in February, misinformation about the killer's identity spread like wildfire on the platform. And a recent study by three MIT scholars found that fake news spreads much faster on Twitter than real news.
Things could get even worse in Twitter's big emerging markets like India, where large, foreign platforms like Facebook and Twitter have been accused of not doing enough to address malicious actors. The social network is struggling to contain a massive harassment problem and to deal with political actors who expertly game its trending topics to spread propaganda as major national elections are coming up next year.
"I think everyone can agree when we say this is not the Arab Spring Twitter that we knew," said Karen Rebelo, a fact-checker with Boom Live, an Indian fact-checking organization that just partnered with Facebook to fact-check news on Facebook in India ahead of a key state election in the country next week. "The platform has been hijacked by bad actors and is rife with abuse. Twitter can no longer give the latitude that it once gave to [parody accounts] because there are too many loopholes in Twitter' current parody and satire policy."
The proliferation of fake news not only has poisoned India's online discourse, sometimes, its other real-world consequences have spiraled out of control.
In late April, the fake Republic TV attributed a made-up quote to high-profile journalist Rana Ayyub, who is frequently targeted by members of the Indian right. The tweet made her appear to be defending child rapists in the wake of the brutal rape and murder of an 8-year-old girl in Kashmir. "Minor child rapists are also human, do they have no human rights," it said.

Both anonymous trolls and close friends and acquaintances hounded Ayyub. Trolls posted her phone number and her address on Twitter; some encouraged gang-raping her, leaving her petrified and anxious for her safety. At one point, Ayyub was stressed enough to check in to the emergency room.

Twitter's response to her: a notification saying that the fake account did not violate its parody and impersonation policy, Ayyub told BuzzFeed News. "This quote that was attributed to me by an account trying to pass off as 'parody' made my life a living hell," she said.
By the time Twitter took the account down, the fake quote had been retweeted thousands of times and had spread beyond Twitter. A right-wing Facebook page with nearly half a million followers shared a Hindi translation of the fake quote that was shared more than 10,500 times.
Parody accounts spreading fake news have "become a dangerous trend on Twitter in India, and neither Twitter nor the news organizations whose parody accounts are being created seem to be bothered," Ayyub said. She has filed a criminal complaint against the worst abusers.
Twitter did not address questions from BuzzFeed News about particular incidents. A spokesperson emailed a few paragraphs from Twitter's parody and impersonation policies, which state:
Our users are solely responsible for the content they publish and are often in the best position to resolve disputes amongst themselves. Because of these principles, we do not actively monitor users' content, and we do not edit or remove user content except in response to a Terms of Service violation or valid legal process.

Even after a fake news account is taken down, those interested in spreading the information can simply share screenshots, according to Pratik Sinha, founder of Indian fact-checking website AltNews.
"This problem is a huge concern for us because it harms our image, it harms our credibility, and it's just plain bad for news," said ANI's Prakash. By the time Prakash reported the fake ANI account, it had more than 5,000 followers and hundreds of retweets.
The Times of India, Times Now, and Republic TV did not respond to BuzzFeed News' request for comment.
Asked about its role in spreading fake news in India, @LimesOfIndia, the parody account that spoofs Times of India, said in a direct message on Twitter that people should rely on Twitter's blue checkmark for verified accounts to distinguish real accounts from fake ones.
"What we tweet from this account are sarcastic takes on current affairs and we don't think it has any effect on the general public." As for its impact on elections, @LimesOfIndia replied, "How do you think we are going to affect India's elections? We are just a parody account and it's clearly mentioned on our profile."
Regarding harmful consequences such as the harassment lobbed at Ayyub, @LimesOfIndia said, "Rana Ayyub is more vile than what a parody news handle could represent her in a tweet."

Twitter, meanwhile, continues to shirk responsibility. "We are not the arbiters of truth," said Nick Pickles, Twitter's head of public policy for the United Kingdom, during testimony before British lawmakers in Washington in March, something that the company also said in a blog post last year. "We are not going to remove content based on the fact this is untrue. The one strength that Twitter has is it's a hive of journalists, of citizens, of activists correcting the record, correcting information."
As fake news spreads on Twitter around the world, however, the issue is unlikely to go away. Earlier this year, Mahima Kaul, Twitter's head of public policy in India, was asked about how the social network dealt with misinformation and fake news on its platform at an event on misinformation held in New Delhi in February. Kaul paused, blinked, then said rapidly: "We don't have a fake news policy currently. I think it's something we do need to give some thought to."