Ola, Uber's Largest Competitor In India, Adds Apple Music And In-Car Entertainment
India is Uber's biggest battleground and Ola's newest features just turned up the heat.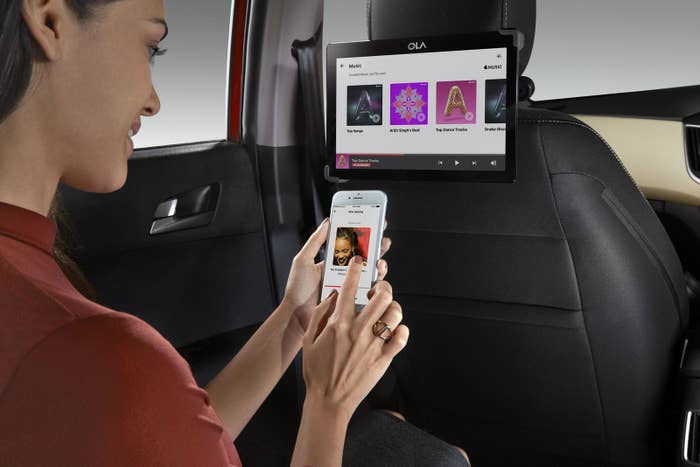 Uber CEO Travis Kalanick has always said that he wants Uber to be "everyone's private driver". But in India, arguably the world's biggest ride-hail battleground, Uber's largest rival, Ola, just came a step closer to realizing that vision by adding a slew of personalized features intended to make whatever car someone gets in feel like their own, personalized ride.
Starting this week, riders who use Ola Select – a subscription-based premium version of Ola similar to Amazon Prime – in the Indian cities of Bengaluru, Mumbai, and Delhi, will be able to use their phones to play movies, trailers, and TV shows on a 10-inch tablet that will be available in all Ola cars shortly. They will also be able stream their choice of FM stations and curated Apple Music playlists from within the Ola app on the car's speakers, all thanks to an exclusive deal that Ola just cut with Apple.
"Ola Play is not just an in-car entertainment system," Bhavish Aggarwal, Ola's co-founder and CEO, told BuzzFeed News. It is, says the company, a "connected car platform," which means that developers can build unique experiences on top of Ola Play in the future. At an event in Bengaluru, India, Ola showed off two of these experiences – one from a Mumbai-based startup called Fynd that lets riders shop for clothes from the Ola app, and another from a startup called Audio Compass, which lets riders take their car on a guided tour. Eventually, Ola plans to let riders control other aspects of their commute like in-car temperature.
But there's more. Over time, just like how a private driver would learn about a consistent passenger, Ola's algorithms will learn riders' music tastes, temperature preferences, favorite FM channels, and more, thanks to an intelligent, context-aware backend that Ola developed in-house. This leads to some interesting possibilities: each time a rider gets into a cab, the Ola app will automatically offer to resume the last playlist they were listening to, or the last movie they were watching, for instance.
"That means each and every car is going to feel like your personal car," said Aggarwal.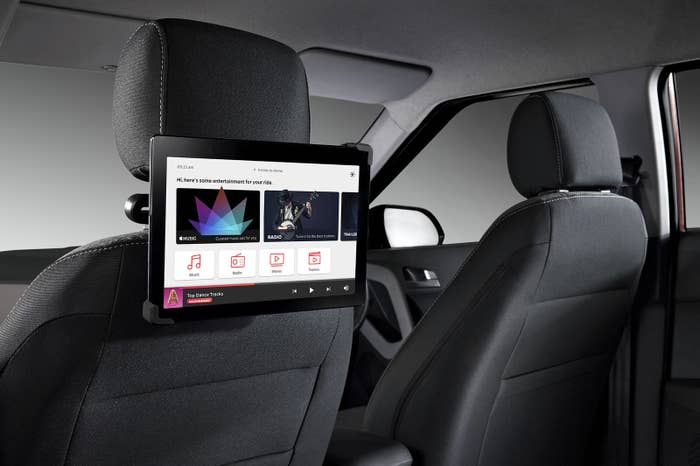 Despite Ola's deep penetration in the Indian market – it's available in 102 Indian cities compared to Uber's 29 – there is very little that distinguishes the two services from each other in the country, so Ola Play could give the company a serious leg-up. Ola says that it spent about a year developing Ola Play. Uber spent its year redesigning its app to predict where riders may want to travel by integrating their calendars, and adding features like Snapchat to keep people engaged with an "Uber Feed" during their trips. Those new features began rolling out to users worldwide earlier this month.
There is very little that distinguishes the two services from each other in the country, so Ola Play could give the company a serious leg-up.
Ola is retrofitting every car in its network with two tablets manufactured by Qualcomm and loaded with custom software that runs the Ola Play platform. The first one is strapped to the back of the front seat to let riders watch videos and see trip details like estimated arrival time. The second one sits on the dashboard in front of the driver and acts like a giant navigation map while the ride is in progress. "Ola drivers don't need to carry smartphones with them anymore since everything is loaded onto this dashboard tablet," Sagar Bhat, a product manager on Ola Play, told BuzzFeed News.

Most importantly, the dashboard tablet also serves as a local repository for all the music and videos that Ola serves up on its platform – crucial in a country where high-speed 4G networks are just starting to take off but still have a long way to go. "The tablet on the dashboard is in sync with our servers," said Aggarwal. "It wakes up in the middle of the night when the car is idle and data costs are usually lower, and downloads fresh content to be served up the next day."
In the next three months, Ola Play will expand to include Ola Prime, Ola's line of mid-sized sedans, and will be available in all its cars by the end of next year.
What's less clear is how Ola's vision of giving each rider a personalized riding experience will work with Ola Share, Ola's UberPOOL equivalent that, says Aggarwal, is poised to become the company's biggest section next year (Aggarwal declined to reveal the specifics).
India is Uber's largest market outside the United States. After spending billions of dollars, Uber sold its China business to Didi Chuxing, its competitor there, this summer to free up money, and more than 100 engineers in its San Francisco headquarters to fight harder in India. In the battle for market share, both Uber and Ola have fought in court, as Uber accused Ola of poaching its drivers, and argued over which company is more Indian. Ola, which started in India in 2010, has no plans to expand in any other country as of now.
"Eventually, we want to put the complete control of the car at your fingertips," said Aggarwal. "Traditionally, cars were designed for the drivers. But with the ride-hailing economy, the control should now be with the rider in the backseat."