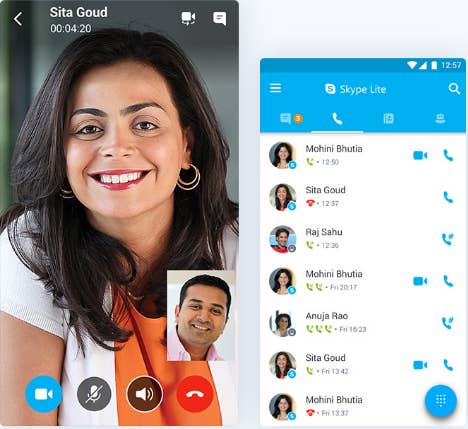 Microsoft launched a new Skype app today that's made to run smoothly on low-end Android hardware and slow cellular networks. Called Skype Lite, the app is designed specifically for emerging smartphone markets like India where most people still use inexpensive Android phones and access the internet over 2G connections.
The app will integrate seamlessly with India's controversial, cloud-connected national ID program started in 2010 called Aadhaar, which lets the government and authorized third-parties identify any one of India's 1.2 billion people using either a unique 12-digit identification number, fingerprints, or iris scans. This is the first time that a private, multinational company of Microsoft's scale is using the Aadhaar project -- widely described as the largest identification program in the world -- to verify people's identities.
Skype Lite doesn't support biometric identification yet, but for now it lets people punch in their 12-digit Aadhaar numbers to verify their identities during video calling without leaving the call. At an event in Mumbai, Microsoft showed off a demo that presented an interviewer verifying the identity of a potential job candidate using her Aadhaar number in Skype Lite. Microsoft said that it would delete all ID information on the verifier's device once the call was completed.
The app also includes most of the functionality of full-blown Skype, including integration with third-party chatbots that Microsoft added to Skype nearly a year ago. Still, there is one key difference: Unlike the original Skype, which is a standalone app, Skype Lite allows users to set it as their default dialer and SMS app. This means that users can use Skype Lite to text message and make and receive phone calls over their wireless carrier's network, rather than relying on cellular data or WiFi.
"[The full version of] Skype was slightly awkward to use in India because of the lack of internet penetration in the country," Skype's Director of Product Management Eugene Ho told BuzzFeed News, which is the reason why Microsoft added the extra bit of functionality.
The new app also focuses on helping users save data by compressing photos and videos that users swap. "We have also adjusted our algorithms and bit-rates for voice quality to keep data usage down," said Ho. Users can see how much data they've used to make and receive calls and send instant messages, videos, and pictures at any point within the app.
Skype Lite is the latest in the trend of Silicon Valley technology companies adapting their core products as they seek to grow in untapped markets like India that come with their own challenges.
In September, for instance, Google announced a new version of YouTube called YouTube Go that it created specifically for the Indian market that lets people download YouTube videos and then share them with each other within the app directly over bluetooth. And in 2015, Facebook released a stripped down version of Facebook called Facebook Lite -- an app that takes less than 1 MB to download -- for markets like India, Brazil, Indonesia, Mexico, and the Philippines.
Skype Lite will be available only in India at launch. Microsoft did not specify a time frame for when it might be released in other countries.