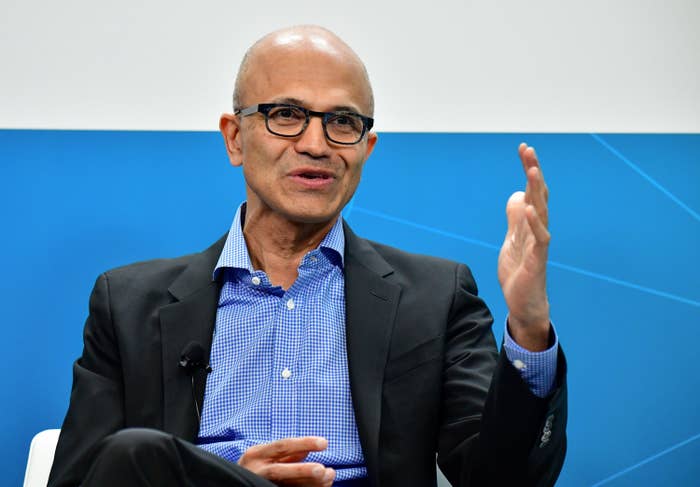 Microsoft CEO Satya Nadella strongly criticized a new citizenship law that the government of India, one of the company's largest markets, passed last month.
The law, known as the Citizenship Amendment Act, fast-tracks Indian citizenship for immigrants from most major South Asian religions except Islam. It has received criticism at home and abroad from those who see it as an attempt to destroy India's secular ethos and reshape it as a Hindu state that treats Muslims as second-class citizens.

"I think what is happening is sad. ... It's just bad," Nadella told BuzzFeed News Editor-in-Chief Ben Smith at a Microsoft event in Manhattan on Monday, emphasizing the role that technology and immigration have played in his life and career. "And even a story like mine being possible in a country like this — I think, if anything, I would love to see a Bangladeshi immigrant who comes to India and creates the next unicorn in India or becomes the CEO of Infosys. That should be the aspiration. If I had to sort of mirror what happened to me in the US, I hope that's what happens in India."
Google, Facebook, Amazon, and Apple, all of which have major elements of their business in India, have not yet responded to requests for comment.
Nadella's remarks came amid protests against the Citizenship Amendment Act, which have engulfed India since the beginning of December. The protests are the first significant challenge for Narendra Modi, the country's Hindu nationalist prime minister, who, along with his Bharatiya Janata Party, has been accused of turning India — the world's largest democracy — into an authoritarian state. Twenty-four people have died across India since December in incidents of police violence, but thousands of protesters continue to dissent every day.

Nadella, who is a native of the Indian city of Hyderabad, also spoke about his multicultural roots. "I'm very proud of where I get my heritage, culturally in that place, and I grew up in a city, Hyderabad. I always felt it was a great place to grow up. We celebrated Eid, we celebrated Christmas, Diwali — all three festivals that are big for us," he said.
Shortly after Smith shared Nadella's remarks, Microsoft tweeted a statement attributed to the CEO: "I'm shaped by my Indian heritage, growing up in a multicultural India and my immigrant experience in the United States. My hope is for an India where an immigrant can aspire to found a prosperous start-up or lead a multinational corporation benefitting Indian society and the economy at large."
Nadella is the first major tech CEO to have criticized India's citizenship law. Since the protests started, pressure has been building on influential people across powerful industries like tech to take a stand.
Following Nadella's comments, Indian historian and author Ramachandra Guha, who was detained in Bangalore last month for protesting the new law, tweeted in praise of Nadella.
Author Sadanand Dhume also shared his thoughts: