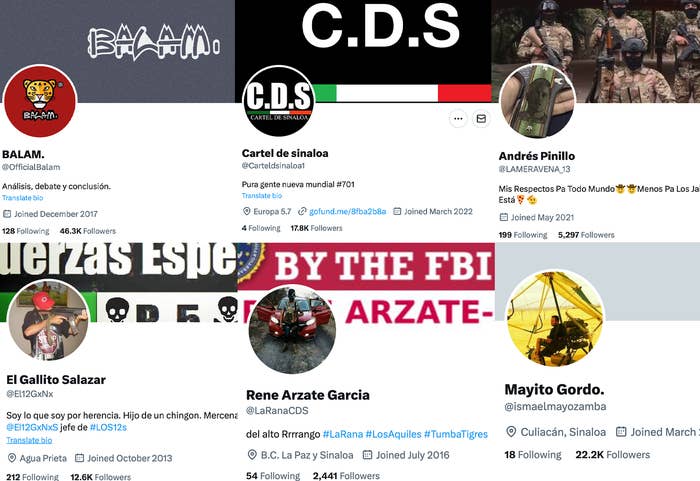 Prominent members of Mexican drug cartels are using Twitter to recruit new members, send warnings to rival gangs, post gory images and videos, and glorify the narco lifestyle. Some of these accounts were banned by Twitter's safety team between 2012 and 2015, but they have been reinstated since Elon Musk bought the company last year.
These are the conclusions of a new report released on Thursday by the Alliance to Counter Crime Online, a coalition of organizations that research online crimes including drug trafficking, child sexual abuse, and romance scams. Now, the ACCO is calling on Twitter to block and remove narco content and to once again suspend the accounts that spread it.

The group's report comes days after Mexico's Gulf cartel killed two of four American citizens whom they had kidnapped after the Americans crossed the border. On Thursday, the cartel reportedly apologized for its actions.
"Social media is a tool that provides benefits to and strengthens drug cartels by enhancing organizational and operational capabilities," report author Dr. Nilda Garcia, assistant professor in the political science department at Texas A&M International University, told BuzzFeed News. "These communication outlets provide major opportunities for drug cartels not only to engage in public relations strategies, gain legitimacy, incite fear, and recruit, but also facilitate the diversification of criminal activities that involve extortion, drug sales, and human smuggling online."
Some of the cartels' imagery appears to violate Twitter's policies around violent content. One video posted by a member of the Jalisco New Generation Cartel, headed by Nemesio Oseguera, one of the world's most-wanted drug lords, features decapitated heads of rival cartel members being tossed into a bonfire. Another tweet posted by a member of La Chapisa, a faction of the Sinaloa cartel, features a victim being scalped.
Under Musk's leadership, the report said, Twitter's efforts to remove this content and block these accounts has declined. Some of Musk's actions — like firing over 70% of Twitter's employees, including content moderators responsible for keeping the platform safe — have made the problem worse, according to the report.
"Twitter shouldn't provide a platform for Mexican cartel members to spread their hate and incite violence," Gretchen Peters, executive director of the ACCO, told BuzzFeed News in an interview. "We are asking them to study the problem and really examine this issue more closely."
Twitter, which reportedly doesn't have a press department anymore, did not respond to a request for comment from BuzzFeed News.
Extremists and other bad actors have flourished under Musk's leadership, as thousands of previously banned accounts were reinstated, including those of far-right figures like MyPillow CEO Mike Lindell and former Donald Trump ally Steve Bannon. Earlier this year, Twitter sparked outrage after it allowed members of the Taliban to buy blue verification checkmarks for their accounts. (Twitter removed the checkmarks from these accounts shortly thereafter.)
Unlike the Taliban, members of the drug cartels haven't bought blue checks yet, according to the report's findings. Garcia said that she suspects that this is because gang members don't want to attract more attention and potentially get deplatformed again. "Using social media can be a double-edged sword for them," she said. "They have learned how not to be as vulnerable, and not attract more attention from authorities."
Since the cartels' accounts aren't officially verified, determining their authenticity was a challenge. To determine if accounts were legitimate, Garcia said, she looked for signs of association with other cartel accounts. She also examined the geographical location of the accounts in question.
The author of a book called Mexico's Drug War and Criminal Networks: The Dark Side of Social Media, Garcia is an expert on the Sinaloa Cartel, which she said has a strong presence on Twitter. She estimated that on the platform the cartel reached more than 140 million people from nearly a dozen countries, including the US, Ecuador, Colombia, Venezuela, and Mexico. "They have a wide-ranging fan base," she said.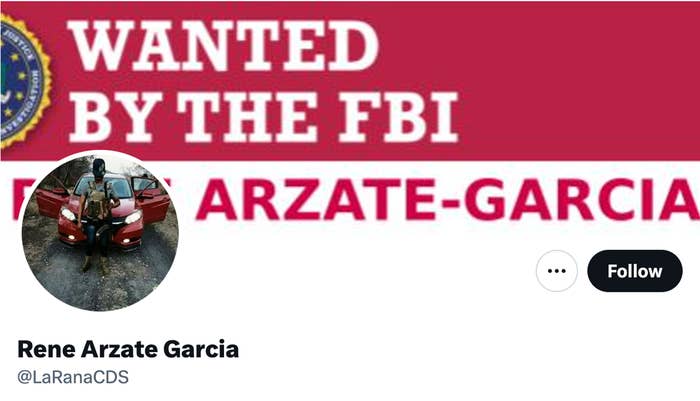 Some cartel members are more brazen than others. Rena "la Rana" Arzate Garcia, a member of the Sinaloa Cartel, for instance, has his "Wanted by the FBI" poster as his Twitter header image. The Cartel del Noreste has used its Twitter accounts to actively attract new members, posting recruitment notices right in its Twitter bios and inviting anyone interested to join the cartel's Discord, the report states. (However, by the time the report was published, the Cartel del Noreste had removed such calls.)
Peters told BuzzFeed News that the ACCO planned to report the cartel links to Twitter only after sending its report and evidence to lawmakers and regulators, including the Federal Trade Commission, to prevent the platform from simply deleting them and letting the evidence disappear.
"I don't even know if Elon Musk is aware of this content on his newly acquired platform," Garcia said. "Maybe if he is aware, he would do something about it."