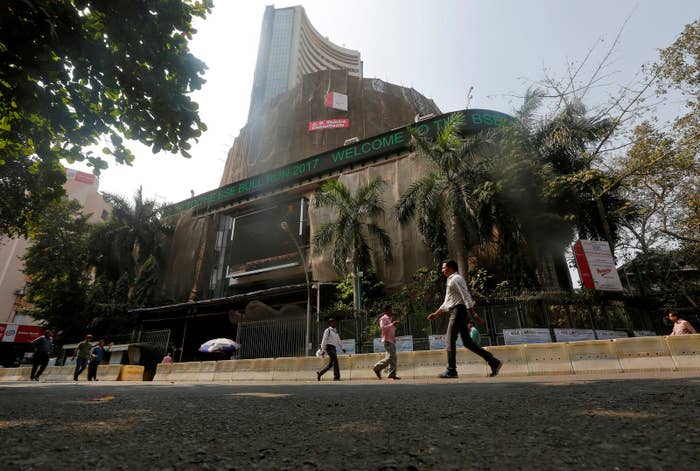 NEW DELHI — India's biggest technology companies lost more than $7 billion in market value in a single hour of trading Tuesday, after news reports of proposals in the US to restrict the availability of skilled worker visas for foreigners.
Stock in Tata Consultancy Services (TCS), Infosys, and Wipro — which collectively account for 60% of the revenues of India's IT sector — tumbled on the news. The three companies collectively send thousands of Indian workers every year to the US to work on the outsourced IT projects they manage. Shares in TCS fell by more than 5%, while Infosys and Wipro fell by 4%.
The companies take advantage of a visa for skilled workers known as an H-1B, which has been a frequent target of criticism from across the political spectrum. Technology giants complain that the limited availability of H-1B visas — a maximum of 85,000 can be issued every year — restricts their ability to hire top-tier engineering talent. Politicians say the system is abused by the outsourcing companies, who use it to bring foreign workers to perform jobs previously done by Americans, but at lower wages.
On January 24, Democratic Congresswoman Zoe Lofgren, whose district encompasses much of Silicon Valley, introduced a new bill that sought to reform the H-1B program. Her proposal — which is unlikely to be passed by a Republican-led Congress — would more than double the minimum annual wage for H-1B visa holders, from $60,000 to $130,000.
"The H1B program was not ever intended to supplant American workers with lower paid workers. It was intended to grow our economy," Congresswoman Lofgren told BuzzFeed News. "I imagine [the Indians] are not in favor. Maybe they think since I'm a Democrat this won't make law, but I think if we're serious about reforming this program, this is a good first step to doing that."
Republicans control both houses of Congress and it's unlikely that committee leaders would take up Lofgren's bill. However, Republican leaders — and the Trump administration — are pushing for their own changes to the H-1B system, and Republican Congressman Darrell Issa has introduced his own proposed law, which would raise the minimum wage for visa holders to $100,000.

Lofgren has argued that Issa's proposed minimum salary is too low to prevent foreign workers from undercutting American jobs, noting that workers in Silicon Valley, particularly engineers, can command much higher pay, The Trump team has drafted an executive order that would reform the H-1B system, prioritizing higher-paid workers as well and pushing companies to hire American workers, Bloomberg News reported on Monday.
But it was news of Lofgren's bill — not the GOP proposals — that sent shockwaves across in India, a country that is the world's largest recipient of H-1B visas. Indians received about 70% of all H-1B visas issued in 2016.
Infosys and Wipro declined to comment. A spokesperson for TCS told BuzzFeed News that the company would not comment on a bill "that may not go anywhere."
"The Lofgren bill contains provisions that may prove challenging for the Indian IT sector, and it will also leave loopholes that will nullify the objective of saving American jobs," said C. P. Gurnani, CEO of Tech Mahindra, one of India's largest technology outsourcing agencies and chairman of Indian industry body NASSCOM. "We will continue to engage with the US administration and legislators both directly and through the Indian government." Gurnani did not comment on Issa's and Trump's proposals.
Meanwhile, there's plenty of worry among Indian students in the US, as well as professionals in India, who were planning to apply for H-1B visas. Chirag, a 33-year-old Bengaluru-based software engineer recently got a job offer from a software company in San Francisco with an annual salary of $100,000, well below the Lofgren bill's proposed minimum.
"I've been working for seven years and I've been waiting for a chance to work in the US ever since" said Chirag, who has turned down other job offers in India for this one. If the bill goes through, he said, "I will need to ask the company to either raise my salary — the chances of which are very less — or look for another job in India."
"My company will need to pay me almost double to match [Lofgren's] proposed minimum, and I don't think they will do that," said Rohit, a 24-year-old Indian engineer who works at the Florida office an Indian IT company headquartered in Bengaluru. Rohit is currently working in the US thanks to a law that allows graduates of American colleges to live and work in the country for at least a year after graduation. He said his company was planning to apply for an H-1B visa on his behalf in April.
"At $130,000 minimum, they can afford only manager-level employees," he said.
Critics of the proposals say that they unfairly disadvantage both small companies and those operating in fields where most workers are not given six-figure salaries. "[The] proposals floated for changing the way H-1B visas are allocated are tied to salary," said Madhuri Nemali, a San Jose-based immigration lawyer. "It would be interesting to see what the proposals for prioritizing US workers look like, as both nationality and immigration status are impermissible for use as hiring criteria."
According to Indian news website NDTV, India's Foreign Ministry has conveyed its concerns about H-1B visas to the Trump administration.

Caroline O'Donovan contributed to this report.