At a roundtable discussion in New Delhi last week, Twitter's top executives seemed unaware of caste-based abuse taking place on its platform in India, according to eight people who were present at the meeting. The discussion, which was attended by CEO Jack Dorsey and Twitter's head of legal and public policy, Vijaya Gadde, has drawn the company into an ongoing controversy over how it addresses issues of caste on its platform.
The off-the-record event last Tuesday was organized by Twitter to discuss social justice in India with prominent writers, journalists, and activists. Both Dorsey and Gadde were publicly drawn into a dispute over caste on Sunday after an attendee tweeted a photograph of the CEO holding a poster that read "Smash Brahmanical Patriarchy," which then went viral.
The slogan on the poster is a reference to India's deeply entrenched caste system, an unofficial social hierarchy that has defined India's dominant Hindu society for centuries. The caste system places Brahmins at the top and Dalits, once known as "untouchables," at the bottom. Under India's nationalist Prime Minister Narendra Modi, caste-based violence across the country has been rising. The latest incident happened in October in the state of Tamil Nadu, where an upper-caste man beheaded a 14-year-old Dalit girl in front of her mother and was jailed for a caste-based hate crime. That caste-based discrimination and harassment also plays out online, frequently on Twitter.
According to people present in the room during the roundtable, who requested anonymity given the off-the-record nature of the event, Dorsey and Gadde seemed largely oblivious to caste-based abuse taking place on their platform in the country.

Sanghapali Aruna, the activist who gave Dorsey the poster, asked Dorsey and Gadde why Twitter didn't have a way to report caste-based abuse on the platform, according to sources. "Vijaya looked completely blindsided," said a source who was present. "It was like she had never realized that India has a caste-based social power structure."
Four people present in the room said that Gadde began to cry after Aruna's questions and said she felt "so stupid right now" given how important caste is in India. A Twitter spokesperson told BuzzFeed News that "any emotional response was due to the extraordinary testimonies of the people we met, and not about product features. Twitter has a specific hateful conduct policy, with a dedicated reporting feature. We are also working on a policy around dehumanization and have invested significant technological personnel, and policy resourcing to improve the safety of our service and the consistency of our enforcement."
"Given [Gadde's] role, and given how senior she is at Twitter, nobody expected her to be completely unprepared to talk about [caste]," one person present told BuzzFeed News.
"Our teams have been dealing with emergent challenges in India for many years and this meeting was a good-faith attempt by our senior leadership team to listen, learn, and think about how to improve our service," a Twitter spokesperson told BuzzFeed News.
However, one person at the meeting cited this apparent lack of awareness of caste issues as to why a company official took the photograph of Dorsey holding up the poster and allowed it to be posted online.
"This was an error on our side and we should have been much clearer in agreeing the terms of engagement with panelists in advance of the session," a Twitter spokesperson told BuzzFeed News.
"Some of the panelists explicitly requested not to be photographed and so at the start of the discussion, we said it was a closed-door session and that we would not be Tweeting or sharing photographs. After the meeting, one of our team members shared a photo with the panelists which was then posted on Twitter. We apologize for the confusion caused."
Members of the Hindu right immediately criticized Dorsey and Gadde after the photo went viral, and claimed that the company was making biased political statements against Brahmins. Twitter then distanced itself from the poster and Gadde tweeted apologies at multiple right-wing handles. That led people on the Indian left to criticize the company for failing to take a stand against India's oppressive caste system and patriarchy.
A Twitter spokesperson issued the following statement to BuzzFeed News about the incident:
"Recently Twitter hosted a closed door discussion with a group of women journalists and change makers from India who have actively used Twitter to better understand their experience on the platform. The purpose of the discussion was to get feedback on how our recent policy and product changes in the areas of safety were impacting users in India. It was not in support of any specific external campaigns or causes.




After the meeting, some of the participants shared gifts with Jack and Vijaya and photos were taken. The picture was taken at this moment in time, with Jack holding a gift he had just received (the poster).




The sentiments expressed on the poster do not reflect the views of Twitter as a company or Jack as the CEO, and we regret that this picture has detracted from an otherwise insightful trip to India.




We are proud of the fact that Twitter is a platform where marginalized voices can be seen and heard, but we also have a public commitment to being apolitical. We realize that this photo may not accurately represent that commitment and we apologize for any offense caused."
BuzzFeed News also learned that less than 24 hours after the panel concluded, Twitter sent an email to all seven attendees that said that the company does, currently, prohibit abuse based on caste, even though it's not specifically called out in the company's hateful conduct policy.
A Twitter spokesperson confirmed to BuzzFeed News that the company had sent out the email, and clarified that abusing people on the basis of caste would be a type of intra-religious distinction and would fall under the company's hateful conduct policies that prohibit the targeting of people based on their membership of a religious group. "However, based on the useful feedback Vijaya received on this trip, she is going to discuss with the team whether this should be called out more explicitly," said the spokesperson.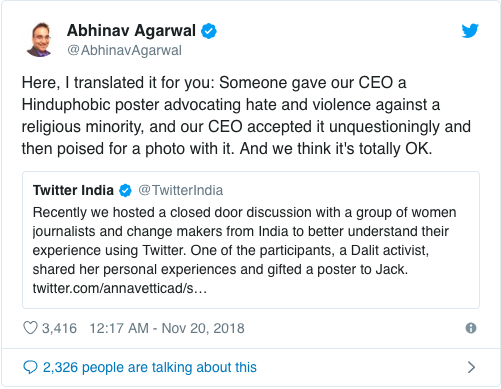 People present at the roundtable told BuzzFeed News that watching the discussion unfold didn't give them any hope that Twitter had its act together in India.
"I thought they would have done some homework about the problems on their platform in India," said one person present. "I thought they would have some expertise," another added. "I'm not sure they know the Indian market yet."
Others in attendance told BuzzFeed News that Twitter's original list of invitees did not include representation from India's minorities and called the list "elite, upper-caste, and all-star." Other than Aruna, who was not among the original invitees, no other persons from the Dalit community were invited to the event, and it was only after some invitees had threatened to drop out for lack of inclusivity that she was added, according to multiple sources present.
A Twitter spokesperson told BuzzFeed News that the company kept the number of participants in the session "intentionally small in order to give each participant time to speak, and to allow Jack and Vijaya time to absorb the feedback."
As Indian internet users have been swept up in a vitriolic debate, Dorsey has not been made aware of the fallout. Two sources confirmed that he has been in Myanmar on a Vipassana silent retreat for his 42nd birthday after leaving India last Thursday.

UPDATE
Hours after BuzzFeed News published this story, some of the people who attended the event released a statement saying that Twitter responded to the backlash "with untruths & insensitivity." You can read the full statement here.
UPDATE
Gadde, Twitter's head of legal and public policy, sent an email to the attendees on Wednesday apologizing for the trolling and harassment that some attendees faced after the photograph went viral. She also addressed her tweets apologizing to members of India's right-wing.
BuzzFeed News obtained the full text of Gadde's email, which is below:
I wanted to reach out to you with regard to the photo of Jack and many of you last week that was recently posted on Twitter, and the response to this.

First I want to reiterate how much Jack and I appreciated our candid discussion with you last week. This was Jack's first trip to India and a large part of the reason for the visit was to give us a better sense of some of the challenges and opportunities presented by such a unique and diverse country. The listening exercise we held with you provided invaluable context, and we both came away with many ideas to discuss with our teams.

We are aware that this incident has subjected many of you to abuse and trolling and we are working with our teams to address this and I'm very sorry.

I would also like to apologize for the confusion over whether or not photos taken during this discussion would be publicly shared. It was out (sic) initial understanding that not everyone wanted their photo Tweeted and we should have made this much clearer in our correspondence with you in the lead up to the event, on the day itself and when the photo was shared with you.

I also wanted to clarify my responses to some of the Tweets on this issue as these were not meant to offend anyone or inflame the situation further. As I said in my Tweet, we should have been more thoughtful. The point I was trying to make (but was not clear about) is that we were there to meet you to discuss the important issue of online safety in India. It was not a meeting to endorse any specific external campaigns or causes. However, because of the picture, people have wrongfully assumed that Twitter and/or Jack had an agenda beyond that of learning about your experiences.

Twitter serves a global, public conversation. Elevating debate and open discourse is fundamental to our service and our core values as a company. We are proud of the fact that Twitter is a platform where marginalized voices can be seen and heard. We are also committed to impartiality and we strive to be a platform for all voices. We must do better in order to be a trusted platform and serve you and the wider public who use our service in India.

For your reference and in the interest of transparency, I have included the information Twitter has shared with media below.

On behalf of Jack and I, thank you again for your time. Even through this incident, I have learned valuable lessons. I hope that we can continue this important dialogue and I look forward to sharing updates on Twitter's progress on Health and safety in India in the future. If you have any questions, please don't hesitate to reach out to me directly. I'd also be happy to schedule a phone call. Despite working at Twitter, I know that tweeting is not always the best way to have an important conversation.

My best to you all,
Vijaya
CORRECTION
Dalits are a community. An earlier version of the post misstated that information.
Ryan Mac contributed reporting to this story.