At its annual developer conference held in San Jose, California, on Monday, Apple gave the world a sneak peek at what's coming to your Apple devices in the fall when the company releases iOS 12, the next version of the operating system that runs your iPhone and your iPad.

Apple says your devices will run a LOT faster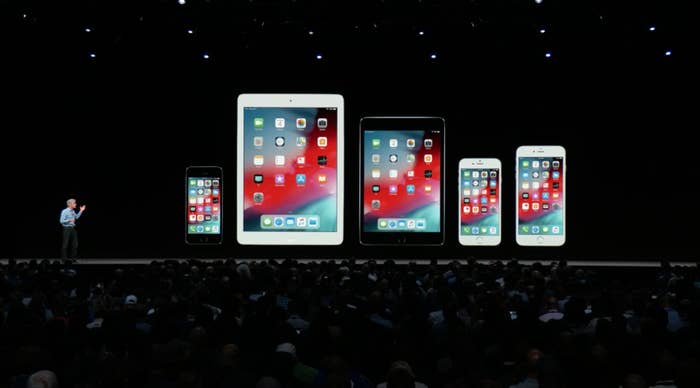 Apple's claimed that it's "doubling down on performance" in iOS 12. Not only will it run better and faster than iOS 11 on your swanky, new iPhone or iPad, you'll see benefits even if you're using a 4-year-old device like the iPhone 6 or an iPhone 6 Plus. Apps launch 40% faster on the iPhone 6 Plus with iOS 12, said Apple's senior vice president of software engineering, Craig Federighi, on stage.

You'll be able to install iOS 12 on every iPhone and iPad that can currently run iOS 11. That's all the way back to the iPhone 5s and the iPad Air released in 2013.
Using your iPhone can be an enormous time suck — and Apple says it wants you to be less addicted.

"Some apps demand more of our attention that we realize. They beg us to use our phone. They send us flurries of notifications trying to draw us in for fear of missing out," said Federighi.
To help you eliminate distraction, focus better, and get a better picture of how you're spending your time on your iPhone and iPad, Apple's building a set of tools into iOS 12 that lets you set time limits for apps and lets parents allocate and control their kids' screentime, among other things.
Last year, Apple built augmented reality into iOS 11 that uses your iPhone's camera to superimpose digital objects — Robots! Dinosaurs! Pokémon! — on the physical world around you.

In iOS 12, Apple will let two iPhones and/or iPads share an augmented reality experience by displaying the same virtual objects on their screens at the same time.

In a demo on stage, Apple showed how this works with two men playing with Legos in augmented reality on two iPads at the same time. This is the future of Lego in 2018, guys.
Group FaceTime
Apple's adding the ability to make group video-and-audio FaceTime calls with up to 32 people simultaneously — nearly eight years after FaceTime was first released.
You can also go from a group chat on iMessage directly to a group video call.
Better notifications
Tired of getting dozens of notifications from the same app? iOS 12 will group these into a single deck of notifications that you can pull down and peck off one by one OR just get rid of the entire bunch with one quick swipe. iOS 12 will also suggest turning off notifications from an app you don't use frequently.

Systemwide shortcuts
A brand-new app called Shortcuts will let you preprogram a single action, or even a sequence of actions, and connect them to Siri so you can trigger them with a custom phrase. For instance, saying a phrase like "I'm heading home" can automatically start playing your favorite radio station, turn up the smart thermostat in your house, and launch Apple Maps with driving directions.