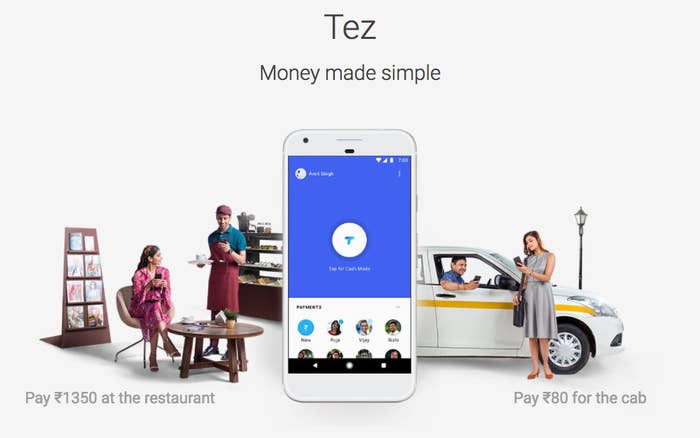 Google's goal for the brand-new payments app it launched in India on Monday is simple yet ambitious: to get in on the action each time someone sends or receives money in its largest market outside the United States.

The app is called Tez — Hindi for "fast" — and it lets users do three things: send money to people in their phones' address books, make payments to businesses (both online as well as in real-world mom-and-pop stores), and zap cash to anyone around them — all without knowing bank account numbers or personal details.
"The West went from using cash to plastic and point-of-sale machines, and it's kind of still there," Caesar Sengupta, vice president of Google's Next Billion Users program, told BuzzFeed News. "But we think that in developing markets like India, people are going to leapfrog directly from cash to digital payments using their smartphones."
Tez, which is now available on Android and iOS, is Google's latest attempt to get more users from developing countries like India hooked on the company's products. Google calls these users "The Next Billion," and over the last two years has brought free Wi-Fi to 150 Indian railway stations, and built YouTube Go, a brand new YouTube app specifically meant for India that lets users download YouTube videos to their phones and share them with each other.
Tez is powered by UPI, short for Unified Payments Interface, a Indian government-backed payments standard that lets users transfer money directly into each other's bank accounts using just their mobile numbers, or a bank-issued payment ID that looks like an email address. It works a lot like Venmo does in the US, except that anyone can build their own payments app on top of UPI. Facebook-owned WhatsApp, for instance, is reportedly building UPI-enabled payments into its app, and Google already has competition from Indian e-commerce giant Flipkart, which created a UPI-based app called PhonePe, as well as BHIM, a UPI-based payments app promoted by the Reserve Bank of India, India's central bank.
The interface for sending and receiving money from people around you in Tez is dead simple.
Once you hit Pay or Receive, Tez detects other Tez users around you with a proprietary technology called Audio QR based on ultrasound, and pairs with their phones. Once a sender puts in the amount and authenticates with a preset PIN to confirm who they're sending money to, a transaction happens in seconds.

"The reason people use cash is because it's simple and secure and you don't have to give your phone number or other details to random people," said Sengupta. "So imagine a scenario where your neighborhood shopkeeper can just switch this on on his phone and receive payments directly into his bank account."
People and businesses that users transact with show up like bobble-heads in an instant-messaging app, and transactions are threaded like chats too. "Tez is not a chat app. But it is built like a chat app because people in developing markets like India are familiar with that paradigm thanks to the popularity of instant messengers like WhatsApp and Hike," said Sengupta.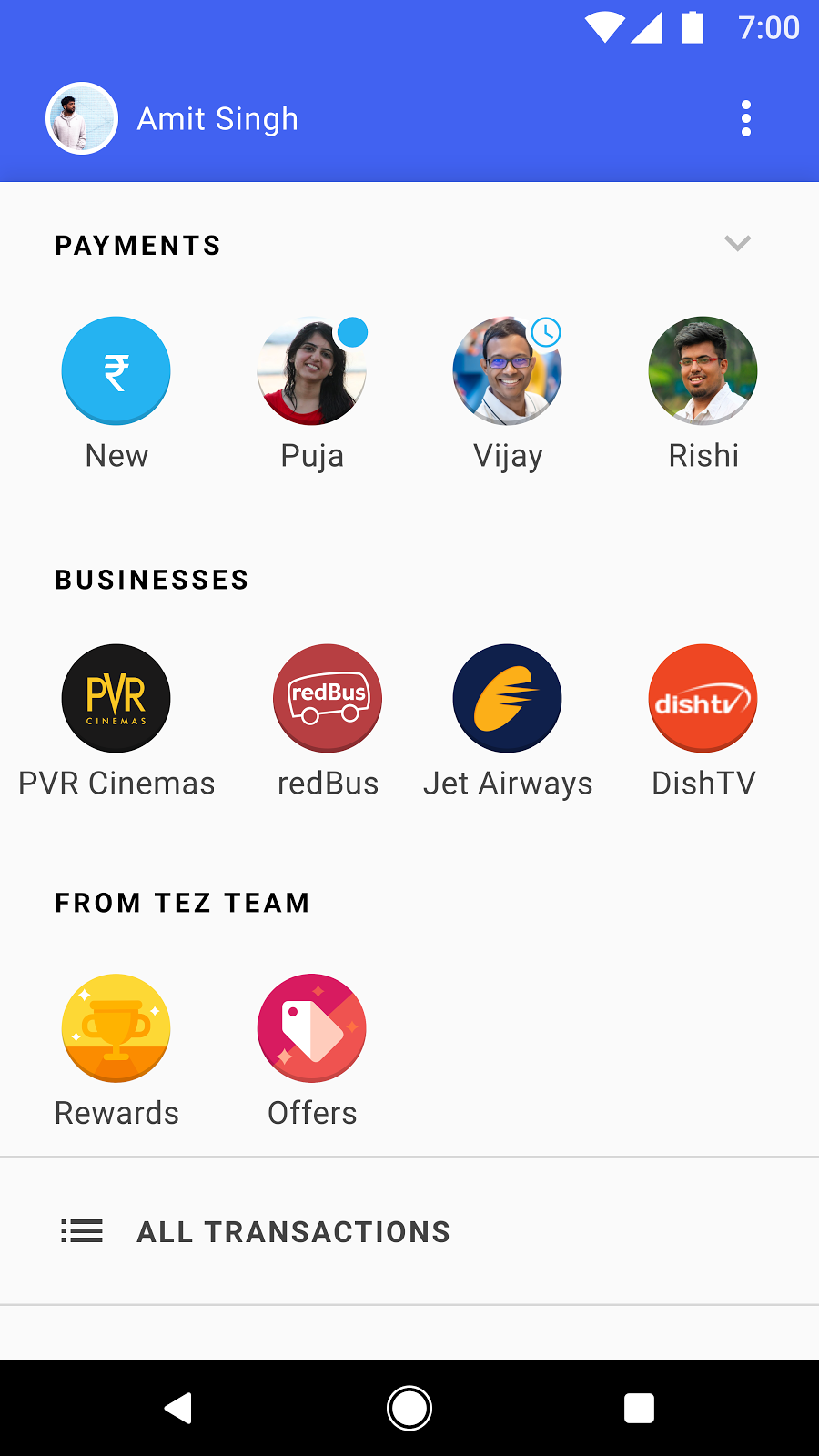 Google is also pitching Tez as a way for Indian businesses to easily accept payments online — a potentially disruptive move in a market where cash on delivery is the preferred way to pay for something bought over the internet. With a few lines of code, businesses can add a Tez button to their mobile websites that will let users complete the transaction in the Tez app.
None of these transactions, however, are private. Google confirmed to BuzzFeed News that it will be able to see who paid whom and how much. "But that's not different from any other UPI-based payments app," said Sengupta.
"The Next Billion Users program is about solving fundamental problems that users in countries like India, Indonesia and Brazil have," said Sengupta. "Paying to get access to services and products is a fundamental part of everybody's lives. And all we wanted to do was make sure people could do that well."