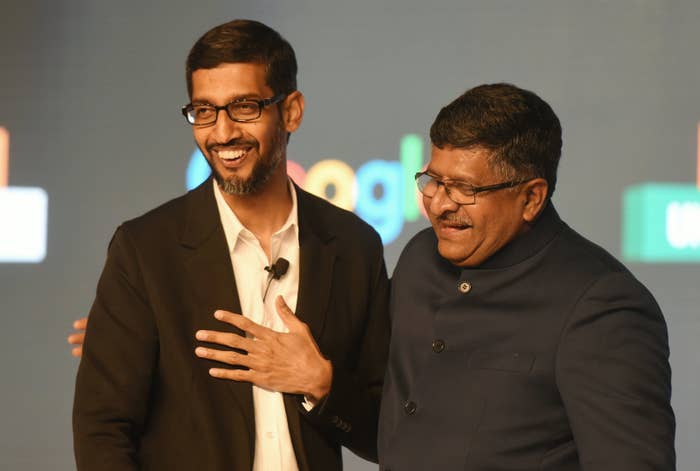 Millions more Indians are now coming online, but India's small businesses — including everything from decades-old mom and pop stores to neighborhood bakeries — are lagging behind. Google wants to change that.

At an event in New Delhi today, Google CEO Sundar Pichai announced a brand new program called Digital Unlocked aimed at helping India's 51 million small and medium businesses establish an online presence.
Over the next three years, Google will hold 5,000 daylong classes in 40 Indian cities to teach business owners everything from the basics — getting their business listed on Google Maps, for instance — to advanced courses like running an online advertising campaign and measuring analytics.
Google will organize these classes in partnership with the Federation of Indian Chambers of Commerce and Industry, an Indian business lobby. The classes will be certified by the Indian School of Business, a leading business school in India.
Later this year, Google will also launch a tool called My Business Websites, which will allow any small business to easily create and manage its own mobile-friendly website using nothing more than a smartphone in up to nine Indian languages. Businesses can reach Google over phone, email, and chat if they need help.
"India has shaped how we developed products in so many ways," said Pichai. "Today, anyone can become an entrepreneur, a developer, or a creator, but it is important that they have the right tools and skills to digitize. We believe it is important for us to invest in training and equipping these individuals and small businesses to accelerate their journey of growth."
India is an important market for Google. Last year, the company hooked up 110 Indian railway stations with free, high-speed Wi-Fi, developed a low-bandwidth version of YouTube called YouTube Go, and added Hindi— one of India's official languages — as the only other language besides English to Google Assistant, its voice-controlled AI chatbot.