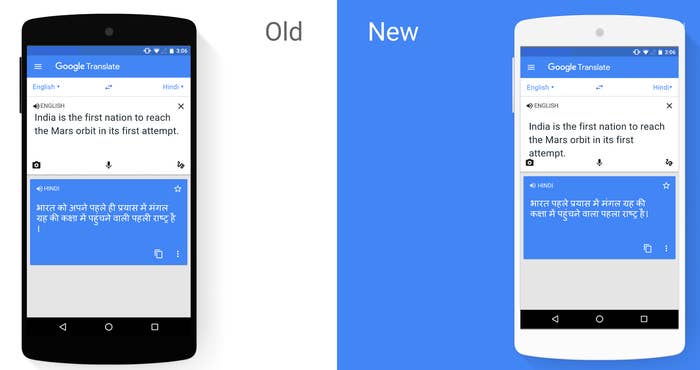 Google is making translations between English and major Indian languages much better. On Tuesday, the company announced that it has begun applying its Neural Machine Translation technology to translations between English and nine of the most widely used Indian languages — Hindi, Bengali, Marathi, Tamil, Telugu, Gujrati, Punjabi, Malayalam and Kannada.

Google first talked about Neural Machine Translation in November. The technology translates entire sentences at once, rather than translating single words and stringing them together, which, the company says, leads to smoother and more accurate translations.
Supporting Indian languages is crucial for Google. According to the company's estimates, roughly one-third of India's 1.3 billion people use the internet — more than the population of the United States. However, of these 400 million or so internet users, just 20% are fluent in English. How Google helps these people navigate the English-language internet could well decide the company's future in the country.
As a part of this push, Google is adding support for Indian languages in a few key products. Google's Chrome browser will now let anyone quickly translate entire web pages in English to any of the nine languages mentioned above. And Google Maps in India will automatically translate restaurant reviews posted in English to any of these languages as long as users' phones are set to those.
Google is also updating the Android version of Gboard, its official keyboard, with translation support for all of India's 22 official languages — including the ability to search for GIFs and emoji in local languages.