Google is developing a brand-new "conversational AI" service called Bard, a rival to OpenAI's ChatGPT, the company announced on Monday. Unlike Google Search, which presents you with a list of links when you search for something, Bard will be able to directly answer more complex questions. For example, it will be able to make comparisons between two movies or help you plan lunch based on what you have in your fridge.
"Bard can be an outlet for creativity, and a launchpad for curiosity, helping you to explain new discoveries from NASA's James Webb Space Telescope to a 9-year-old, or learn more about the best strikers in football right now, and then get drills to build your skills," wrote Alphabet CEO Sundar Pichai in a blog post. He added that the company was taking steps to make sure that Bard's responses "meet a high bar for quality, safety and groundedness in real-world information."
Bard will be available to the general public "in the coming weeks," Google said. Currently, only Google's "trusted testers" can use it. A Google spokesperson told BuzzFeed News that these testers were a diverse group of people outside the company who use its products to help understand how regular users are likely to experience them.
Bard is powered by LaMDA, an experimental technology that Google has only tested internally so far, and which one of its engineers last year claimed was "sentient." The claim has since been debunked.
Google's announcement highlights the pressure the company is feeling as a result of the popularity of ChatGPT, created by San Francisco–based OpenAI. OpenAI is backed, in part, by tech giant Microsoft, which reportedly is integrating ChatGPT into its search engine, Bing. Released in November, ChatGPT has more than 30 million users and gets about 5 million visits a day, according to a New York Times report.
ChatGPT's popularity has set off alarm bells within Google, which sees a chatbot that directly answers people's questions instead of requiring them to wade through pages of search results as an existential threat to its business. Last year, Google's management reportedly declared an internal "code red" and sped up work on various AI projects. Last week, it was reported that Google has invested more than $300 million into Anthropic, an AI startup founded in 2021 by former OpenAI executives.
One of the biggest differences between Google's Bard and OpenAI's ChatGPT seems to be Bard's ability to draw from the web to provide answers to questions about current events, which ChatGPT doesn't do a good job with.
Google will also integrate AI-generated responses to complex questions directly into search, the company said. Here's what that looks like: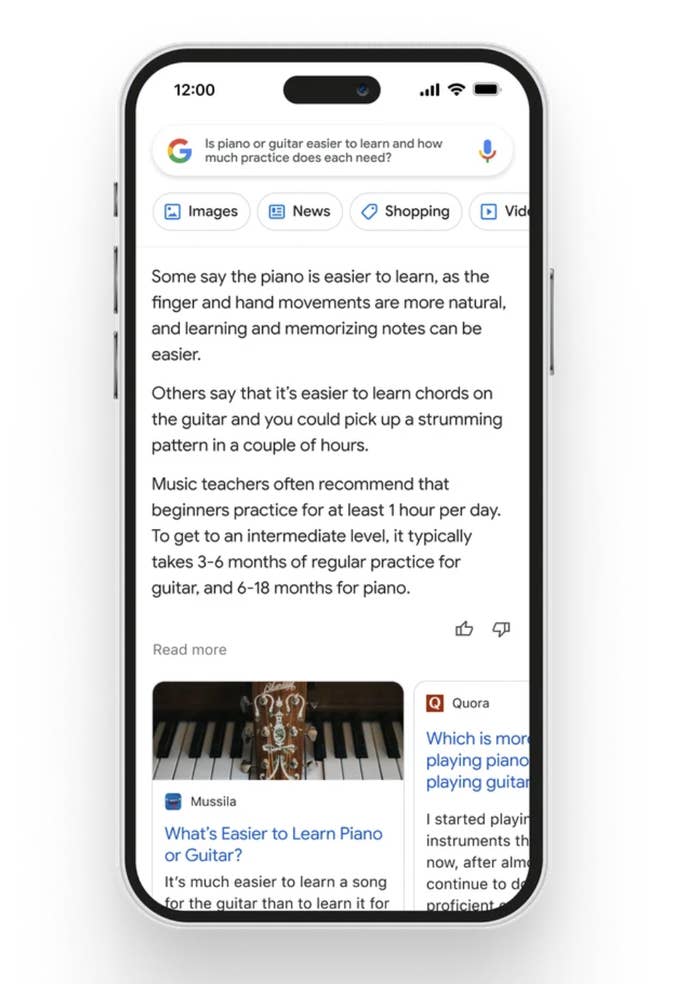 "Whether it's applying AI to radically transform our own products or making these powerful tools available to others, we'll continue to be bold with innovation and responsible in our approach," Pichai said.