Remember Allo? It's Google's instant messenger that uses artificial intelligence to do things like suggesting smart replies when you're chatting with friends, and serving up restaurant suggestions if it sees you making dinner plans.
In September, Google launched Allo in India before it released it in any other country. This isn't particularly surprising. Google's been giving the country a lot of attention lately: Last year, it hooked up over 100 Indian railway stations to high-speed Wi-Fi and created a special app called YouTube Go especially for India.
With Allo, Google hoped to introduce Indians to a better messaging experience than the simplistic WhatsApp, the Facebook-owned app that remains the country's most popular instant messenger. But five months in, it doesn't seem to be working out too well.
According to data from app analytics firm Sensor Tower provided to BuzzFeed News, Google Allo has been downloaded 3.1 million times on the Google Play Store, and 264,000 times on the Apple App Store in India since it was launched in September 2016.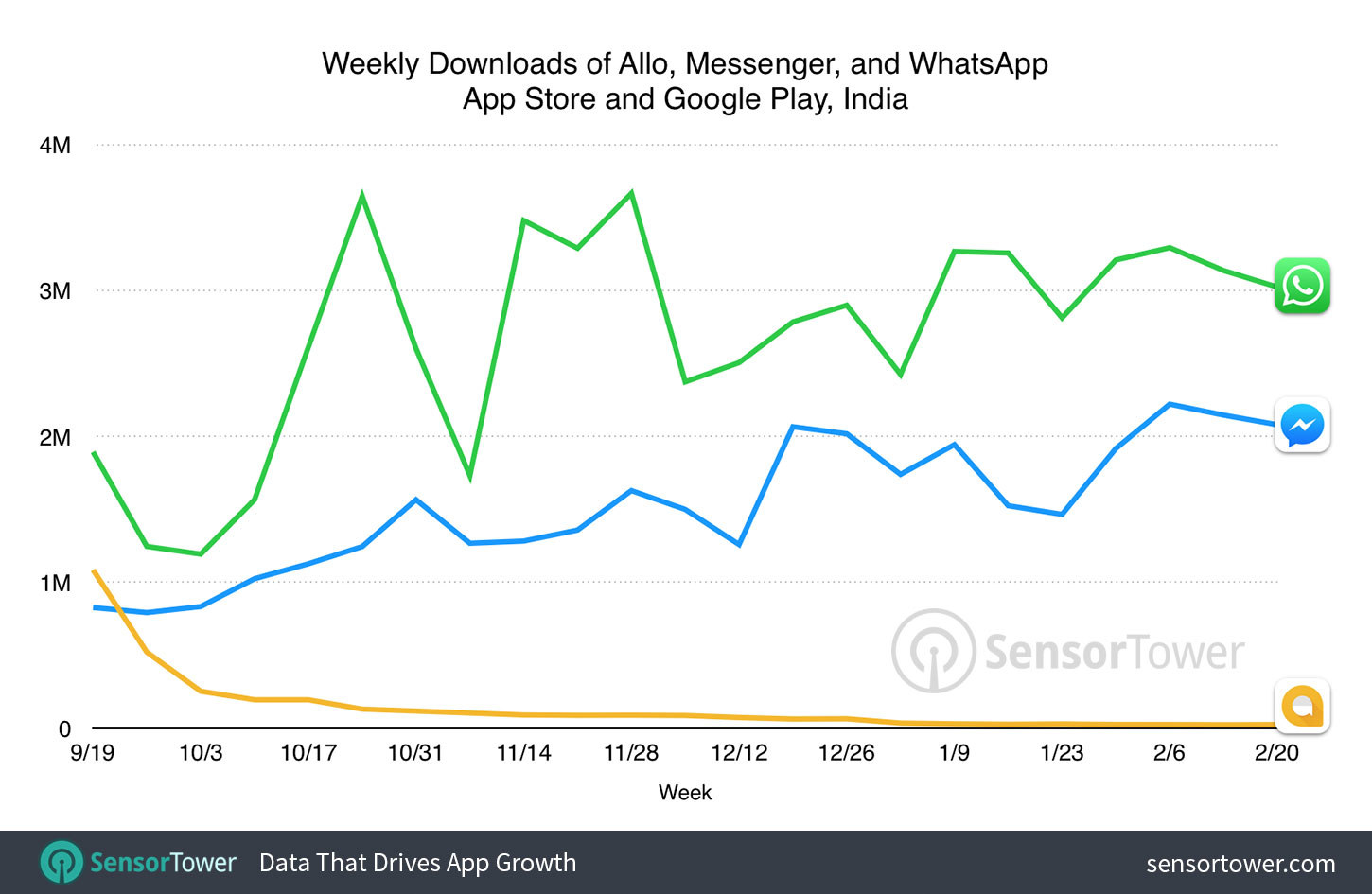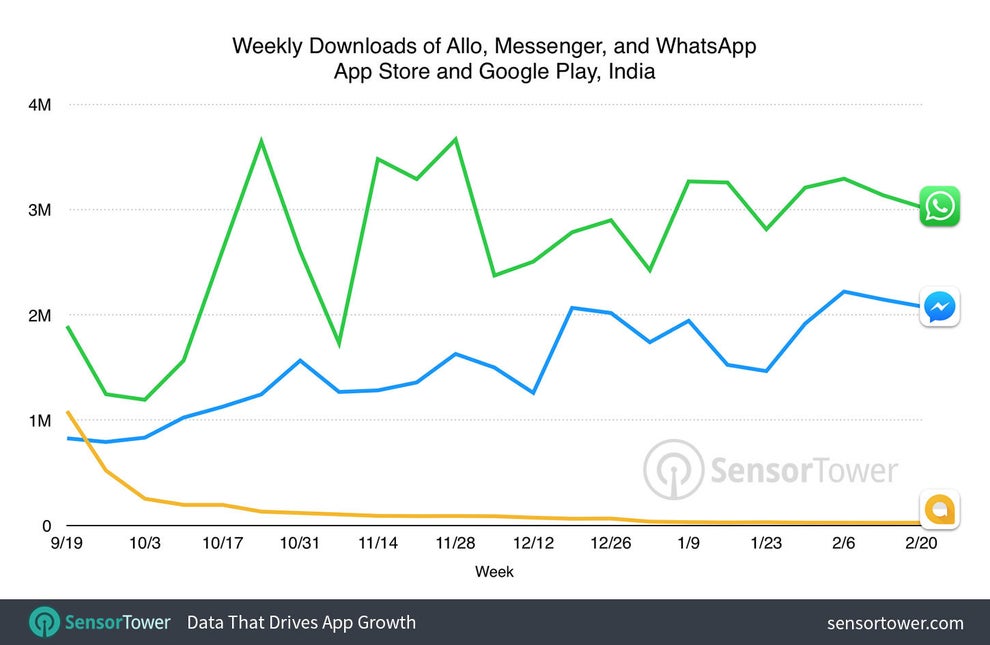 In comparison, Facebook Messenger was downloaded over 33 million times on the Play Store and 1.7 million times on iOS since Allo's launch. WhatsApp was downloaded 58.6 million times on the Play Store and 3.2 million on iOS. Both Facebook Messenger and WhatsApp have been downloaded around the world over 1.6 billion times each since Messenger was launched in 2014, according to Sensor Tower's data.
Allo was Google's reimagining of what a messaging app should be like. The company tried to make it specifically appealing to Indians by adding the Hindi language to the built-in Google Assistant, and including sticker packs designed by Indian artists in the app. But in a world saturated with instant messengers, breaking in is hard.

"It's not entirely unexpected, and it's not something that we lose hope or sleep over," Amit Fulay, group product manager for Google Allo, told BuzzFeed News. "You'll see a pattern even with the most successful products: There's a huge bump in the beginning, and then there's a slump; and then you see the real, retentive users sticking there and getting and friends and families on board, and you see the graph going back up."
WhatsApp dominates India with over 200 million active users, but Fulay said that despite the strong incumbent, Google still saw a lot of potential in the market. "Smartphones are often the only way most Indians access the internet and instant messaging is the primary thing most of them use these devices for," he said. "We also thought that instant messaging is an area that's ripe for innovation."
Still, the combined network effects of WhatsApp and Facebook Messenger are tough to fight. "I don't think we have any expectations of users in India thronging to us en masse," said Fulay. "But this is a long game for us in some ways. We think we already have a better product [than the competition]. The next step is figuring out how to make inroads."
To make those inroads, Google has been marketing Allo aggressively in India. In November, it worked with All India Bakchod, a popular stand-up comedy group in India with over 2 million YouTube subscribers, to produce a YouTube comedy sketch that subtly advertised Allo features. Product placement isn't really an uncommon concept in Indian advertising, but it's a first for Google in India, which, thus far, has largely relied on organic growth through word of mouth and its stronghold on the country's smartphone market through Android.
Google has also started advertising Allo in Cafe Coffee Day, a popular coffee chain around the country — actions like downloading the app, creating group chats within Allo, and asking Google Assistant for "coffee jokes" get you a free cappuccino.
Fulay says Google has concentrated its Allo marketing around India's young demographic. "Young Indians like college students and early professionals have a greater propensity to try new apps, and they're looking for more premium experiences," he said. "They have a tendency to discuss new things they discover with their peers. These are the people we are focusing on [with our marketing]."
The key thing right now, he said, is to just get people to try the Allo experience. "The belief is that if people try, they will like Allo."

CORRECTION
India is the world's second largest smartphone market. An earlier version of this story misstated its size.