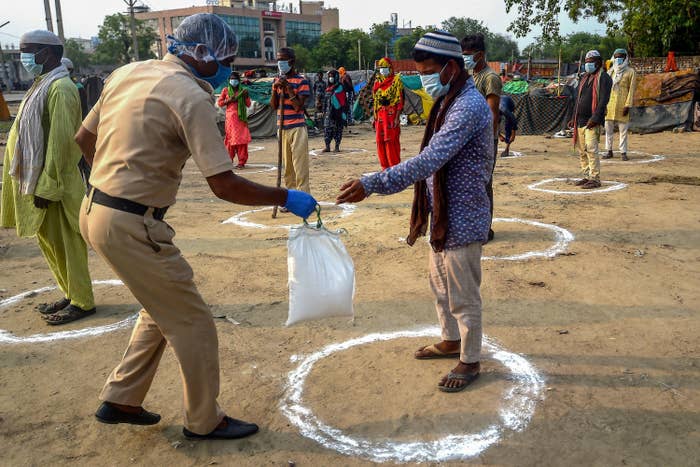 The journalists at BuzzFeed News are proud to bring you trustworthy and relevant reporting about the coronavirus. To help keep this news free, become a member and sign up for our newsletter, Outbreak Today.
One afternoon in the last week of April, a pair of uniformed security guards stopped photographer Altaf Qadri from entering the pharmacy inside a large residential complex in Noida, a city near the Indian capital of New Delhi, unless he first showed them his phone. They wanted to see if he had installed the Indian government's coronavirus contact tracing app.
There to buy medicine for his father, Qadri protested. But then he saw other people trying to get into the pharmacy. They were downloading the app.
"That's when I realized this shit is real," he said. "They really meant it."
In early April, India's government released its contact tracing app, called Aarogya Setu — "a bridge to health" in Hindi. Using a combination of self-declared personal information like travel history and symptoms, as well as Bluetooth and location data, the app hands out green, yellow, and orange badges to people showing their infection risk. Urging people to download it, Indian Prime Minister Narendra Modi called it an "important step in our fight against COVID-19." Millions of Indians have obeyed. Three weeks after it launched, India's IT ministry said more than 75 million people in the country had installed the app on their smartphones.
But the app has kicked off a debate in the country of 1.3 billion people that does not have a federal privacy law. Indian privacy advocates are concerned about the app's potential as a tool for state surveillance beyond the pandemic — among other things, it requires access to people's location at all times. And as India's government continues to work on the app — state-issued e-passes to let people move around the country are coming soon, as is telemedicine — critics are asking if millions of Indians will be forced to download a government-backed tracking app as the cost of returning to their lives.
"Is Aarogya Setu going to be an app with a limited shelf life that is only going to be used for contact tracing? Or is it going to be the beginning of something bigger?" said Nikhil Pahwa, editor of Medianama, an Indian website that covers tech news and policy. "Now that millions of people have downloaded it, I don't expect India's government to give up on this install base. They're not going to let go of it. We're going to need to show the app to access public transport, enter government buildings, supermarkets, and pharmacies. This is an opportunity that they've been waiting for."
Indians aren't legally required to install Aarogya Setu, but they may not have a choice. On Wednesday, the country's government mandated all federal employees to download it. A report in Indian business daily Mint published Wednesday cited sources in the smartphone industry saying that India's government asked smartphone makers to preinstall the app on devices. Indians may also soon need to have the app installed to board public transport and take flights.
When the pandemic passes, in other words, Aarogya Setu could become a permanent part of Indians' lives, like their driver's licenses and passports. What is built in a crisis will not disappear when it passes.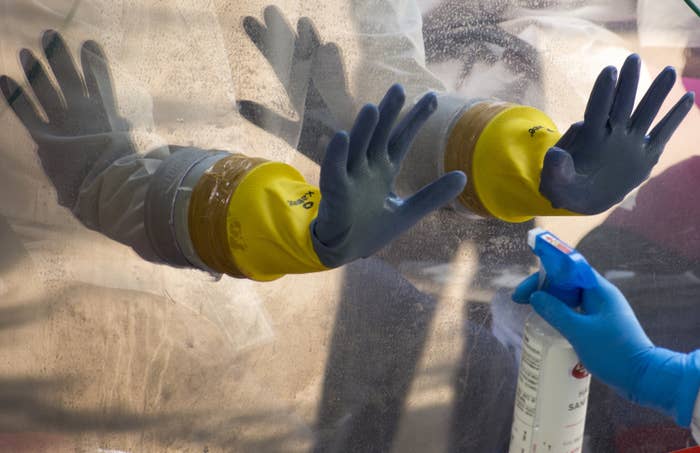 Last week, Indian food delivery companies like Zomato and Swiggy, as well as maintenance services startup Urban Company, said they would require gig workers on their platforms to have Aarogya Setu installed on their phones to work.
"We have made sure that they can only login to their Zomato Delivery Partner app if their phone has the Aarogya Setu app installed, and is running as a background process on their phone," tweeted Zomato CEO Deepinder Goyal on April 21.
Some of the company's employees found the mandate unsettling.
"These people are being forced to make a choice between putting food on the table and installing an app that might violate their privacy."
"Nobody from Zomato told us why we need to have this app installed to work," Jeetu Singh, a delivery worker with Zomato in New Delhi, told BuzzFeed News. "All I know is that one day I couldn't log in to my app to start taking orders until I had installed Aarogya Setu and signed up with my personal information." Singh said he had never heard the term "contact tracing" before. "Most delivery guys like me who work for these platforms can't really read or write much," he said. "They don't understand most of this."
"Gig workers only get paid when they work," said Pahwa, the Medianama editor and one of the leading authorities on privacy in India. "It's an unfortunate situation where these people are being forced to make a choice between putting food on the table and installing an app that might violate their privacy."
Other Zomato delivery workers who did not wish to be named told BuzzFeed News they weren't concerned about their privacy when using the app and in any case did not have a choice if they wanted to work. "I don't really think that much about the app," one of them said.
Zomato's customers are not required to have the app installed to have orders delivered.
A Zomato spokesperson told BuzzFeed News the company hasn't considered mandating customers to install the contract tracing app before they could use the food delivery service.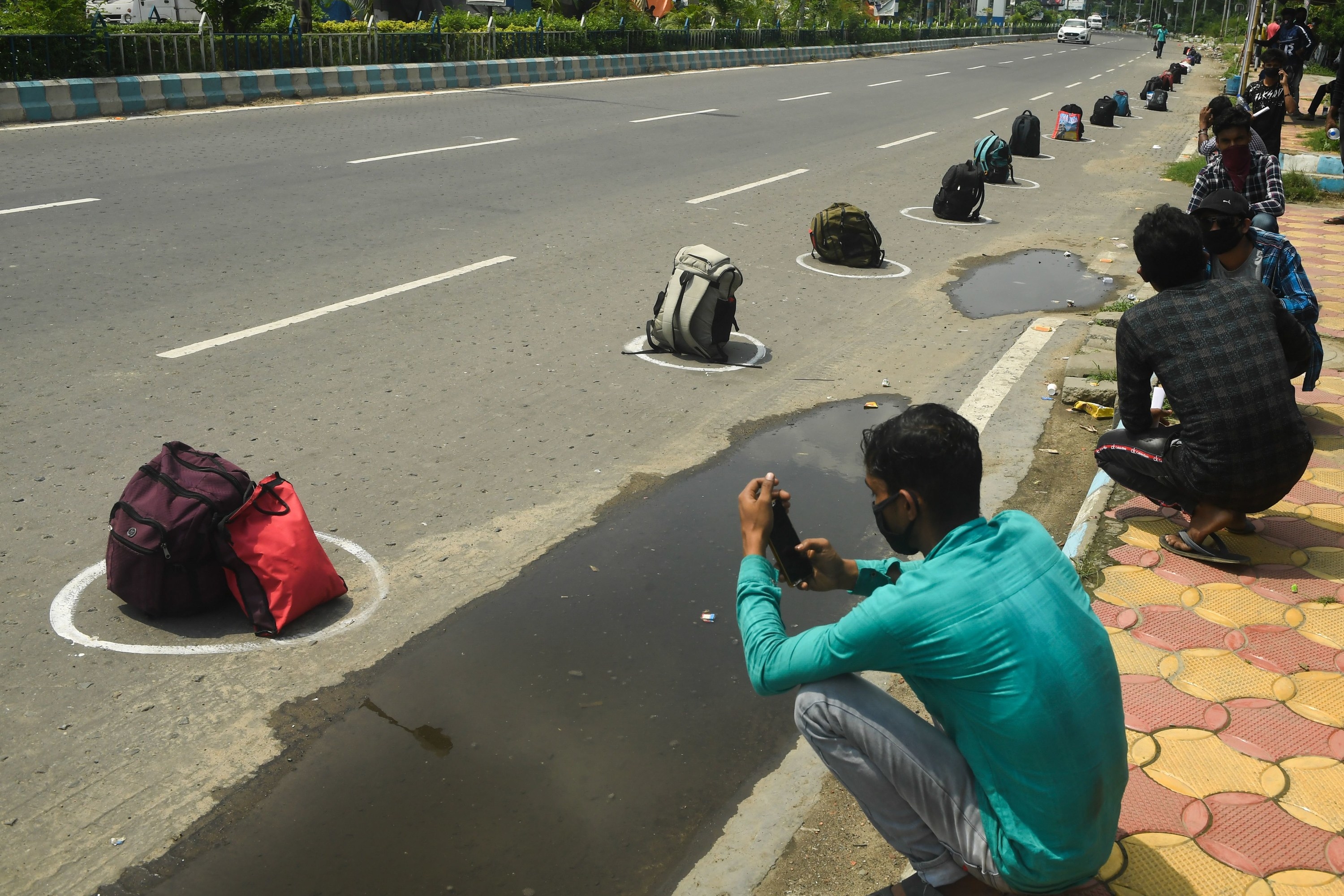 Earlier this month, Rashmi Sharma, a writer who owns one of the 800 apartments in a sprawling residential complex in a wealthy neighborhood in Ghaziabad, a city near New Delhi, found herself in an argument with the management in the complex's Facebook group. It had mandated every resident to download the app to access grocery and maintenance services.
"I said this was unconstitutional and that the government had not made this app mandatory," Sharma told BuzzFeed News. "They told me they were simply doing what the prime minister asked citizens to do. 'You go and question the prime minister,' they told me."
The complex's management revoked the requirement, but Sharma's neighbors now taunt her for standing against the government. "It's frustrating," she said, "because the app only checks the potentiality of your risk. It can't say whether you definitely have or do not have the virus. Only a test can determine that."
Privacy advocates echoed Sharma's concerns, noting that apps like Aarogya Setu are unproven and likely to be far less effective than manual contact tracing efforts.
"My problem with contact tracing apps is that they have absolutely no value," Bruce Schneier, a privacy expert and fellow at the Berkman Klein Center for Internet and Society at Harvard University, told BuzzFeed News earlier this week. "I'm not even talking about the privacy concerns, I mean the efficacy. Does anybody think this will do something useful? […] This is just something governments want to do for the hell of it. To me, it's just techies doing techie things because they don't know what else to do."
Experts said the app was similar to Aadhaar, India's controversial biometric ID program. Aadhaar, which was voluntary when it was first rolled out in 2009, soon became mandatory for everything from buying a new cellphone connection to filing taxes, even though nobody was legally required to sign up for the program. Today, nearly every single one of India's 1.3 billion residents has an Aadhaar ID.
"We've seen these things eventually becoming 'voluntary-mandatory,''' said Medianama editor Pahwa. "What if you need Aarogya Setu for getting rations?" he said, referring to the subsidized food grains that millions of the poorest Indians depend upon. "What if you don't have a smartphone?"