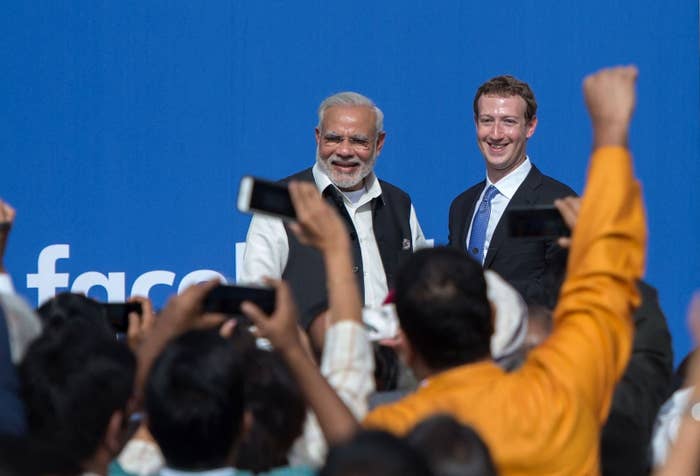 The last time Facebook tried to bring free internet access to millions of unconnected people in India, it didn't go so well. Now the world's largest social network is back for round two. Its brand new program to bring internet access to rural India, Express WiFi, is live after months of testing in remote parts of the country, according to the program's website.

"We are working with carriers, internet service providers, and local entrepreneurs to help expand connectivity to underserved locations around the world," says the website.
Unlike Facebook's controversial Free Basics program, where the platform tied up with cellphone carriers and allowed people to access a limited selection of websites and services for free, Express WiFi lets users access the entire internet for a small fee — alleviating any potential net neutrality concerns. Users can buy affordable data packs in the form of digital vouchers to access internet on the Express WiFi network.
Facebook declined to say how much internet access under the program would cost, but notes on its website that it's "working with local internet providers or mobile operators" who are able to use "software provided by Facebook to connect their communities."
"We are currently working with ISP and operator partners to test Express WiFi with public deployments in multiple pilot sites," a Facebook spokesperson told BuzzFeed News. "This solution empowers ISPs, operators, and local entrepreneur retailers to offer quality internet access to their village, town or region."

According to previous reports, at least one of the ISPs that Facebook may have partnered with for the Express WiFi program is India's state-owned RailTel, which provides internet access through fiber that runs alongside the country's dense network of railway tracks. Earlier this year, Google partnered with RailTel to bring free Wi-Fi to over 50 railway stations in India.
Critics of Free Basics are much more positive about Facebook's new initiative. "Express WiFi minus Free Basics is the ideal approach for bringing internet to unconnected Indians, and if there's any initiative from Facebook or from any other company that gives people access to the open Internet, I will support it," Nikhil Pahwa, editor of Indian tech news site Medianama, who helped launch the Save the Internet campaign in India last year, told BuzzFeed News.
Facebook did not respond to BuzzFeed News' questions about the program, including exactly which parts of the country is it available in and what the timeframe is for a nationwide rollout. However, Facebook does note on the program's website that Express WiFi will be available in more countries soon.
With millions of people still unconnected to the internet and smartphone penetration in the low hundreds of the millions, internet companies like Facebook and Google see India as their next battleground for growth.
Google's Project Loon, which uses giant solar-powered balloons floating in space to beam down internet to places where getting online is nearly impossible, has been stuck in with Indian regulators for months. The company recently announced Google Station, a new initiative to let cafés, malls, and small businesses set up public Wi-Fi easily. Facebook's Free Basics program was shut down by Indian regulators in February on the grounds that it violated net neutrality.