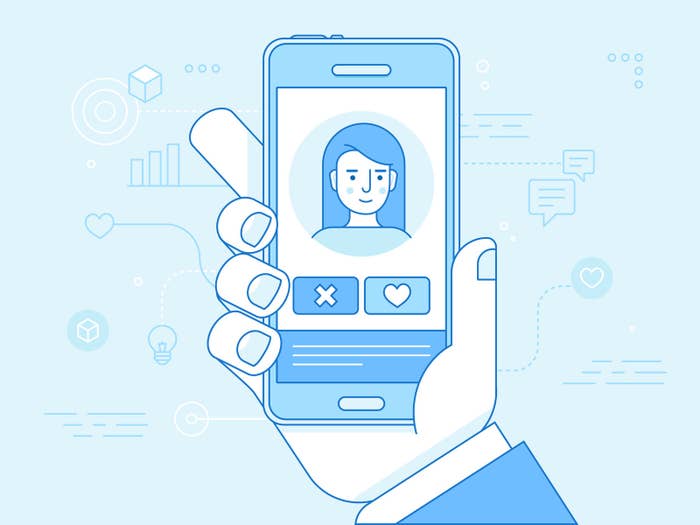 Facebook's plans to roll out a dating feature in its app later this year already face growing opposition in the company's largest market: India. The country's vocal, conservative far-right groups, which have for years protested dating and premarital relationships by calling them "Western imports," have turned their attention to what they see as a huge threat to Indian culture from Facebook.
Members from nearly half a dozen right-wing, conservative groups told BuzzFeed News that they were "troubled" that Facebook was launching the dating feature and that they would "protest strongly" whenever Facebook rolls it out in India.
"Too many young Indians are already aping the West," said Surender Jain, general secretary of the Vishwa Hindu Parishad (VHP), a right-wing nationalist Hindu organization with close ties to India's ruling Bharatiya Janata Party (BJP) led by Prime Minister Narendra Modi. "It is a matter of great concern to us that American companies like Facebook are now openly encouraging these things in India."

"Do you know what the Hindi word for dating is?" said Prem Verma Rajput, secretary general of the Hindu Sena, a Hindu supremacist group that has thrown birthday parties for Donald Trump in New Delhi. "Nothing! So how is it that our women can just go out and meet strange men from Facebook? We're definitely against it."
Facebook hasn't released many details about its dating feature, although it said it will build in certain safeguards: The dating feature will be opt-in and will only be open to users ages 18 and above, messaging will be limited to a single, text-only message until the recipient replies, and it won't match users with their friends.
India remains a huge market for dating services despite the fact that arranged marriages are the norm.
While dating still has a social stigma outside rarified, liberal circles, more and more young Indians are opening up to the idea. As of this writing, Tinder was the second-highest grossing app on the Google Play Store in India behind a local Indian poker game, according to data from app analytics firm App Annie. And for a number of popular dating apps now operating there, India remains a vast market for them to tap into.
"In India, any place where there is a high density of educated, smartphone-carrying people, those people are more open to forgo arranged marriage. This is where we focus our efforts," Mandy Ginsberg, CEO of Match Group, Tinder's parent company, recently told the Wall Street Journal.
Right-wing groups, often with political affiliations, have waged a war on dating in India for years. On Valentine's Day in 2009, for instance, members of a Hindu nationalist group called the Sri Ram Sena dragged young women out of a pub in Mangalore and beat them for violating "traditional" Indian values by meeting men in a bar. Earlier this year, several members of the VHP threatened couples strolling along a riverfront in the Indian state of Gujarat on Valentine's Day with wooden sticks while shouting nationalist slogans — they were arrested by police. VHP members have also been incarcerated for violence against Muslim men for wooing Hindu girls and converting them to Islam — something that is described by India's far-right as "love jihad."
"Dating is debauchery," the VHP's Jain told BuzzFeed News, "and it is dangerous for our country's culture."
"It's easy to dismiss these voices as part of a lunatic fringe. But in India's current political climate, I don't think they're a fringe at all," Kavita Krishnan, women's rights activist and secretary of the All India Progressive Women's Association (AIPWA), told BuzzFeed News. The liberal group is not opposed to dating. "They know they have the blessings of the country's ruling party, and they have power," she said, referring to the wave of nationalism and the backlash against India's liberal voices ever since Modi's BJP came to power in 2014.

In the wake of those elections, many American technology companies have preferred playing it safe in India, a large and important market, by conforming to socially conservative norms. Amazon, for instance, censors most nudity on its Prime Video service in India and bans sales of adult products through its marketplace; Google bans retailers from buying ads for erotica; and Tinder's very first Indian commercial suggested that a stamp of parental approval was necessary for dating.
Facebook is currently in the process of evaluating how it rolls out the dating feature in various markets based on different cultural norms around dating. The company said in a statement emailed to BuzzFeed News: "We understand how much dating norms and issues can vary by country, and as we work towards launching Facebook Dating, we're taking a country-by-country approach to make sure that we're addressing what different people need across the world."
More than 250 million of India's nearly 500 million internet-connected population use the social network, making the inclusion of a dating feature fraught with potential backlash from the country's conservative sections.
"I know there are multiple dating apps in India," said Waris Pathan, member of the All India Majlis-e-Ittehadul Muslimeen (AIMIM), a conservative Muslim political party in India, "but I personally think that there needs be a check on them of some kind, because our culture and traditions are quite different from Western countries. Our young people get carried away, and it's harmful for their lives."
Although Facebook CEO Mark Zuckerberg has emphasized that the service will be for "building real, long-term relationships, not just hookups," that hasn't been enough to pacify India's far right. Hindu Sena's Rajput told BuzzFeed News that Facebook was welcome to bring the dating feature to the rest of the world. "Just don't bring it to India," he said, adding that dating was against Indian culture because it allowed people to show affection openly, something that "our culture doesn't allow us to do."
Krishnan, the AIPWA secretary, said it's important for Indians to recognize that such threats against dating are not an aberration. "It's a widespread national phenomenon that is threatening the liberty and safety of people who dare to love in this country," she said. While a certain, urban, educated class of people who use dating apps in India might be insulated from the harm that these groups can cause to them, she said it's couples in semi-urban and rural India who are the most vulnerable. "They use Facebook too," and they are being threatened, she said.
"Let Facebook launch the feature," Hindu Sena's Rajput said. "We'll organize mass protests."

CORRECTION
An earlier version of this story misstated the name of the Hindu Sena spokesperson.