Listen up: Using Facebook is about to get a lot more 🎶musical🎶
First, Facebook's Lip Sync Live feature — which launched in June and lets you sing along to your favorite songs in a live Facebook video — will now display the song's lyrics so you're not making a damn fool of yourself as you lip-synch in front of all your followers. (It's "Scaramouche, Scaramouche," guys.)
You won't get lyrics for every song just yet. Facebook says that some of the songs with support for lyrics right now include Dua Lupa's "New Rules," Khalid's "Better," and "Girls Like You" by Maroon 5, but more are coming soon. As a bonus, the Lip Sync Live feature is also rolling out to more countries around the world (although it's unclear which ones), and also to artists on their Facebook pages.
This solves a Very Serious Problem for people who use Facebook to lip-synch.
And if you use Facebook stories (rather than, I don't know, just posting to Instagram stories like a normal person), you can now add music to them.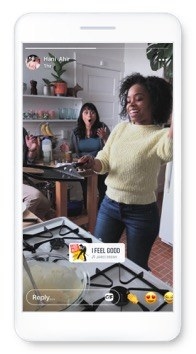 And finally, you will soon be able to add the song you're listening to or your all-time favorites to a new music section on your profile to let your friends (and uh, advertisers) know more about your musical preferences.