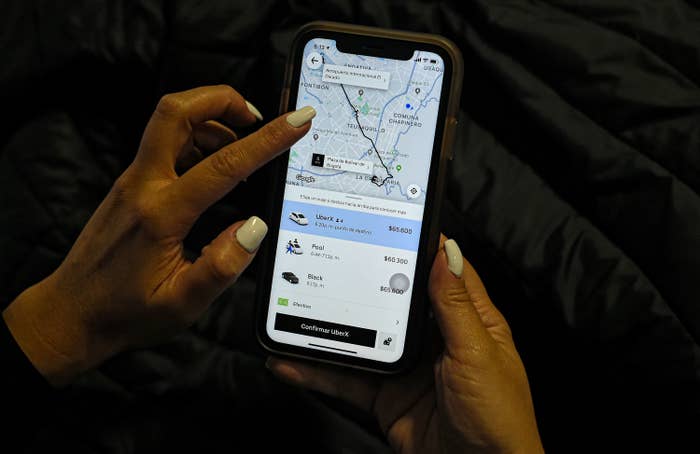 Uber may temporarily suspend the accounts of drivers and riders who have tested positive for the coronavirus or have been exposed to it.
"We have a team available 24/7 to support public health authorities in their response to the epidemic," Uber CEO Dara Khosrowshahi said in an email to users and drivers sent Tuesday night.

"Working with them, we may temporarily suspend the accounts of riders or drivers confirmed to have contracted or been exposed to COVID-19. We're also consulting with an epidemiologist to make sure our efforts as a company are grounded in medical advice." CNN first reported Uber's email.

Uber will provide drivers with disinfectants, and let Uber Eats users leave a note on their order to have the delivery person leave it at the door, Khosrowshahi wrote.
He said that the company would compensate drivers and delivery workers diagnosed with COVID-19 — the disease caused by the novel coronavirus — or asked to self-isolate by a public health authority for up to 14 days while their accounts are suspended, something that Uber first revealed in a mail to employees last week. Details of the compensation are still unclear.
There are 1,037 confirmed cases of COVID-19 in the US so far, and 28 deaths.

Peter Aldhous / BuzzFeed News
An Uber spokesperson told BuzzFeed News the company was "always working to help keep everyone who uses Uber safe. "We have a dedicated global team, guided by the advice of a consulting public health expert, working to respond in every market where we operate around the world," they said in a statement. "We remain in close contact with local public health authorities and will continue to follow their guidance to help prevent the spread of the coronavirus." The spokesperson noted that rival Lyft already has a similar policy in place.
This isn't the first time Uber has talked about suspending drivers and riders exposed to or infected with COVID-19. In February, the company suspended 240 user accounts in Mexico after the people who those accounts belonged to rode with two drivers who had come into contact with a possible coronavirus case, according to a Bloomberg report.
Earlier this month, Uber released guidelines to its drivers asking them to stay at home if they felt sick, wash their hands frequently, and clean and disinfect frequently touched surfaces in their cars.