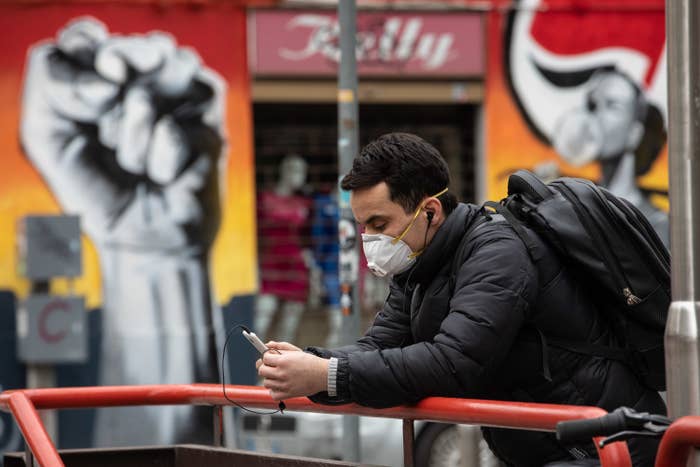 The journalists at BuzzFeed News are proud to bring you trustworthy and relevant reporting about the coronavirus. To help keep this news free, become a member and sign up for our newsletter, Outbreak Today.

Google is using the location data it collects from billions of smartphones to show how people's movements have changed as governments around the world lock down cities and issue shelter in place orders to slow down the spread of the coronavirus.

Reports generated using this data, which is normally used to show how busy a certain location is on Google Maps, and which Google says does not identify individual people, are freely available on a brand-new website called COVID-19 Community Mobility Reports.

"We have heard from public health officials that this same type of aggregated, anonymized data could be helpful as they make critical decisions to combat COVID-19," wrote Google senior vice president Jen Fitzpatrick and Karen DeSalvo, chief health officer for Google Health, in a blog post published Friday.
The data is currently available for 131 countries, and in many locations including the US, you can also access data for individual counties.
Selecting a region on the website generates the report as a PDF, which shows the increase or decrease in the percentage of people visiting six broad categories of places: retail and recreational spaces such as restaurants, shopping centers, and museums; grocery and pharmacy stores; parks and public beaches; transit stations; workplaces; and residences.
According to the COVID-19 Community Mobility Reports website, the change in percentage in each report is a comparison between the most up to date data, retrieved between 48 and 72 hours ago, and an average over five weeks between Jan. 3 and Feb. 6.
A report for California, where a shelter-in-place order has been in effect since March 19, for instance, shows a large dip in crowds in places like restaurants and cafés, and public transport hubs like bus and train stations, while showing a small uptick in the number of people staying put at home.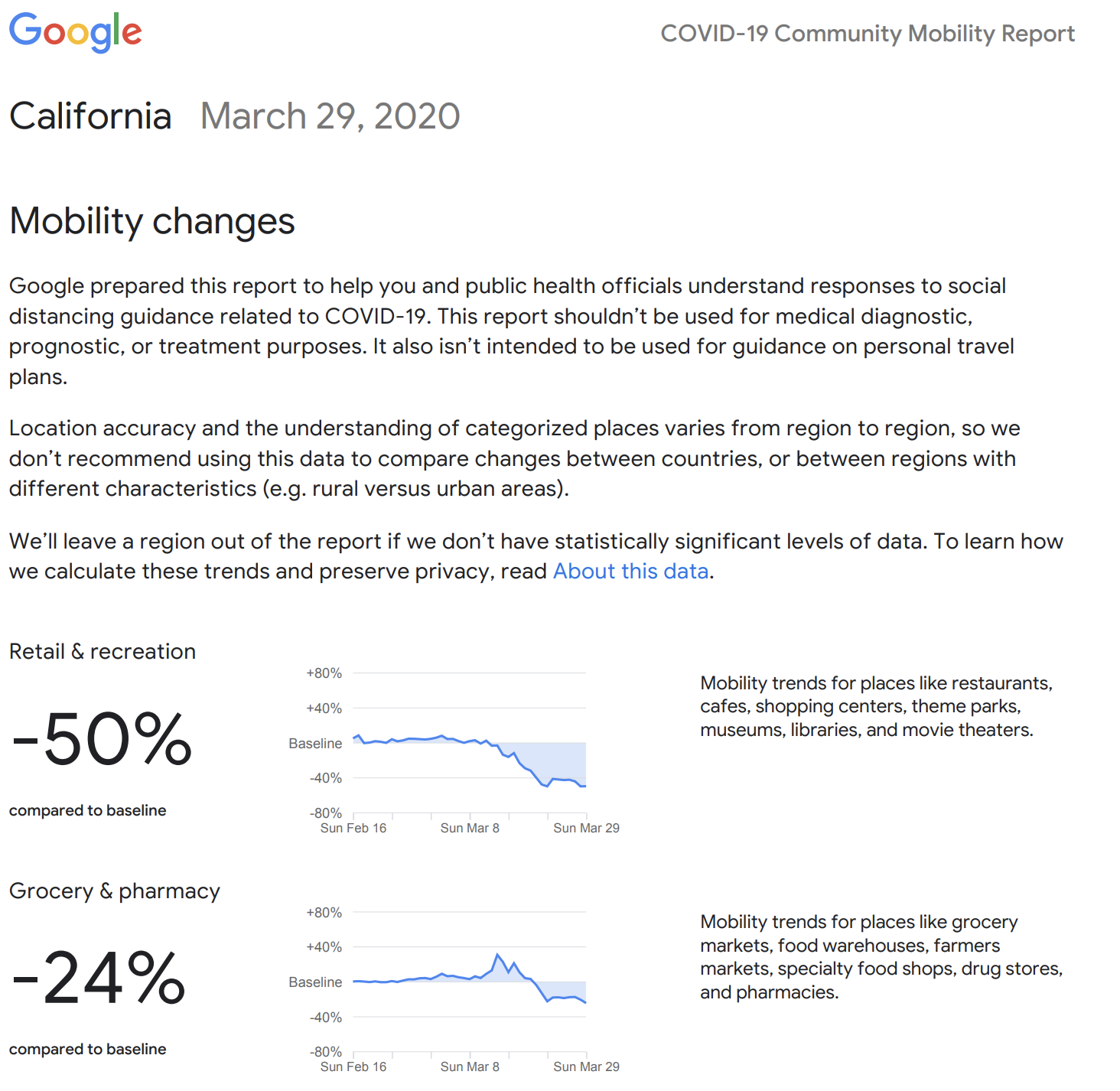 In Italy, which has been under lockdown since March 9, the numbers from Google's reports are even starker. Visits to restaurants, cafés, museums, and libraries in the region have dropped 94% compared to the baseline, while visits to grocery stores and parks dropped by 85% and 90% respectively.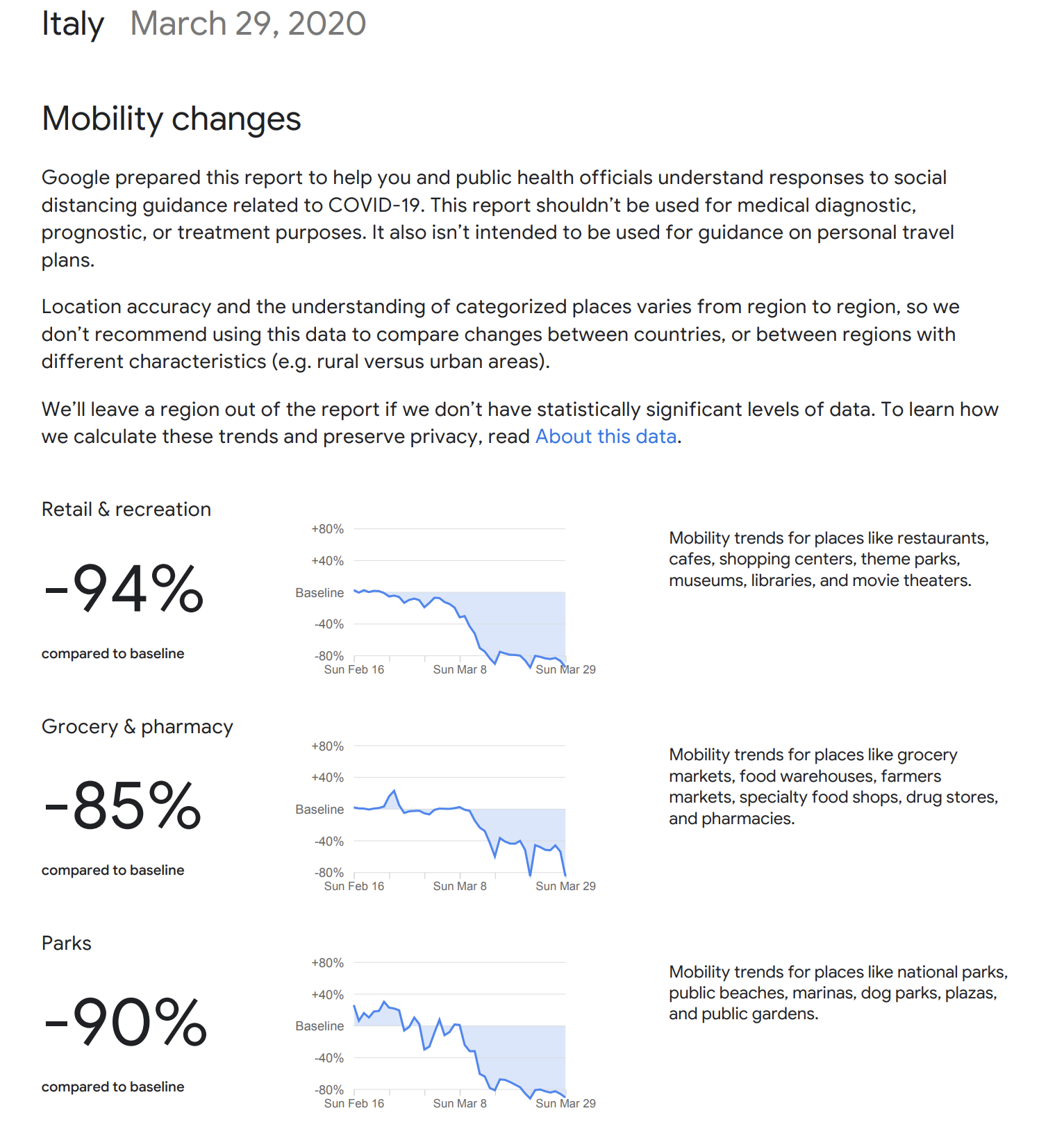 Google plans to update the website with additional regions and countries in the coming weeks. The company said that it hopes the data can help make public health officials make better decisions while managing the coronavirus pandemic. "For example, this information could help officials understand changes in essential trips that can shape recommendations on business hours or inform delivery service offerings," the blog post from Fitzpatrick and DeSalvo said.

The reports are only based on data collected from people who have actively turned on the location history setting in their Google accounts, which, by default, is off. "As with all samples, this may or may not represent the exact behavior of a wider population," each report states.
The company's move comes amid talks between the US government, public health experts, and private companies like Google and Facebook, about using anonymous, aggregated location data from Americans' phones to combat the spread of the coronavirus. According to a report in the Wall Street Journal published last week, mobile advertising companies are already sharing anonymous, aggregated data of users with the CDC, and state and local governments, to understand the spread of the coronavirus.
Reuters reported Friday that Facebook, which has billions of users, has already made similar data available to a group of 40 health researchers since the middle of March.