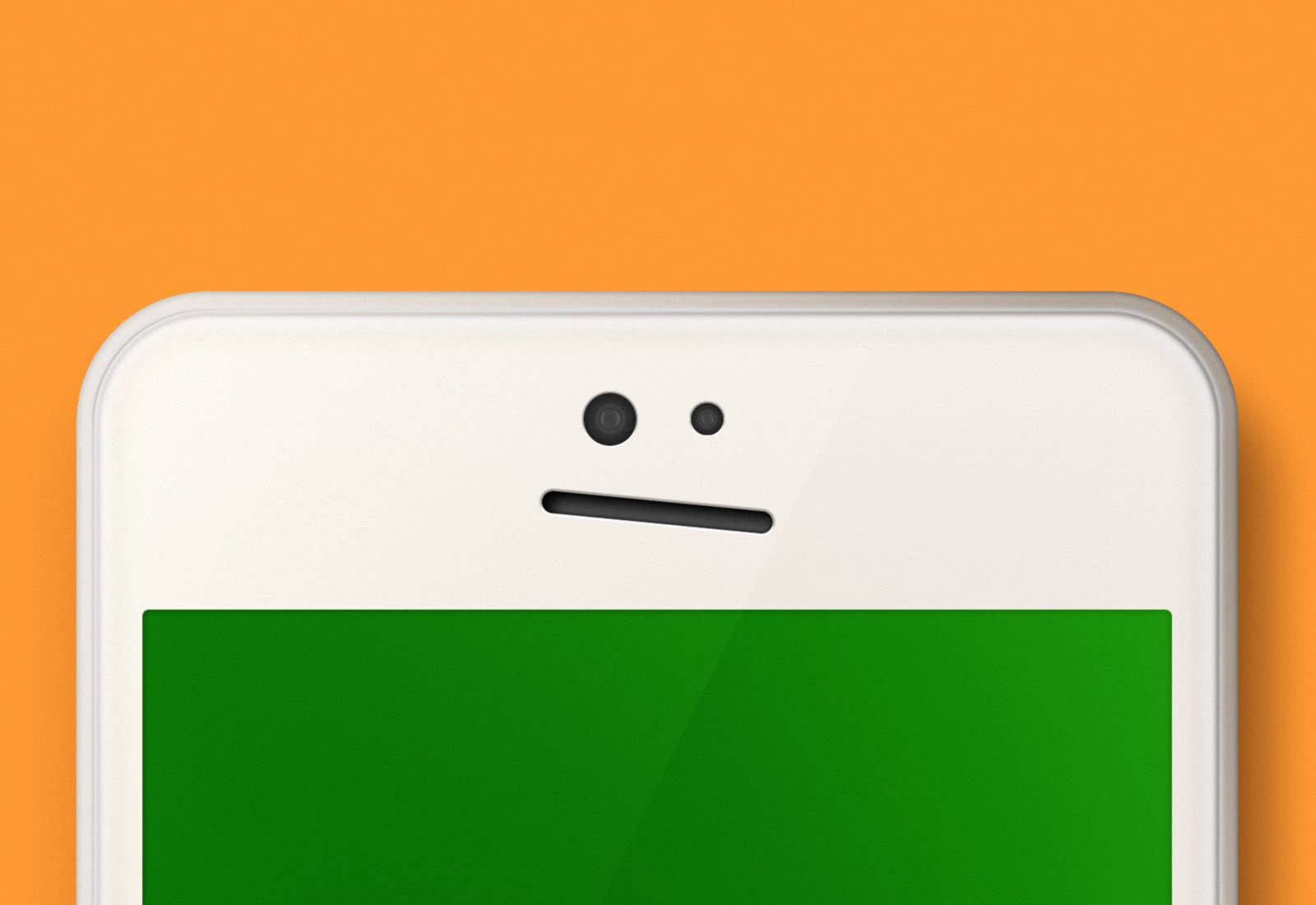 NEW DELHI — Ever heard of the Next Billion? It's a term that the big tech companies use for people in fast-developing corners of the world like India who can finally afford to buy a smartphone and get online for the first time in their lives. Tech companies are hoping to hook these users by releasing slimmed-down versions of their apps and un-bloating their operating systems to run on their low-end smartphones.
"When we build better products for India, we ultimately build better products for everyone — and for the future," Google rhapsodized. With this focus, "even the most affordable Android smartphones are as sweet as can be," it told developers.
Yet the truth is that the digital life these companies have created for users on low-end smartphones leaves much to be desired. I know, because I lived with one.
The rules of my experiment were simple: For 10 days, I'd ditch my iPhone 8 for a budget phone that would be broadly representative of the devices India's 350 million smartphone owners use. I'd have to go with Android, which runs on over 90% of India's smartphones. I'd also download the "lite" apps that big tech companies claim would make things work smoothly on a low-end device. And if the phone couldn't do anything that my iPhone could, I'd just have to do without it.
(The experiment naturally excluded Apple. The cheapest iPhone you can buy in India is the two-year-old iPhone SE that costs $260 — a princely sum in a country where the average annual income is about $1,600. Apple's market share as of January 2018 was 2.5%. Since iPhones are powerful enough that they don't require lite apps, Apple doesn't need to build them.)
To choose a phone, I turned to analysts from market research firms Counterpoint and IDC. The device they picked: the Bharat 2, a phone made by one of India's largest mobile phone makers, Micromax. At $60, the Bharat 2 is one of the cheapest smartphones in India with 4G LTE and, according to Counterpoint, it was the country's best-selling smartphone in the sub-$75 price band last year.
The Bharat 2 is aimed squarely at the heart of the Next Billion. It comes in a box with colorful silhouettes of iconic Indian monuments like the Taj Mahal and the India Gate. The official app of India's nationalist prime minister, Narendra Modi, is pre-built into the device. Even the name, Bharat, invokes the original Sanskrit name of the Indian republic rather than the anglicized "India."
The phone is, well, basic. It comes with a slow-as-molasses processor, so little memory that I kept having to remove and reinstall apps to keep the thing running, a camera that would have been at home on the first iPhone, a two-year-old version of Android, about a dozen pre-installed Google apps that take up hundreds of megabytes, and a single, measly gigabyte of usable storage. Imagine your favorite Android phone, except with a waaay crappier screen, cameras, storage, and battery to get an idea.
Yet for the average user, none of these specs matter much, said Navkendar Singh, associate research director at IDC. Fewer than 350 million of 1.3 billion Indians have smartphones; millions just recently got their first ones; and just a quarter of the country's population is online. "Having a basic smartphone in itself is a huge upgrade over, well, nothing," he said.
Vikas Jain, Micromax's cofounder, was not concerned when I brought this up to him. "Our target customers are Indians who are buying their first smartphone, or people who are upgrading to their first smartphone from a feature phone," he told me in a phone interview. "These people aren't really bothered about how fast the processor is, or how clear and rich the display is. Their needs are a lot more...basic, and as long as they get decent battery life, a decent camera, and a basic internet surfing experience, they are satisfied."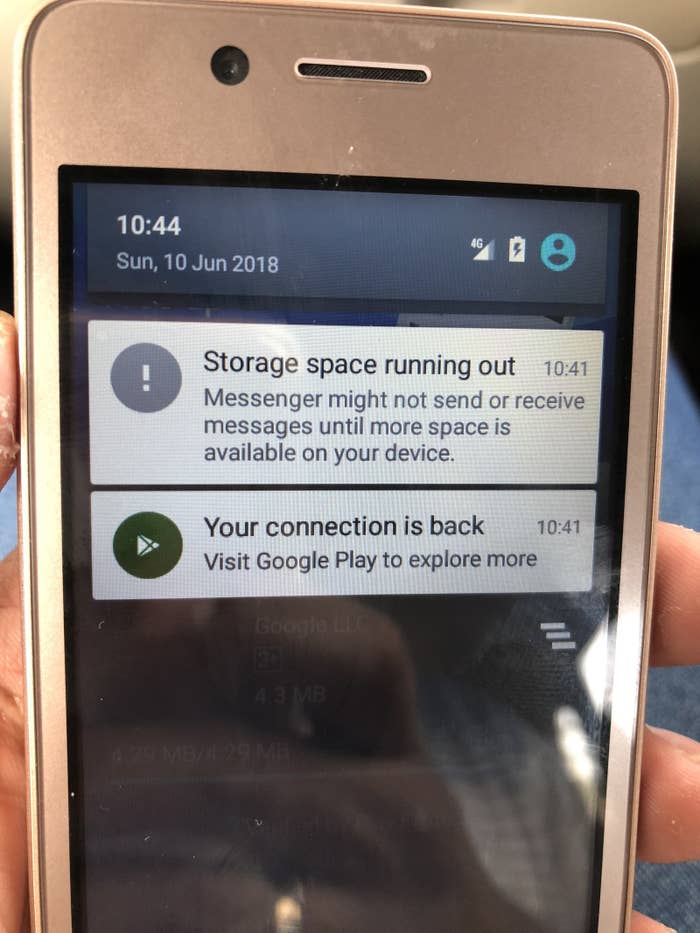 No room to move
What I bumped into immediately after turning on the Bharat 2 for the first time was the lack of storage, and this limitation entirely defined what I used my phone for. I had to start off by uninstalling the pre-installed bloatware — sorry, Narendra Modi — before I actually installed any apps, because the first thing I got after switching on the phone was a low storage notification.
Slack went out the window because it was too bloated; Outlook, my email app of choice, was too big to install; and pretty much everything else — banking apps, shopping apps, games, and more — was a luxury I'd live without. Even Google Maps Go, a lightweight browser version of Google Maps that the company said is "designed to run quickly and smoothly on devices with limited memory," was crippled, allowing me to look up a location only to prompt me to download the full version of Google Maps when I asked for turn-by-turn directions. (Google even has a list of things Maps Go can't do.)
So I boiled down to the essentials: staying in touch with people, catching up on news, ordering cabs, and watching videos (which went shockingly well, and supports the huge popularity of video here), pretty much the same as the Next Billion. According to data from app analytics firm App Annie, Indians spend 36% of their screentime on communication (like WhatsApp), 20% on video players (like YouTube), and 16% on social networking (Facebook).

Mahesh Bhujbal, a 33-year-old who works as an all-purpose handyman at a small homeopathic clinic in Pune, a city in Western India, is all too familiar with this problem. Bhujbal makes less than $200 a month and uses a Samsung Core 2, an $80 phone he bought two years ago, mostly to use Facebook and YouTube. His phone has less than 10 apps installed but has only 250 MB of free space left, enough for a single hour-long episode of a show on Netflix.
"I hate Facebook," he says, scrunching up his face, tapping into his settings to reveal that the regular Facebook app takes up nearly half a gigabyte of his phone's 8GB storage. To keep his phone usable, Bhujbal deletes the app and reinstalls it each month, which seems to help.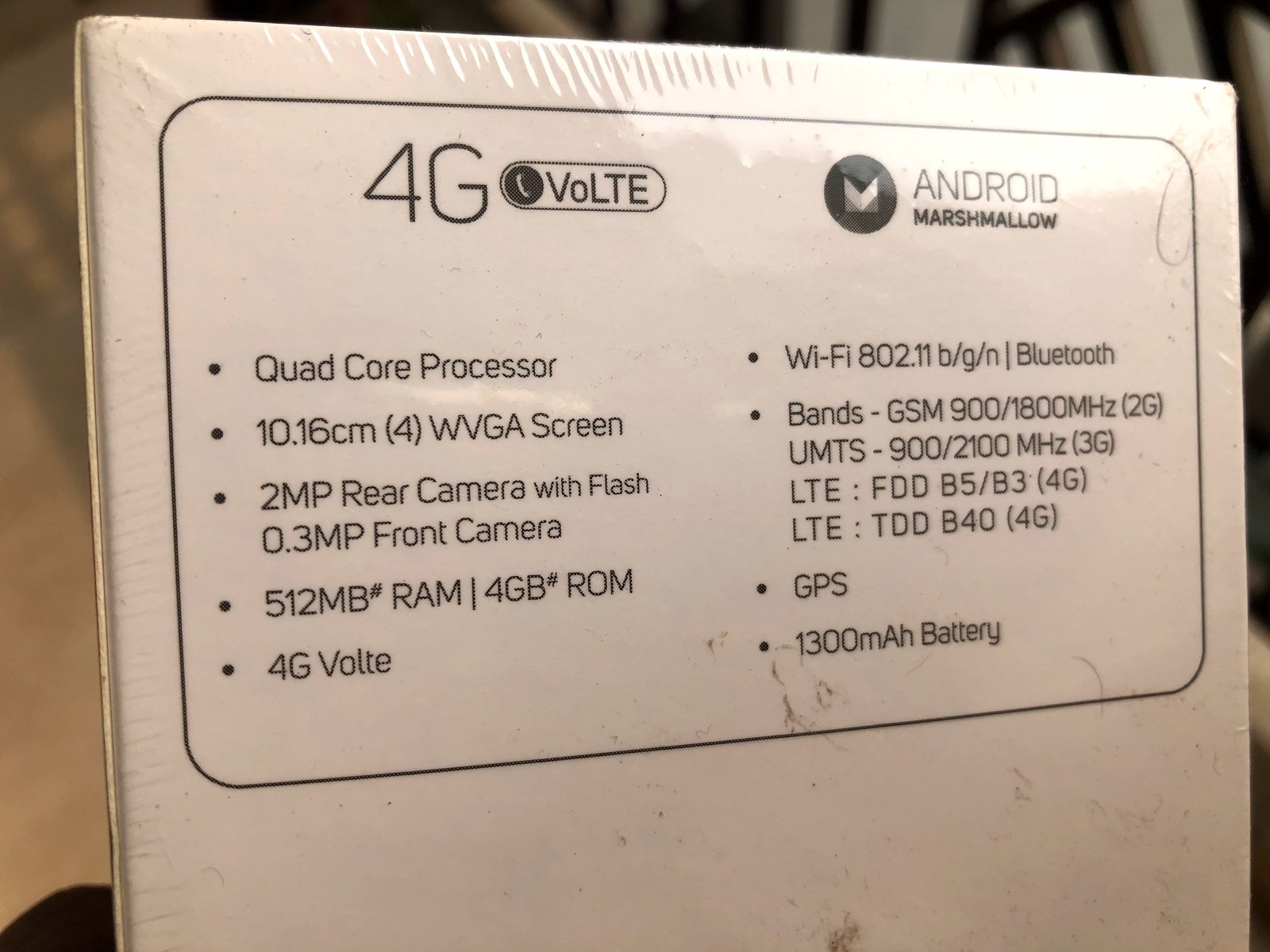 Going lite
Tech companies are trying to address this issue by creating lightweight versions of their Android apps that take up a fraction of the storage space their regular versions do, and are designed to run well on low-end hardware like the Bharat 2.
I installed six of these apps: Facebook Lite, Ola Lite, Uber Lite, Twitter Lite, YouTube Go, and Files Go, an app created by Google to clean up junk files that gather over time on Android devices and free up storage. WhatsApp and Netflix don't have Lite versions yet, but I use both those apps often enough that I installed them anyway.
"One of the reasons we created Uber Lite was because riders were having a tough time just opening [the regular Uber app] and getting everything to load on their basic phones," said Peter Deng, Uber's head of rider products. Deng said that Uber built its lite app from the ground up and left out some pretty big chunks, such as automatically loading a map. As a result, the app takes up about 5MB — about the size of a four-minute song. "Having a map is nice when you have an iPhone but on a basic phone, it's a luxury," said Deng.
"I think most companies treat light apps as giving people a small taste of their products in the hope that they will eventually upgrade to better phones and use the regular versions of their apps."
I wish I could tell you that lite apps made a $60 device usable. But they did not. Some apps took nearly a dozen seconds to open up. (I'm looking at you, Ola Lite; Ola promised that its lite app would be "quick and nimble.") Scrolling through my Twitter timeline was a stuttering, jerky mess, despite Twitter's claims to "load quickly on slower connections." WhatsApp, which admittedly doesn't have a lite version but has long been famed for its ability to run well on all kinds of phones, kept gobbling hundreds of megabytes of storage, forcing me to delete and reinstall it over and over again to get rid of messages, pictures, videos, and other junk that inevitably gathered in the dozens of WhatsApp groups I'm part of. Sometimes, the apps froze randomly and booted me back to the homescreen.
What gives? Rushabh Vasa, cofounder of Agrahyah Technologies, a Mumbai-based startup that creates apps and local-language content for cheap devices, said, "Companies aren't incentivized to care very much about giving users with budget phones a good experience. I think most companies treat light apps as giving people a small taste of their products in the hope that they will eventually upgrade to better phones and use the regular versions of their apps." He said, simply, "They're more likely to generate revenue from the higher-end users."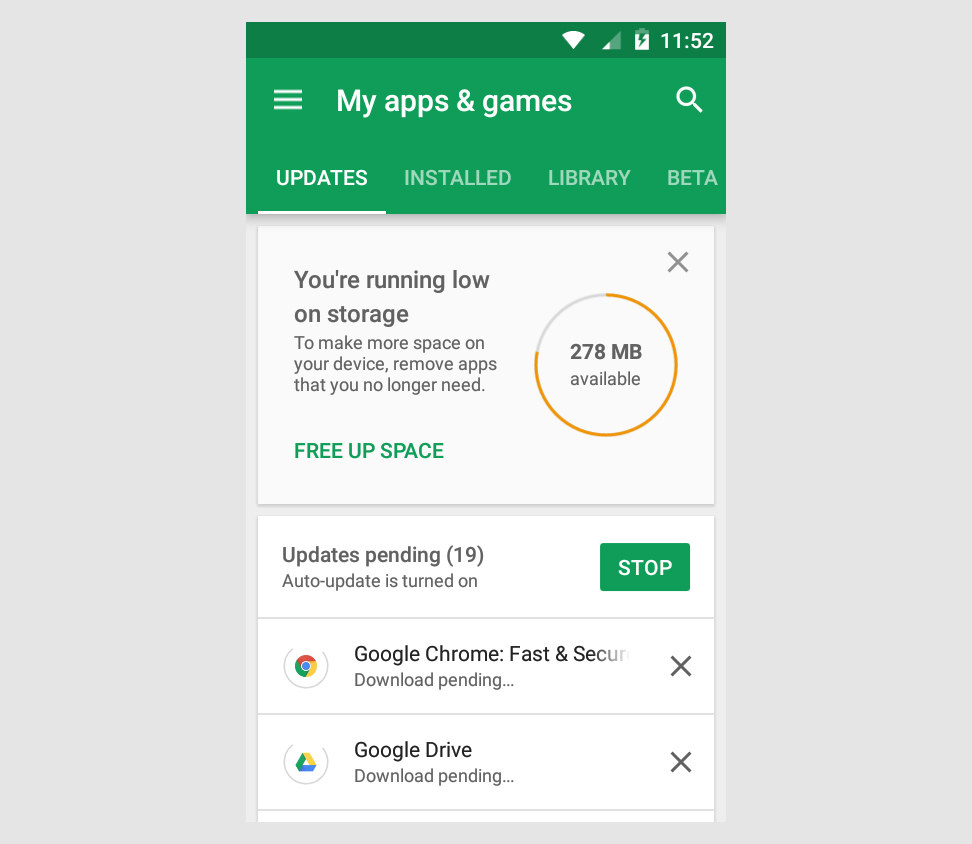 The Android fix
So even lite apps were leaving out some segment of the Next Billion with phones like mine. The potential solution: Android Go. It's a slimmed-down version of Android announced last year that Google claims takes up less space than the full version of its operating system and runs faster on low-end smartphones, and comes bundled with lite versions of most of Google's own apps. "Go big with faster performance, more storage, data management, and security," the company said.
Launched in April, the first Android Go phones have only been on the Indian market for a few months. But you can't switch to Android Go; your phone has to come with it. At this point, Android Go's market share in India is understandably small: less than 0.05%, according to Counterpoint's mobile devices research analyst Karn Chauhan. "There is no hype, no promotion, and therefore no demand for Android Go," said Upasana Joshi, an associate research manager at IDC. Nobody's shopping for devices with Android Go — because nobody knows it's a feature worth shopping for.
A dozen first-time smartphone users whom I spoke to said that they had never heard of Android Go, or the concept of lite apps. Even 43-year-old Vandana Potdar, who talks to Google executives "often" as part of a Google program to get millions of rural Indian women online, said she's never heard of it. Potdar uses a Lava A82, a $60 device that Google gave her as part of the program, and said it frequently runs of out memory, stutters, and is overall "a really frustrating experience. I could really use something like lightweight apps and this Android Go."
Google employees responsible for developing and maintaining lightweight versions of Google's apps, who asked not to be named, told BuzzFeed News the company currently has no plans to spend resources promoting lightweight apps that are already available in the regular Google Play Store. Instead, the hope is for people to buy handsets preloaded with Android Go as more models become available.
Phone makers like Lava, Micromax, Nokia, Transsion, and Huawei already sell Android Go phones, and over 100 manufacturers plan to launch Go edition devices this year. Google declined to comment for this story.

A dozen first-time smartphone users whom I spoke to said that they had never heard of Android Go, or the concept of lite apps.
Still, even Android Go isn't a panacea. Ars Technica's Ron Amadeo, who used an $80 ZTE smartphone running Android Go, summed up his experience like this: "Android Go is more about just keeping everything running, rather than keeping it running smoothly. It may be ugly, slow, and unpleasant to use, but if this was all you had, you could actually get work done, communicate, and get information off the Internet with this device."
On my Bharat 2, loaded with the full version of Android and some lite apps, the only things I could do were scroll through the Facebook News Feed (Facebook Lite was one of the few apps that worked beautifully), watch YouTube (which played back with no problems), browse the web, and suffer through WhatsApp. But that got old pretty quickly. In the end, I wasn't using the phone for long stretches of time and only picked it up to make calls and texts and watch some occasional video. It fundamentally altered my relationship with my phone: unable to do anything productive, I turned into a consumption zombie.
Tech companies recently have made much ado about curbing screentime, but I've got an easier solution: trade in your $1,000 smartphone for a $60 one.
It's possible these impotent smartphones will hinder US tech giants' ability to reach more Indian consumers, to claim an ever-increasing foothold in the lives of the Next Billion, although Counterpoint's Chauhan wasn't so concerned. "For you, it's a huge downgrade," he told me. "But for most other people, it's an upgrade from using a feature phone. This is what they know, and it's enough to hook them."
In the meantime, India's smartphone users continue to squeeze the most from the phones and apps available to them. N Sumati is a single mother of three who makes just over $200 a month cooking at seven New Delhi apartments every day. She spends every minute she isn't working watching YouTube on her secondhand Intex Aqua Power smartphone, which she recently bought for $30 (discounted from its original price of $70).
"I use my phone almost 24 hours" and nearly all of it is on YouTube (the regular app, not lite), she said with an embarrassed laugh. "I take selfies and pictures too, but this phone really can't do much else." One day, she'd like to be able to download more than a handful YouTube videos and to use her phone to pay for things — but for that, she said, she needs a better phone.
There are signs Indian consumers want more. According to App Annie, Indians spent nearly three hours a day on their smartphones in 2018, up from two hours a day in 2015. And IDC found the average selling price of smartphones in India has gone up by 25% in the last year, topping out at $157. That kind of money will get you a phone like the Xiaomi Redmi Note 4, which topped 2017's bestseller lists and comes with a large, high-quality screen and beefy innards. "People are slowly spending more money because they aren't getting the stuff they want at the price points they had originally budgeted for," Singh said.
Certainly, I had hoped for more. For the Next Billion users, my experiment is their everyday. "I sometimes wish I could use my phone to take better pictures of my children," said Bhujbal, the handyman. "They're small now, and they aren't always going to be small."
And Potdar, who walks her rural neighbors through using their first smartphones every day, said, "One day, maybe in the next few years, I'm going to buy an iPhone."
It'd be a leap: She's never seen one. ●