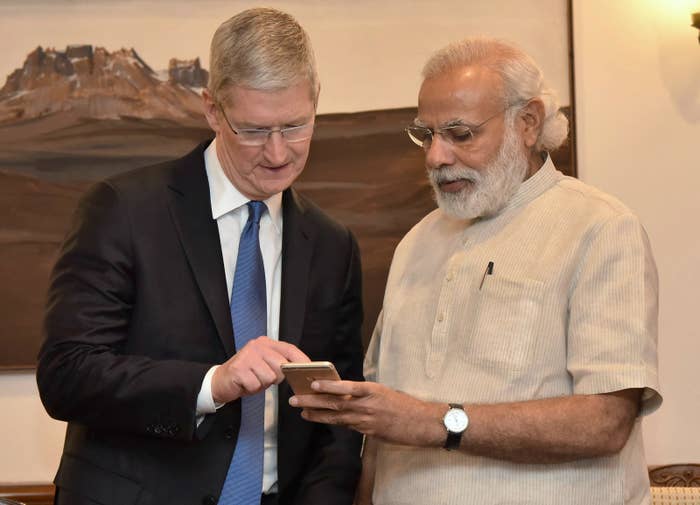 Apple is in talks with the Indian government to manufacture products in the country. The company is asking the Indian government for financial incentives to make its products in India, two senior government officials told the Wall Street Journal.
The report corroborates what the Press Trust of India, a leading news wire service, published last month: that Apple had written a letter to the federal government in India outlining its plans to seek financial incentives as it strives to gain marketshare in a country where 97% of all smartphones run Android.
Apple did not respond to BuzzFeed News' request for comment.
Apple has been negotiating with the Indian government to open Apple Stores in the country for years but has been unable to do so because of the country's stringent regulations on foreign direct investment.
In June, the government relaxed some of these restrictions and allowed single-brand retailers like Apple to open stores in the country — provided that they purchase at least 30% of their raw materials from Indian vendors after the first three years.
Making its devices in India would help Apple overcome the local-sourcing requirement, making it possible to set up a retail presence in the country. But analysts say the move would also help reduce the retail price of iPhones in the country — India is currently the most expensive country to buy an iPhone in.
"We estimate iPhone prices in the country to drop 12–13% if Apple makes its devices in India," Tarun Pathak, senior analyst at market research agency Counterpoint, told BuzzFeed News. "However, unlike China, India still doesn't offer enough scale to absorb these price cuts and pass on the complete savings to consumers, so we'll have to wait and watch."
India's prime minister, Narendra Modi, has been trying to ramp up technology manufacturing in the country through a high-profile initiative called "Make In India." Other smartphone makers like Samsung, Xiaomi, and OnePlus already assemble their phones in India to keep prices down.
Only about 250 million of the country's 1.2 billion people own a smartphone, which makes it an attractive market for companies like Apple that haven't seen a significant growth in developed countries, where the markets are already saturated.