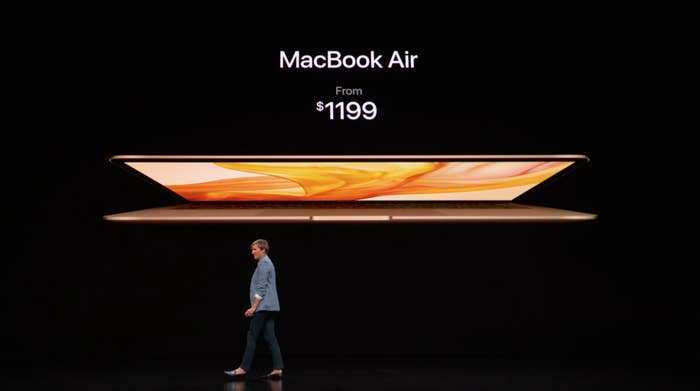 Ten years ago, Steve Jobs walked across the stage at Apple's Macworld conference in San Francisco, picked up a yellow office envelope, and slid out a sleek new laptop. It was called the Macbook Air and it was, claimed Jobs, the world's thinnest laptop.
Overnight, the Macbook Air became the benchmark for how thin and light a laptop could be, and became the device to beat for every other computer maker.
But that was 10 years ago. Apple put a better battery and a faster hard drive in the Macbook Air in 2010, but since then, the laptop has largely remained unchanged — until today.
At an event in Brooklyn on Tuesday, Apple finally upgraded the Macbook Air for the first time since 2015, when it received a minor spec bump, and redesigned it completely for 2018. That's a big deal, because the Macbook Air, at $999, was Apple's most affordable laptop. Apple's previous thinnest laptop, known simply as the Macbook, was introduced in 2015, but started at $1,299, which meant that most people on a budget simply bought the Air.

It looks a lot more like a modern laptop
The new Macbook Air features a Retina display with 50% thinner bezels. The 13.3-inch screen stretches to the edge of the chassis. It comes with Touch ID for secure login, and it's powered by the same T2 chip in the last year's MacBook Pro and iMac Pro models. And it's available in two new colors — space gray and gold — as well as the classic silver.
It's a lot more powerful that the MacBook Air you own right now
It ships with an 8th generation Intel dual-core CPU with integrated graphics, up to 16GB of RAM, and up to 1.5 terabytes of storage space. It also has two USB-C Thunderbolt ports that let you hook it up to an external 5K display.
You can order one today for $1,199. It will be available on Nov. 7.